The charade that Chris Speranzo is trying to foist over the understandably apathetic electorate must not be allowed to succeed. Voters must DEMAND that he announce, immediately, which office he intends to pursue: re-election as 3rd Berkshire rep or appointment as clerk magistrate.
We have elaborated earlier and elsewhere the scheme: Democrat Speranzo breezes in on election day and wins another term as state rep. He resigns the cakewalk shortly thereafter to take the clerk's job, which has been rigged in his favor, and some job it is. The job is unnecessary (proven by the fact that its been unfilled for some time with no loss of productivity by the courts], it's no-show, it's make-work, and it pays $110,000 per annum (with benefits, around $140,000).
Spurs' resignation will set up a special election costing taxpayers $25,000. The local bosses have handpicked Ward 5 city councilor Jonathan Lothrop as the stooge who runs and — not miraculously — wins the special election, a victory guaranteed by one-party totalitarianism.
People, don't let this happen. Contact Speranzo and insist that he defecate or get off the pot. Here's his contact information, but be warned, he's in hiding after we spilled the beans:
We will add that Spurs has been harder to locate recently than Judge Crater and the ghost of Amelia Earhart. The Planet has attempted to reach him for comment by e-mail, phone, pony express, and carrier pigeon. No dice. He's laying low as a rat who has spied the cat.
The Planet is scheduled to moderate a debate for 3rd Berkshire District on Tuesday, Oct. 26, 11 a.m. to noon, for the Vox network (WBEC AM 1420). Speranzo has been ducking our invitation. Fine, it's a free country, but fair warning. Spurs better not duck the debate. We won't go easy on him either way, but at least if he shows up, he can explain it in his own words.
All Aboard for a Train Wreck
Another 1,000 "potential jobs for the Berkshires. That's what the developers of the private Housatonic Railroad Company say will build if they use our money to install rail service between the Berkshires and New York City. Pull-ease.
Citing a self-commissioned marketing study immediately calls into suspicion the data used by the company. The study claims the rail link would get two million passengers a year and generate an immediate 200 jobs with 800 more possible. Where do they make up such crud. Apparently, the developer believes in a PR tactic pioneered by ad genius Adolph Hitler called The Big Lie, which is, oddly, more believable than the little variety.
Here's the best part: they estimate a $200 million cost, and the developers admit they won't be using their own money or that of private investors. So how are they going to pay? Got a mirror? Notice how these great bastard believers in capitalism never want to risk any of their money?
In today's Berkshire Eagle, which devoted most of page one to this RR fantasy, 2nd Berkshire State Rep. William "Smitty" Pignatelli showed himself on target. Smitty correctly pointed out that the marketing data is useless and unreliable, and said the plan was pie-in-the sky seen through "rose-colored glasses." Senator Ben "Dover" Downing bought into the fantasy, however, making reasonable people to wonder what the payoff was. So Ben Dover, how much you getting out of the deal?
Downing is quoted in Trevor Jones' Eagle piece thusly: "Prior to this report, it was very theoretical. … By taking the step of doing the study, it's now, 'if we build it, we know they will come.'" What the senator means is that he's going to be carrying water for someone, and that stuff doesn't come cheaply. What, you think our representatives to the General Court don't know about high finance?
Oranges and Lemons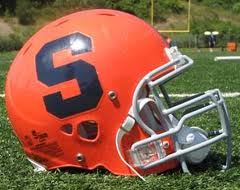 No post yesterday, as several of you noted. The Planet decided to disappear from all work and enjoy some R&R. We did we end up? In the Carrier Dome, with an intimate gathering of 44,000 of our closest friends, for the Homecoming football game between the Orangemen and Pitt. Don't ask the final score, but we had a splendid time.