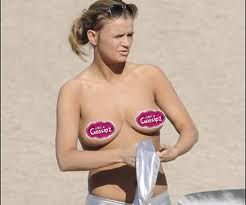 We had lined up a photograph taken of a group of girls purportedly taken on the grounds at Pittsfield High School, sent to The Planet by a concerned parent. The photo showed two of the girls with blouses unbuttoned and little left to the imagination of what they packed under there.
This parent's son, who is a student there, received the photo on his cell phone. When his mom confronted him about it (The Planet didn't inquire how she found out) he shrugged it off as no big deal. He told her such use of technology is done "all the time." Since the photograph showed faces, we did not post the picture and in fact immediately destroyed it.
The Planet received its greatest numbers of hits yesterday, since the site went online only a few days ago. We don't know if it was because of the photo you see here, which ran yesterday as well. We had a couple of comments, including one of accusing us of using the topless issue as a cheap way to get people into this site? Let me reply to that accusation in a manner with the intelligence of the critic.
Why, I have been on a glass-bottom boat, worn a ragtime fur coat, been to six rodeos, five barrooms, four bordellos, three synagogues, two churches, and hair-lipped the devil, but I would never stoop that low.
Actually, this photo makes a serious point about topless sunbathing. Pity, though, I just can't think of what it is.
Oh yes, I forgot. It was Pittsfield Mayor Jimmy Ruberto's comments in today's Boston Globe on Frau GrunDerFingeltitzen's ballot initiative (3rd Berkshire residents only get to vote) for women to erin go braless. Ruberto says the frau's request is dipsy, ditzy, and dizzy, not in those terms, of course. You can read Jimmy's comments on the attached link. You can also see a photo of the frau. Actually, not bad, but the picture should have let us judge for ourselves.
http://www.boston.com/news/local/massachusetts/articles/2010/10/15/a_twist_on_equality_laws/
Speaking of boobies, did you hear about the school in Laramie, Wyo.? Ninth grader Kollin West got in trouble when he wore a pink rubber bracelet in support of breast cancer research. The bracelet reads: "I love [heart] boobies."
School officials at Laramie Junior High School ordered the boy with wear the bracelet inside-out. Seems that they determined the word "boobies" violates the school's dress code. Meanwhile, the school, like all public schools nationwide including those in Pittsfield, apparently have no problem allowing girls to parade around falling out of their tops. The Pittsfield School District must agree that seeing young titties is OK, based on the revealing tops worn by more than a few girls at PHS and Taconic. The word "boobies," however, disrupts decorum among students.
Incidentally, the "I love boobies" bracelets are wildly popular with 9th grade boys. Gee, I didn't know our young lads were so socially responsible to care enough about breast cancer. It couldn't be anything else, could it, that causes them the fondle the bracelets with such fervor.
FANTO TAKES ON THE SPURS
Be sure to check out Clarence Fanto's cloumn this Sunday in The Berkshire Eagle. Fanto digs into the brewing scandal involving 3rd Berkshire District Rep Chris "Spurs" Speranzo. Don't know about it? Here's The Planet's take, published last week in The Pittsfield Gazette:
'Them G.D. Phony Bastards'
That's the epithet employed by Gino, my favorite political pundit, to describe the behavior of slime-ball politicians.
Be clear. Were not calling State Rep. Chris Speranzo a slime-ball pol, and Spurs can "no comment" as much as he wants, as is his right.
However.
A well placed local Democratic Party source claiming familiarity with the insides of this story confirms what Conor Berry of the Berkshire Eagle reported Monday: Speranzo has applied for a lifetime appointment as Central Berkshire Court clerk magistrate, a gig that currently pays $110,000 smackers a year. He has had more than one interview, according to the source.
The source, apparently familiar with what Green-Rainbow Party candidate Mark Miller calls "the local Democratic establishment," says, "The fix is in."
The plan has seven parts: (1) Speranzo retains his seat as 3rd Berkshire rep. (2) Meanwhile the bosses assure he has the courthouse post in the bag. (3) Sometime after winning, Speranzo resigns his seat. He is announced as clerk magistrate. (5) That sets up a special election for 3rd Berkshire District. (6) The bosses nominate Speranzo's successor — their previously handpicked candidate. Don't tell anyone, but there's reason to believe his initials might be "Jonathan Lothrop." (7) In the rigged game that is local politics, voter apathy will assure that the handpicked bobo wins.
Speranzo did not respond to The Planet's request for comment. If the story has no basis in fact, wouldn't he want to vociferously say so and defend his integrity?
One other clue: Spurs was also noticeably absent from the "ho-ho-hee-hee-ha-ha-life-is-great" photo op of local Democrats that ran on page one of Tuesday's Eagle. Some of those at the gathering said he appeared rather on the defensive, looking more like a man trying to sneak into a cellar than a state rep up for re-election.
#  #  #
Back to Fanto's piece. At the conclusion of Fanto's excellent column in today's Eagle (on the Op-Ed page), he promises his expose of Speranzo "won't be pretty." Spurs, incidentally, is a nick-name I hung on Speranzo. It goes back to his days as city solicitor. Speranzo still commented to The Planet on this story.
Incidentally, The Planet will team up with Fanto on Oct. 25, 26, and 27, 11 a.m. to noon, on the Vox network (WBRC etc. locally AM-1420) for three state rep radio debates. We will grill candidates for 2nd, 3rd, and 4th Berkshire districts, respectively. Later on the night of Oct. 25, The Planet moderates a statewide TV debate among the three candidates for state auditor. It begins at 7 p.m., emanates from the small theater (K-111) at BCC, and runs for the hour. The auditor's debate is sponsored by The Pittsfield Gazette.