* THE PLANET has had a large response at this address to our protest of the $27.55 charge to veterans and their families to take out a small ad on Veterans Day. We thank those who realize the seriousness of this issue, and why it is in extreme poor taste to charge that particular demographic (that's what they are to the Eagle marketing people) for the "privilege" of being recognized. I haven't run into one of my colleagues in the newsroom there who thinks the paper is doing the right thing. We would hope the newspaper returns all the money and publishes all the ads as the right thing to do, but the business side runs things there. Don't hold your breath.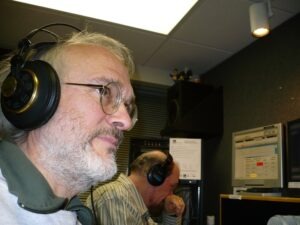 Dan Valenti, having his say for the Vox network microphones. Tod, Demon Engineer, ponders yon board in background.
* Here's a shot of THE PLANET in the Vox studios on election night, doing our broadcasting "thang." This was one of the pictures I couldn't get to work the other night. The format of that night is what we love doing best when it comes to braodcasting: a fast, furious, scriptless, improv designed to better inform and educate while making it interesting and entertaining. This week, THE PLANET guests on Bill Sturgeon's show (WBRK AM-1340) from 10-11 a.m. Wednesday and "Good Morning, Pittsfield" with John Krol at 7:30 a.m. for WTBR and PCTV. Hope you tune in.
* It started last year that I came around to loving winter again in a way I did as lad growing up in Pittsfield. Ah, the snow forts. Ah, humanity. This morning, with the ice, rain, and wind, I had a smile because of the weather.
Changes in weather can be received like news from a foreign county where you are heavily invested, in other words, with an focus and interest that keeps you "in the moment." Even scraping off my wife's car and mine, I swallowed the icy tidings as they came and would leave my home tomorrow to entertain the same.
* Is he or isn't he? "He," in this case, is Jimmy Ruberto. Is he running in 2011 for a fifth term or not? THE PLANET has heard from many interested parties on this topic, which is ripe for speculation. We hope to have a definitive answer shortly.
There's part of Jim that wants to keep what he sees as the positive thrust Pittsfield has taken in the past several years. There's another part — fixing its beam more than he realizes on the self-care of not running — that's says, "no." Would he have the stamina for another tough, hard-hitting campaign? Would he want to have to raise that much money? Would he want to do it with his beloved late wife by his side?
Most observers expect Dan Bianchi to re-up, and they see a campaign even more bruising than in 2009. If Mayor Ruberto bids adieu, that sets up another line of questions. Will you see the likes of Peter Marchetti taking a crack at it? Who else will jump in? Certain lines are buzzin, even as we write. Stay tuned.