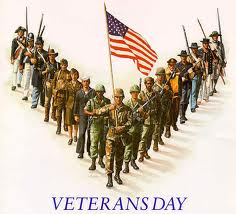 THE PLANET has heard from a number of people about our post yesterday, protesting the Berkshire Eagle's tasteless decision to charge $27.55 for families and loved ones to honor veterans. We talked to one such veteran today, a gyrene who read our report and thanked us. He wondered if the Eagle would be charging $27.55 for photos of flag-draped coffins and body bags coming home from Afghanistan.
WBRK talk show host and veterans' friend Bill Sturgeon left an insightful reply to THE PLANET's column, and we have proposed to Bill that he make use of it for an upcoming segment of his show, which can be heard daily at AM 1340 from 10 a.m. to 1 p.m. In such a way, THE PLANET hopes to align with other media outlets to provide an alternative source of information that will help, as best we can, to keep the field as least reasonably level and the game with at least a slim chance of being honest. Scott Laugenour, who ran a great campaign in the 4th Berkshire District, also checked in on this issue with great effect.
When I see something like this misstep of charging 30 silver pieces to honor veterans, I think of the guys in Higgins boats heading into hellfire of Iwo Jima. I think of my dad's sufferings on the front lines in the Battle of the Bulge. I think of a good friend who served in Vietnam and was never the same when he came out. I think of young medic Matt Came of Pittsfield, wounded in action in Afghanistan.
War is the ultimate triumph of dysfunctional politics. It's bad enough that politicians and generals foment war and send young men and women to fight them without adding needless insult to grave injury.
"If I have drawn one lesson in 90 years, it is this: To strike a blow for freedom and what's right allows a man to walk a little taller and raise his head a little higher. While he can, he must." — William J. Brennan Jr.
Today's Top 5: Best Films on the Korean War
1. "The Bridges at Toki-Ri" — William Holden, Grace Kelley, and Frederick March form a dream cast about a jet pilot's battle with himself. What's courage? This film answers. Great action shots of F-9 Panther jets.
2. "The Hunters" — Robert Mitchum and Robert Wagner as the vet jet jockey and the hot-shot young ace. When's Mitchum ever done anything that's not first rate?
3. "Pork Chop Hill" — Gregory Peck. War is hell. They used to show this film a lot at the Boy's Club on Friday 10-cent nights.
4. "M*A*S*H" — Donald Sutherland, Eliot Gould. This filmed changed the way I looked at movies. Suicide is NOT painless, especially when a country tires to commit it.
5. "The McConnell Story" — Alan Ladd and June Alyson. Gains altitude in the action sequences.
That's the Way You Win Today
It was with some interest that THE PLANET noted the San Francisco Giants winning the World Series. The Giants had not won it all since 1954, when they beat the heavily favored Cleveland Indians.
Giant fans have a loyalty to their team that is hard to understand. As a rule, they had no trouble switching their allegence to the West Coast when Horace Stoneham moved the franchise there in 1958.
The situation was the opposite of Brooklyn fans. When Walter O'Malley moved the Bums to LA, Brooklyn fans hung him in effigy and said goodbye to the Dodgers. We may speculate as to the reasons for this curious split. It may have to do with the passionate and fire-cracker nature of the borough of Brooklyn, a city unto itself that has never spiritually been part of NYC.
In a sign of the times, a few days after winning the Series, the Giants released 35-year-old Series MVP, ss Edgar Renteria. The Divine Edgar's three-run HR won the deciding Game 5. Nonetheless, in a move related strictly to the pocketbook, the Giants declined to pick up their club option for Renteria's services in 2011.  Faces come and go, with free agency turning players into mercenaries and ballclubs into hiring armies.
 The net effect, oddly, is to make the true fan more loyal to the franchise itself and less so to the vagabond players. Thus, today's diehard fans root for an abstraction known as a team. The players matter only in the most epemeral sense. Even when a ballplayer sticks around, the fan's loyalty is colored by money, for he or she knows that the only reason a player decides to stick with a team is that they have met his price. It's hard to pull for a guy who's making $15 million a year for playing a game at the same time you're trying to make ends meet working two jobs.