BY DAN VALENTI
DEC 19, 2010: This update:
— THE PLANET will be interviewing Joe Nichols on his intentions in the coming week. We shall file a report.
— We have not heard from Jonathan Lothrop on our e-mail, shared with you below. We also have not heard from MAyor Jimmy Ruberto, whom we solicited for comment on the news that Ward 7 councilor intends to challenge for the corner office in 2011.
— We shall leave this post on Nichols up for another day, since the weekends require time for news to circulate. That said, THE PLANET has noticed a spike of late in our weekend traffic. Good sign. There is a pulse out there. We shall, together, continue to grow and provide a legitimate alternative to the Establishment Media, which seeks to keep you in the dark, and if not that, then to put you to sleep, and if you won't tap a nap like a good little sheep, you will pay the price. THE PLANET will be "going into the Temple" and overturning a lot of tables in 2011.
— Calls to anyone who witnessed an unusual phenomenon in the southern sky, today, around 3 p.m. It has to do with what appears to be sightings of dual suns in the Berkshire County sky, looking south, at that hour. THE PLANET has received a couple reports of a separate, sun-like disc, seen in the southern sky. The disc was spinning and shooting off colors. Please respond if you saw anything unusual. We ask because we received reports from a couple of highly believable, no-s=nonsense sources.
————————————-
THE PLANET BRINGS YOU THIS EXCLUSIVE: WARD 7 COUNCILOR JOE NICHOLS HAS DECIDED TO RUN FOR MAYOR IN 2011. ACCORDING TO A WELL-PLACED SOURCE, NICHOLS HAS DECIDED TO RUN SO THAT HE
CAN "serve the residents of this city in a respectful manner." Nichols says "will work hard at lowering the tax burden on homeowners and businesses by slowing down spending which is not necessary."  He says he wants "to utimately make Pittsfield a more attractive city to invest in and create jobs thus growing the tax base." — DAN VALENTI
— END OF FLASH —
—————————————————–
BY DAN VALENTI
EDITOR'S NOTE — LATER IN THIS COLUMN, THE PLANET BEATS THE EAGLE AGAIN. WE SHARE ANOTHER STORY THEY DIDN'T WANT YOU TO KNOW ABOUT, BECAUSE IT INVOLVES TWO OF THEIR SAINTED DEMOCRATS, THE LAME DUCKS DAN BOSELY AND DENIS GUYER. BUT FIRST …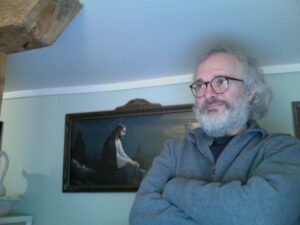 Well, let's see: in the past two days, I've been likened by my critics to Julian Assange, hero of Wikileaks, and comedian Chelsea Handler. A poster today says THE PLANET is like Handler: lots of people follow but no one take them seriously. We shall leave that to others. We will point out that we take both comparisons as compliments (it's spelled with an "i" and not an "e", "Pittsfield Believer").
To be compared with Assange is to be called a champion of free speech and We The People's right to know what its government is up to. To be compared with Handler is to be called a person with wit, not afraid to apply the stinging end of it.
Actually, Handler and THE PLANET share some other things.
Comedy: She does standup. I DID standup in college and during the 1980s.
Books: We are both best-selling authors.
Religion: She is Jewish, reformed, and I am Jewish reformed reformed (also know as Catholic).
We find it interesting that my critics are trying to make ME the story. They won't take up my arguments and they are afraid of debate. They therefore launch into the only thing they have left: ad hominum attacks, which have the beneficent effect of proving my points. Agree with my postings or not, THE PLANET issues no opinion without signing our name to it. My opponents do not do that.
THE PLANET issues this debate challenge: Anyone who wants to argue the other side of any issue brought up on this website (downtown, Interprint, PEDA, politics, North Korea, etc.), step forward. Put yourself on the line. Answer the call. If you agree to a live debate, no notes, in a public forum, just let me know. We shall get it on. This offer remains open to Dec. 25 as a Christmas gift to anyone out there who wants to shut me up in public. You bring your seconds. I'll bring mine. We can sell tickets for charity.
—————————–
In the interests of open government, THE PLANET shares this e-mail, sent moments ago to Ward 5 City Councilor Jonathan Lothrop:
MY RIGHT HONORABLE GOOD FRIEND JONATHAN
As you may have heard, you are the recipient of the inaugural DUNGHEAP AWARD, given out by www.planetvalenti.com to the public official or personality who over a recent period of time has let We The People down the most egregiously.

I would like to post your comments about winning. Feel free to reply, and I shall share your thoughts with the readers of my website.

Don't keep up the bad work.

Merry Christmas,
THE PLANET

PS You used to be for the Little Guy. What happened?
——————————————
THE PLANET SHALL INFORM YOU of what my RT. HONORABLE GOOD FRIEND replies.
————————————-
EXCLUSIVE TO BERKSHIRE COUNTY: THE BERKSHIRE EAGLE DIDN'T WANT YOU TO KNOW ABOUT THIS, SO THEY KEPT IT AWAY FROM YOU. WE PASS ALONG THIS REPORT BY OUR COLLEAGUE HILARY CHABOT OF THE BOSTON HERALD. HILARY NAMES DENNIS GUYER AND DAN BOSELY AS TWO OF THE LAME DUCK POLS GETTING THAT FINAL GRAB AT FREE TAX DOLLARS. THE PLANET MAKES NO JUDGMENT ON WHETHER THIS GRAB IS RIGHT OR WRONG. YOU CAN DECIDE FOR YOUR SELF.
By Hillary Chabot
Saturday, December 18, 2010 – Updated 5 hours ago
Lame-duck pols nab nearly $100G in per diems
By Hillary Chabot
Saturday, December 18, 2010 – 
+ Recent Articles
+ Email
E-mail
Print
(89) Comments
Text size  
Share
Buzz up!
Lame-duck lawmakers nabbed nearly $100,000 in a last grab from taxpayers by claiming travel stipends even as Beacon Hill was shuttered for half the year, with one departing politician saying he's using the plum perk to tide him over until his pension kicks in — next month.
"There will be a hiatus until I collect my retirement. It takes a little bit of the edge off for the next few weeks," said state Rep. Robert S. Hargraves (R-Groton), who's pocketed $4,342 in taxpayer-funded travel reimbursements this year on top of his $61,440 salary.
The controversial payments are based on how far a lawmaker lives from the State House and are meant to be used for travel, dining and lodging while legislators are working.
But the stipends kept coming this year long after formal sessions ended July 31. In all, 30 departing lawmakers scored a staggering $91,555, a Herald review found.
Among them:
• State Rep. Christopher J. Donelan (D-Orange) put in the most per diems of any outgoing legislator, raking in $7,350 for 147 days; driving in from Orange, 72 miles from Boston, he got $50 for every day he came in to the State House.
• State Rep. Daniel E. Bosley (D-North Adams) pulled in $6,120 for 68 travel days on top of his $76,000 salary. He asked to be reimbursed for travel days until Nov. 11, four months after lawmakers formally closed up shop.
• State Rep. Brian P. Wallace (D-South Boston) requested 143 days of travel pay despite living only 2.6 miles away from the State House. He took home $1,430 in addition to his $61,440 salary.
Neither Donelan nor Wallace returned calls for comment, but Bosley defended the stipends.
"I'm unapologetic about it," he said. "Per diems are the way that we equalize the playing field in this state and let anyone other than rich people serve in the Legislature."
Bosley added that legislative work doesn't end once lawmakers are out of formal session. He said he's gotten two regional bills passed in the past two weeks.
The formal legislative calendar ends July 31 during election years to allow lawmakers to run for re-election and prevent retiring legislators from pushing through controversial pet projects.
While business is still conducted on Beacon Hill during informal sessions, attendance is often sparse.
"It's a problem because they have a pay structure and a benefit structure that are wholly untethered to the realities that workers in the private sector face," said Andrew Moylan, director of government affairs at the Washington D.C.-based National Taxpayers Union. "It's a symptom of these full-time legislatures — they turn it into a way of life and not just a public service. It contributes to a larger and more expensive government."
But some legislators remain undeterred despite the public cost. Democratic state Rep. Denis E. Guyer of Dalton, who's already pulled in $4,510 for 108 days this year, said he'll likely cash in more per diems before his last day Jan. 4.
"I'll probably put in for a couple more," Guyer said. "I'll be in there to clean up my office next week."
hchabot@bostonherald.com
———————————————-