BY DAN VALENTI
Lost in all the early election talk yesterday (there's more later in this post) was the story of PCBs on the site the city of Pittsfield wants to buy to relocate the DPW.
THE CITY MUST NOT BUY THIS PROPERTY!
The Planet has talked to several former employees of GE's defunct Power Transformer Department who spoke of PCB dumping on the parcel now called 1644 East St. Are these reports true? Only scientific testing will reveal if the land was a prime dumping site.
DPW Chief Bruce Collingwood has already admitted to traces of PCB having been found on the site. Do traces cover up saturations?
The Price is Wrong
General Electric used PCBs legally, but they abandoned the city to its wastes when the circus left town with 14,000 jobs. The GE Consent Agreement won the city pennies on the dollar, and GE essentially escaped off the hook in terms of its liabilities — and more importantly, its responsibilities — to the city of Pittsfield. PCBs have damaged the market value of every home in the city, as folks have learn when trying to sell their Pittsfield property.
The City of Pittsfield, though, doesn't seem to be concerned. Most people would try to unload PCB property. Pittsfield, it appears, wants to buy it. Fine. It would put the city in the driver's seat in negotiating a price for the 11 acres and building at the East Street location. Right? This is Pittsfield. Come on, now.
An entity called 1644 East Street LLC bought the site at a foreclosure sale from Berkshire Bank and an entity called Taconic Prop. Inc. The bank assumed control when the previous owner, who ran a trucking business there, got into trouble. Who is behind 1644 East Street LLC? Could it be someone with "the right" political connections?
On March 23, 2007, 1644 East Street LLC paid $777,000 for the property at a time when real estate prices, even in Pittsfield, were rising and sales were brisk. You remember the good old days of buying properties, flipping them, and pocketing some easy money.
Sources say the person behind "1644 East Street LLC" discovered the investment wasn't that great. The property abuts 75 acres of protected wetlands, severely limiting development. PCBs were also discovered. The market went south. Thus, the property lists in a depressed market, the site has wetland restrictions, the new owner will face a potentially ruinous PCB cleanup effort, and the price is inflated? Who would want to buy under such conditions?
Uh, yeah. The City of Pittsfield. File it under "H" for "How stupid can you get"? Or does a smelly political deal explain what's going on?
The DPW Low-down Building Blues
Why would the city be interested? It says because it needs a new DPW yard. The Planet agrees
with that much. The present West Housatonic facility is a ruin, although that being said, would reconstruction and repair there be a more responsible fiscal choice? There's also the 44,000 sq. ft. former Berkshire Trolley Depot on East Street near Newell that could be available for free via foreclosure or eminent domain.
Does the city's interest in 1644 East St. at a ruinous price pass the smell test?
Pissing on the People
The city council's Public Works and Utilities Committee voted 4-1 (Ward, Lothrop, White, and Krol in favor, with Yon the lone dissenter) to recommend Pittsfield spend $875,000 to buy the property. This is the wrong vote. Pittsfield should stay away from the land until:
* It clears up its PCB liability
* It reveals who the owner of 1644 East St. is, and if there are any political connections such as campaign donations.
* It can get the property for far less than $875,000. It's assessed value for tax purposes is $488,600. In short, the city is prepared to offer $386,400 — a whopping 44.16% ABOVE assessment — for what Collingwood has admitted is a polluted property in a depressed market. Collingwood also estimates that taxpayers would have to pump $3.3 million into the site to get it ready for DPW use.
What is the city thinking?
What of the council's supposed function as fiscal watchdogs?
It looks as if our "watchdogs" are about to mistake We The People for a fire hydrant. The yellow snow won't be from lemonade or orange juice. Piss city, baby. Ward, Krol, White, and Lothrop: When you get to the next council meeting, tell your colleagues, "Never mind. We made a mistake. Don't buy this lemon.
Another factor is the existing structure on the site now. The Eagle incorrectly stated the building is 18,000 sq. ft. (compared to the 13,000 sq. ft. of the present DPW building). They are wrong. The deed (CB 1018 census tract 901000 Property ID 2727744 APN L 110001101, map reference M:L11 B:0001 L:101) lists the building at 15,600 sq. ft.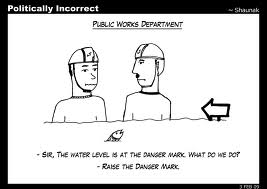 The structure was built in 1989. It's already falling apart, indicating it was slapped up without much care to quality. The building is leaking water from the roof into and around the skylights. There are likely other problems. Moreover, the city even doesn't know of the snowplows will fit through the buildings door! Nonetheless, the subcommittee voted to recommend purchase at an inflated price, save Yon.
The Planet recommends that all action in this purchase be halted until city councilors can tour the building and site, bringing white gloves and microscopes. Previous tours "were of the dog-and-pony variety, according to an office holder who took one.
Inflated price tag, structural problems, PCB concerns, and wetland challenges. There's something fishy going on with this.
Councilors, this is an election year. Unless you get it for a song, do not recommend buying this property.
—————————————————
Election Connection: Connell is in for Ward 4
We shall be playing "ins" and "outs" from now until August, when the city clerk certifies names for the September primary ballot. We have a new official "in" to report today.
Chris Connell, runnerup to Mike Ward in the Ward 4 race in 2009, has told The Planet he's onboard for this year.
"I'm in," Connell tells The Planet. "My family has lived in Ward 4 for 32 years, and my wife and I moved back here in late 2002. So my heart, so to speak, is in this ward. I feel my extensive business background … has given me different ideas and perspective on how situations can be handled in Pittsfield."
Connell praised Ward's representation of Ward 4: "If I'm lucky enough to get elected, I can only hope that I can accomplish as much as he has in his time on the council. I have had my differences with him, especially when I ran against him in 2009, but he was always concerned wit the people of Pittsfield." Connell says he shares that  concern.
In an interview yesterday, Ward 6 councilor John Krol confirmed he will be running again in Ward 6, barring some "unforseen" development that would lead him to reassess. We take that as "in" and put the qualifier down to Krol's overly cautious approach to the land of commital.
The Scoreboard so far:
INS: Joe Nichols (mayor); Chris Connell (Ward 4); John Krol (Ward 6); Jeff Ferrin (at large or school committee)
OUTS: Jimmy Ruberto (mayor), Gerry Lee (at large), Mike Ward (Ward 4), Jonathan Lothrop (Ward 5), Terry Kinnas (mayor or council), Bill Hines (mayor).
———————————————————
With that, we publish this poetry from THE STOOLEY, a gadabout who shall have much more to say this campaign season. THE STOOLEY is a person of connection, who writes for The Planet without fear of the real name being revealed. THE STOOLEY is on the inside of much of what comes down. Readers would be shocked to learn just how far inside THE STOOLEY is. How delightful to have this person in our employ.
"WHAT WE SAY TO THE CANDIDATES"
by The Stooley
The picture is fleeting. The weather sleeting.
But candidates will a come, a greeting.
As the steams murmurs, so we pass.
Heaven can heaven more annex;
We listen, assess, and we will kick their ass.