BY DAN VALENTI
The poisoning of Pittsfield by General Electric ranks among the great socially sanctioned "crimes" in U.S. history. Of course, little if any of the process was against the law, and "crime" is nothing but a legal concept varying among cultures. In Pittsfield, GE manufactured transformers, electrical equipment, plastics, and other products in an industrial environment that required the use of chemicals.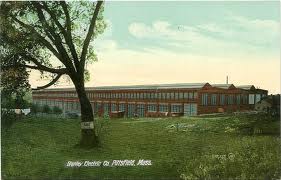 In conducting its operations, GE massively polluted Pittsfield and essentially was allowed to walk away from the consequences. It paid the city $10 million in lieu of taxes and paid for a ½-mile cleanup of the Housatonic River adjacent to its former campus between East and Newell streets. Meanwhile, the city's population went from 60,000 to 40,000, the tax base dwindled, property taxes skyrocketed, the city got older, and countless acres were left poisoned.
These harsh realities make the current and urgent debate on PCBs perhaps the single-most important issue facing the city and county, particularly the towns downstream on the Housatonic. It should be and must be a dominant issue in Campaign 2011.
While the Boring Broadsheet and 1Berkshire seem content to shill for GE (in 1Berkshire's case, after taking $300,000 of GE money), ordinary citizens are more and more waking up to the gravity of their plight. There is anger but not irrationality, at this point, anyway.
Two outstanding facts need repeating: (a) the Consent Decree can be reopened and renegotiated, and (b) There is no procedural limitations of which this writer is aware that would prevent the City of Pittsfield and/or a group of citizens from initiating actions demanding more redress from the company.
What Goes In Doesn't Always Come Out: & It's Not Just PCBs
As all input-output systems, manufacturing behaves on a plus-sum basis. The ingredients that go into the process always exceed what comes out. Manufacturing leaves residue and waste. It also employs ingredients that damage the environment and human health.
During its century of presence in the city of Pittsfield, General Electric utilized or produced gargantuan and unmeasured amounts of these chemicals, solvents, greases, oil, lubricants, metals, materials, and the like. The notorious Hill 78, which stands 45 feet high, began life as a ravine. GE began to fill the five-acre concavity with a devils' list of industrial waste, things like or similar to:
Ammonia, boron trichloride, formaldehyde, fluoride, phosgene, hydrogen bromide, hydrogen chloride, chlorine, nitric acid, sulfur oxide, and sulfuric acid, as well as systemic poisons along the lines of arsine, boron trifluoride, dibroane, ethylene oxide, hydrogen fluoride, hydrogen sulfide, carbon disulfide, cyanide, tungsten hexafluoride, arolein, nitrogen dioxide, ethylene dibromide, phosphine, hydrazines, carbon monoxide, methyl bromide, methyl isocyanate, stibine, arsenic trichloride, bromine, nitric oxide, parathion, tetraethyl lead, and toulene 2,4 disocyanate. (Source: "Toxic Industrial Chemicals — Chemical Warfare Without Chemical Weapons." FABAD Journal of Pharm. Science, 31, 220-229, 2006) fabad.org/fabad.org/pdf/volum31/issue4/220-229.pdf
Hill 78: An Affront to Morality and a Monument to Gutlessness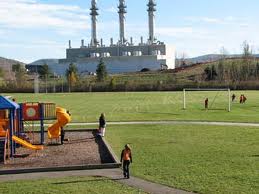 As for PCBs, GE removed them from a two-mile stretch of the Housatonic (paying only for the first half-mile). Much of the contamination was hauled to Hill 78, within 50 yards of a grammar school. State law prohibits solid-waste dumps to within 1,000 feet of a school, yet it's somehow OK to have a literal mountain of toxicity next to schoolchildren.
* Ask yourself: How and why did the city of Pittsfield allow this?
* Why are city officials and community leaders apparently still content with Hill 78?
* Why isn't the mayor and 11 members of the city council — in conjunction with other community leaders — unified in demanding the removal or remediation of Hill 78?
* Why the complacency?
* What does it say about a city whose officials allow a five-acre, 45-foot tall mountain of toxicity anywhere in its borders, much less next to a school.
Do these people love pollution? That doesn't seem reasonable.
Have bribes of one sort of another been given? We don't know, but it would seem more reasonable.
Do these people fear a confrontation with GE? If so, is the fear reasonable?
There are six ways to release toxic industrial chemicals (TIC) into the environment:
1. Unintentional operational release — Accidents of manufacturing
2. Intentional operational release — Known byproducts of manufacturing
3. Industrial accidents
4. Transportation accidents
5. Deliberate hostile action — Chemical warfare, for example, or terrorist attack
6. Natural disaster
In General Electric's near-century as a manufacturing giant in Pittsfield, #2 was by far the manner in which the local environment was poisoned. Whether the substance was PCBs or other TICs, the company knew what it was doing and, since usually no law explicitly prohibited it the action, it had no qualms about doing it.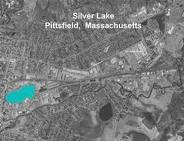 You didn't need scientific testing to know that how badly GE polluted Silver Lake. You didn't need data to realize that bubbling, oil-like oozes from vacant lots shouldn't be happening as a "normal" act of nature. You didn't have to have an air-monitoring device to realize that the sweet-sick air around the GE plant in was not the smell of pure Mother Nature.
Here's a quote from the article "TICs — Chemical Warfare Without Chemical Weapons" (link above) — "If TICs enter into the environment in large amounts, they will pose a substantial threat to both civil and military forces and may cause large-scale human losses and economic damage."
—————————————
Umbilical Exchange: Not Even the Womb is Safe
The following link brings you to an eye-opening article The Planet shares for the purposes of information and education. It reports on the testing of in utero babies for industrial toxins:
scienceinthetriangle.org/…/10-americans-industrial–toxins-found-in-umbilical -cord-blood/ –
The essay contains this excerpt:
The 10 babies couldn't have inhaled, digested or absorbed the chemicals by being exposed to them in the air, water, food or personal care products. Their exposure was in the womb, where no blood brain barrier protected their developing brains.
The test results showed that the 10 cord blood samples contained:
287 toxins and chemical pollutants, 200 on average per sample.
28 waste products, such as dioxins and furans, chemicals that come out of smoke stacks.
47 consumer product ingredients, such as flame retardants from furniture and clothing, teflon chemicals and pesticides.
212 industrial chemicals and breakdown products from pesticides that have been banned for 30 years or longer.
——————————————-
Check Out Harper's Magazine, December 2010 Issue
Our investigations and research also turned up this article from the December 2010 issue of Harper's Magazine: "GE Superfraud." Page 50-51 has a sobering section on the PCB poisoning of Pittsfield.
susanwides.com/…/Click%20to%20view%20full%20article%20Harpers- Dec09.pdf
—————————————–
PITTSFIELD: Famous for the Wrong Reasons
Even cursory research shows that Pittsfield is famous the world over for its toxicity. Check out this article:
www.newworldorderreport.com/…/13-toxins-and-poisons-in-your- environment-These-are-things-everyone-should-know-about.aspx
Here is an excerpt (one of the 13 toxins is PCBs):
13 Toxins and poisons in your environment.
Large-scale environmental contamination events
United States
Massachusetts
Pittsfield is one of GE's hometowns. Pittsfield was home to GE's transformer and capacitor divisions, and electrical generating equipment built and repaired in Pittsfield powered the electrical utility grid throughout the nation.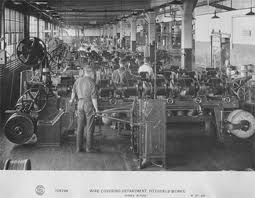 PCB-contaminated oil routinely migrated from GE's 250-acre industrial plant located in the very center of the city to the surrounding groundwater, nearby Silver Lake, and to the Housatonic River, which flows through Massachusetts to Connecticut on down to the Long Island Sound. Faced with ever mounting amounts of PCB-contaminated material, and with a growing need to dispose of this material, GE and its contractors hauled and dumped PCB-contaminated material anywhere they could. They still had too much. So GE in the 1940s and 50s launched a giveaway program. GE employees and their neighbors and local contractors, in return for signing a letter stating that they were receiving clean fill and that they would not hold GE liable for any subsequent problems, were given truckloads of PCB-contaminated material to use as fill in their backyards and construction projects.
The sheer magnitude and varied scope of this contamination has made the Pittsfield/Housatonic Site one of America's most complicated PCB sites.
————————————————–
Where is the instrument that can measure the decades of sadness and heartache that the city had endured because of GE's callousness toward its people and environment? Who can construct a scale to weigh the hurt for generations to come if this situation is not, once and for all, confronted?
————————————
THAT'S ALL TODAY. TOMORROW, WE PRESENT A BOOK REVIEW FROM A FABULOUSLY TALENTED GUEST WRITER, P. J. KOCAK. BACK LATER. LOVE TO ALL.