By JOSH CUTLER
PLANET VALENTI Sports
(PITTSFIELD, June 12, 2011) —
Though inclement weather conditions prevented a doubleheader between the Pittsfield Colonials and the New York Federals from being played, it couldn't spoil the party for about 500 family, friends, and supporters of former Pittsfield Red Sox pitcher and Berkshire County Jimmy Fund chapter founder Paul Dowd, as the Wahconah Park playing field was formally dedicated in his honor on Sunday afternoon.
From now on, the playing field will now officially be known as "Paul Dowd Field at Wahconah Park."
Dowd, who was diagnosed in 2008 with Amyotrophic Lateral Sclerosis (commonly known as Lou Gehrig's Disease), has been spending time in North Carolina battling his condition. Though weakened physically and seated in an electric wheelchair, Dowd was able to attend with his family and participate in the ceremony.
Dowd remarked to the crowd that despite the field being renamed in his honor for his work in the community, the gift of life outweighs that honor in his mind: "You know what our rewards are? They're not a plaque you hang on the wall or anything like that. It's a child that we help, that grows up, and gets married and has children"
Former, Current Elected Officials Pay Tribute
Mayor James M. Ruberto was pleased with the overwhelming support by local
officials for the name change: "I wish every petition filed could go through the city council as easy as the petition did to rename this field," in reference to the unanimous votes by the council and the Pittsfield Parks Commission to endorse the petition.
Ruberto presented Dowd with a proclamation as well as a key to the city, though as City Council President Gerald M. Lee remarked, "Paul already has the key to the city, with the people he could get to help him with the Jimmy Fund".
Former Pittsfield Mayors Remo Del Gallo, Paul E. Brindle, Edward M. Reilly, and Gerald S. Doyle, Jr. spoke, and State Representative Paul Mark presented a proclamation to Dowd on behalf of the Massachusetts state legislature. Matthew Barry, son of former Ward 1 City Councilor William D. Barry, who brought the petition to rename the field along with former City Councilor James Boyle, recited a proclamation given by the office of Congressman John Olver. Reverend Peter A. Gregory, pastor of St. Charles Church and Dowd's spiritual advisor, provided the invocation.
Several members of the Pittsfield City Council during Dowd's six year tenure from 1996-2002 were also present in the audience, including former City Council President Thomas E. Hickey, Jr. and former Ward 2 Councilor James Brassard.
Dr. John Herman, representing the Pittsfield Parks Commission, removed the Colonials' hat from Dowd's head and replaced a Boston Red Sox hat, saying "I always thought this hat looked better on you anyways!" Dowd pitched for the Pittsfield Red Sox from 1966-1969, going 10-16 in four seasons at Wahconah Park.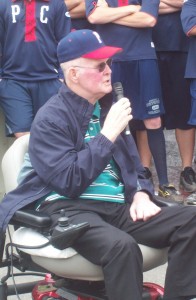 Brindle remarked that despite being a native of Detroit, Michigan, Dowd's dedication to the community cemented his impact on Pittsfield: "Usually somebody that comes from the outside never becomes a citizen of Pittsfield. Well, today, you became a citizen of our community, a native boy today"
An emotional moment occurred when former North Adams Mayor John Barrett III shared a story of his relationship with Dowd, which developed through the inaugural Jimmy Fund baseball tournament 27 years ago. Barrett said that that relationship became much closer when his wife was diagnosed with breast cancer two years later and succumbed to the disease two years after that: "Without Paul Dowd, that journey I was on and thereafter would have been so much more difficult".
Barrett noted that despite being in Pittsfield, Dowd held significant clout with the Jimmy Fund headquarters in Boston: "I'd call him up and say, Paul, we've got somebody. Within a half hour, they would have an appointment at the Dana Farber Institute".
Colonials Organization, Players Rally Behind Dowd
In a show of solidarity with one of their own who graced the field of Wahconah Park in the past, all the members of the 2011 Pittsfield Colonials stood behind Dowd throughout the  ceremony.
Pittsfield Colonials President/Owner Buddy Lewis remarked on how Dowd's reputation as a man of great character can rub off on strangers: "Paul, I really don't know you that well, and I've heard such wonderful things about you, but had I known you, I would have been a better man". Lewis presented Dowd with a Colonials' hat and bat signed by the players, and at one point during the ceremony the players surrounded Dowd, each wanting an opportunity to shake his hand.
Dowd: "Faith" Keeps Him Going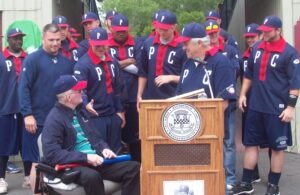 Dowd revealed how his spiritual beliefs have carried him through this ordeal: "Faith can move mountains. You must have faith in (God), no matter what the struggle may be. Make sure your sufferings are for something, that they're not for nothing".
Despite his condition, Dowd emphasized that his offer to help anyone still stands, and that he and his Jimmy Fund council will always be there for help: "We're open 24/7".
At the conclusion of the ceremony, a plaque bearing the likeness of Dowd next to the third base line concession stand was revealed. Following the ceremony, friends and well-wishers lined up to greet Dowd on the Wahconah Park concourse for over an hour.
———————————————————————–
HERE IS THE PLANET'S COMMENTARY. THIS IS NOT ON TODAY'S OBVIOUSLY MOVING CEREMONY BUT ON THE MOVE TO HAVE THE NAMING OF THE FIELD.
By DAN VALENTI
DOWD, FROM THE CROWD, FOR CRINE OUT LOUD
(FORTRESS OF SOLITUDE, Sunday June 12, 2011) — The naming of the field at Beloved Wahconah Park today after a man who helped lead the charge to tear it down has the radioactive fingerprints on it of the barroom buddies that while in power nearly ran this city in the kermose. Paul Dowd famously said he wanted to demolish the stadium where he found his level of incompetence as a Big League prospect in the Boston Red Sox farm system in the mid-1960s.
After Dowd, mayor Gerry Doyle, councilor Jim Boyle, councilor Bill Barry, and other GOBs in the Civic Authority debacle, barroom politics seethed. In typical hotheaded fashion for those of the Blarney. they used their power after that as if they wanted only to make the city suffer. They instituted a set of policies that raised taxes, wasted money, led to a state takeover to prevent municipal bankruptcy, and cut a horrible deal with GE that got the town off the hook for leaving its poisons in the county.
These failed politicians have been lingering in the background of Pittsfield politics ever since. They made certain that Sara Hathway would not have more than one term. They worked hard to get Jimmy Ruberto elected, a man, if you'll recall, who had been missing in action in Pittsfield for a generation. The latest example of their spitting into the Pittsfield punch bowl comes with the naming of the field at BWP after Dowd.
The Naming Effort Comes Off as Sentimental Exploitation
Renaming the field for Paul Dowd comes as a cynical exploitation of Dowd's unfortunate medical status. He has Lou Gehrig's disease. We feel badly for him. We would wish this on no one. The Planet has, does, and will, pray for Paul Dowd. We will never, however, support what seems to us as the exploitation of his illness by Doyle, Boyle, and Barry and friends. It seems more like having their final "revenge" on the Civic Authority defeat. Think about it: each of these blowhards spent years telling us what a "dump" Wahconah Park was. Now they want to honor someone who agreed with them? Don't be fooled, folks.
The Planet's observation may seem harsh, but it's true. Truth, while it may be in short supply with skunk politicians, finds itself revered at this address. We will speak it and write it.
At best, the naming of the field for Dowd is Irish sentimentality at its worst, a mawkish and maudlin flowing of tears that recalls Bing Crosby singing "Toor a Loor a Loora" to Barry Fitzgerald in Going My Way. At worst, the measure is swamp politics at its best. The move to name the field is not only superfluous but an insult to everyone who lives in Pittsfield who believes in The Little Guy.
Dowd did a lot of good for people in his long stint with the Jimmy Fund. We do not deny that, and we applaud. The Planet knows many citizens of Pittsfield who did as much good for as long or longer. They aren't getting "honored." They are the ones whom officials like Doyle, Boyle, and the usual suspects liked to slap around, lording their power "because they could."
THAT OLD BLACK MAGIC FROM 2000
The Planet has many times before detailed the elaborate Civic Authority ruse, and we take as one of our greatest accomplishments as a crusading journalist that we kept that "crowd" from gaining the totalitarian power they sought back in 2000-2001.
The Doyle Administration ran the city into near bankruptcy through financial mismanagement that a reasonable and sober analysis would have to call dumb on a kind day and morally reprehensible on any other. The state had to come in and chaperone our handling of our own money. The humiliation of Pittsfield, which is Doyle's true legacy, achieved its coup de grace following GE's pullout. They ran with their profits and left us their poisons.
There's no question the Boring Broadsheet's Saturday Page 1 story on the precarious finances of the Pittsfield Colonials stems from the still smoldering ruins of the Civic Authority, the attempt in 2000 by the goons that ran the city to replace democratic rule by an appointed board with vast, unimpeachable powers using professional baseball both as pretext and a hostage.
The BB stood in the middle of the ruse, a willing stooge to the dark powers that presented a Trojan Horse in the "new stadium" proposal. If there had been a legitimate attempt to build a new ballpark, Pittsfield would have one now. Instead, the GOBs rounded up the Eagle to act as the shill to front the hoax to pull an end around on democratic government in Pittsfield. As the Civic Authority legislation proved, it was never about a stadium or about professional baseball. It was about swamp politics.
—————————————————————
MORE TO COME, LATER. THE PLANET WEIGHS IN ON FOUR STORIES IN TODAY'S BB, WHERE THE PAPER HIT .250. BRIAN SULLIVAN'S TRIBUTE TO DOWD (MISS), CLARENCE FANTO'S EXCORIATION OF CHRIS "NO SHOW" SPERANZO (HIT), DICK LINDSAY'S ARTICLE ON RENAMING OF COLUMBUS AVENUE (COMPLETE WITH THE HEADLINE PLAGIARIZED FROM THE PLANET, MISS), AND HOWARD HERMAN'S COLUMN ON THE FATE OF THE COLONIALS (MISS).
"OPEN THE WINDOW, AUNT MILLIE."
LOVE TO ALL.