By DAN VALENTI
PLANET VALENTI News and Commentary
(FORTRESS OF SOLITUDE, WEDNESDAY, APRIL 4, 2012) — Remember, tonight we will show The Haunting, Robert Wise's brilliant take on Shirley Jackson's genre classic, The Haunting of Hill House.
This is part of our Advanced Composition class. The class will begin in K-111 at BCC beginning at 5:30 p.m. The screening will commence shortly thereafter. The Professor promises to be brief in his housekeeping remarks to the class. You, the public, will be warmly welcome to sit in to watch the film, for free.
Filming Abroad, Wise Gets Wise with Budget
When Jackson's book came out in 1959, Wise bought the screen rights. When he got the financial backing of MGM Borehamwood (where Stanley Kubrick filmed 2001), he visited Jackson to discuss the book and the screenplay, credited to Nelson Giddings, though Wise had a strong hand in it. Wise said the title of the book was too long and awkward for a movie title and asked Jackson if she had considered any other titles. She said, "The Haunting." Wise adopted the truncated version immediately. It worked well in on the opening credits and fit neatly on theater marquees.
Wise filmed in England because MGM there offered him $1.1 million to make the film, a hundred grand more than MGM in the US. That cinched the deal. Like Kubrick, Wise was eager to film outside of the then-dying studio system. Kubrick, of course, never returned to the United States after filming 2001 at Borehamwood. The Borehamwood studios were also used by Patrick McGoohan, incidentally, to film his iconic 17-part TV series The Prisoner.
Working smartly, Wise filmed on the tight budget. The film has an expensive look to it. He axed most of the book's outdoor scenes (the characters rarely leave the house, giving the film a sense of claustrophobia), filmed in glorious black and white, lit the scenes brilliantly with a chiarascuric dapples of light and shadow, and suggested rather than filmed the haunting.
For example, the characters in the house often comment on the feeling of "being watched." Wise adroitly suggests this not with boring computerized special effects but but placing many eyes on the sets — statues, paintings, sculptures of people, angels, and creatures who stare out. There's also an eerie effect of a door being pushed in, achieved by constructing the door from plywood and rubber and having stagehands simply pushing in from the non-camera side. You'll also notice the odd look of the exterior shots of Hill House, which Wise achieved inexpensively by filming during the day with an infrared filter over the camera lens.
For the house exteriors, Wise used what is now The Ettington Park Hotel, Stratford-Upon-Avon, Warwickshire, in central England. They began exterior filming on Oct. 1, 1962. The property has a long history of hauntings. Actor Russ Tamblyn (Luke Sanderson) has a great story  of a chilling experience he had behind the Ettington one night during a break in the filming. You can hear Tamblyn's interview, along with those of Richard Johnson (Dr. Markway), Julie Harris (Eleanor Lance), and Claire Bloom (Theodora) on the "extras" that come with the DVD version of the film.
With this, we present this bit of history about the Ettington Park Hotel, written by the staff of Hand-Picked Hotels, a privately owned and managed hotel group known for its stunning English properties in country locations.
—– 00 —–
'The Perfect Setting for Any Horror Story'
By Hand-Picked Hotels
Special to Planet Valenti 
Ettington Park is a brooding neo-Gothic mansion and has been the home of the Shirley family for over a thousand years. It is easy to understand why Robert Wise chose this house in 1963 as the setting for his classic ghost film "The Haunting". With its stately towers and turrets it seems like the perfect setting for any horror story.
When I arrived at Ettington Park 9 years ago to take up my duties as the Night Manager, I was totally unaware of its legacy of eccentric and unsettling experiences and its dubious accolade of the Most Haunted Hotel in Britain, a title attributed to it by the Automobile Association.
It was not long before I personally experienced at first hand some of these strange occurrences and crossed the path of some of its legendary ghosts. I must emphasise however, that in all my experiences I have never once felt threatened in any way. On the contrary, I have always found the atmosphere at Ettington to be a warm, happy and welcoming one despite any sinister appearances.
What Do We Mean By Ghosts?
I use the term "ghost" to describe a variety of different phenomena: something that goes bump in the night; the visible apparition; objects moving unaided; voices emanating from the air; the overwhelming feeling of an unseen presence and being watched and the moving, or passing shadows of someone or something.
Do Ghosts Actually Exist?
Personally speaking and despite my own encounters at Ettington Park, I am not particularly interested in the paranormal as such. However, if you believe in life after death then I think the only answer can be yes. It is after all the basis of most religious and personal philosophies that part of us continues to survive after physical death. This part is variously referred to as the soul, spirit, personality, or life force.
Time is an enigma. St Agustine asked the question, "what is time?" In reply to his own question he said, "If no one asks me, I know what it is. But if I wish to explain it to anyone who asks me, I do not know." His words capture the enigma that has confounded philosophers throughout the ages, mystified mathematicians and left scientists nonplussed. We cannot touch time or taste it, we cannot see it, hear or even smell it and yet we sense it all around us for as long as we exist. It is the intangible medium in which our minds are suspended.
From a more current scientific point of view, theories in quantum physics and the most recent cosmological observations reinforce the concept of the existence of parallel universes. Our universe appears to be just one bubble in a universe of other bubbles or parallel universes. Cosmologists also conclude that these other universes can have entirely different properties and laws of physics that could explain the various strange aspects of our own. It could even answer fundamental questions about the nature of time and our understanding of the physical world around us.
Is it not possible that the ghosts and ghostly phenomena are unwitting glimpses into these multiple/ time dimensions being currently defined by scientists but, as yet, not fully understood? The scientific concept of infinite earth's in parallel universes intrigues me personally and recalls to my mind a very interesting statement made by Jesus in John's Gospel: "Believe in God and believe also in me. There are many rooms in my Father's house….I would not tell you this if it were not so". Food for thought!
—– 00 —–
Or, as Dr. Markway says in the film after they have discovered the "cold spot," the heart of Hill House, it's "frozen food for thought."
This interesting discussion brings us into relatively new territory on THE PLANET that we shall eventually explore in depth — spirituality, the paranormal, life after death, metaphysics, time, mathematics, God, and quantum physics. Yes, all that is One Topic.
To be continued.
——————————————————–
TELL THEM THE PLANET SENT YOU
Fact: In July 2005, police accuse a man pushing 60 years of age of multiple criminal counts in connection with separate incidents on two consecutive days involving boys aged 13 and 15, each involved separately with the man.
Fact: Police charge the man with two counts of soliciting the prostitution of a minor and two counts of assault.
Fact: After the man received a summons from the police, according the spokesman for the man's then-place of employment, the man failed to give notice to the board of directors of the company where he worked as president and CEO.
Fact: Because the man did not give his board truthful information, according to the company,  the board to make a sound judgment on whether the man was fit to be employed by and represent the company.
Fact: The man admitted guilt in connection with the two assault charges.
Fact: The man was sentenced to a year in jail, suspended; a year of probation; and court-ordered psychological counseling.
Fact: There is no record that he served his probation or fulfilled the court's order for counseling.
Fact: One of the man's best friends served in the man's company as a senior officer and board member. This man was also head of the probation department in the city where the man lived and worked.
Fact: The man didn't serve his probation. Reasonable Supposition: He did not serve his court-ordered probation because his buddy, the head of probation, fixed it for him. No harm, no foul.
Fact: The man continued as president and CEO, marketing symbol, and community pillar in his service to various organizations from the time of his arrest until the time the news of his arrest hit the news in mid-year, 2010. Reasonable Inference: Because the man withheld knowledge of his criminal past from his board, all compensation the man received from his company was obtained under fraudulent conditions.
Fact: The main definition of "molest" used as a transitive verb is "to annoy, disturb, or persecute, especially with hostile or injurious effect" (Merriam Webster online dictionary).
Fact: The man, having admitted to two counts of assaulting two boys (one apiece, on consecutive days), can by this definition and use be fairly and factually be called a child molester. To assault is to "molest." To assault a young boy is to "molest" a young boy.
Fact: We are not playing with words. We are using words according to their denotative meaning. We respect words too much to do otherwise.
Fact: When and if others wish to interpret what we write and assign different meanings than what we intend, we have no control over that.
Tell them THE PLANET sent you.
—————————————————————
THE TRUTH ON THE  JEWISH SETTLEMENTS AND THEIR EFFECT ON PEACE IN THE MIDDLE EAST
The Israeli Peace Now movement, Shalom Achshav, was established in 1978, when 348 Israeli senior reserve army officers and combat soldiers came together to urge their government to sign a peace treaty with Egypt. They knew then what remains true today – real security for Israel can be achieved only through peace.
In the years since its establishment, Shalom Achshav has worked for the achievement of peace agreements between Israel and all her Arab neighbors, and has come to be recognized, both in Israel and abroad, as Israel's leading grassroots, Zionist movement. Best known for mobilizing mass demonstrations, for many years Shalom Achshav has also been the only group conducting comprehensive monitoring of Israeli settlement activity in the West Bank (and the Gaza Strip, until Israel's 2004 evacuation of Gaza settlements). Shalom Achshav is widely cited in the Israeli and international media as the foremost authority on settlements.
Americans for Peace Now (APN) was established in 1981 to mobilize support for the Israeli peace movement, Shalom Achshav (Peace Now), and has since developed into the most prominent American Jewish, Zionist organization working to achieve a comprehensive political settlement to the Arab-Israeli conflict.
With that preamble, we present this guest essay by writer James Carroll.
—– 00 —–
Establishment of a Permanent Palestinian State is in Israel's Best Interests
By James Carroll
Special to PLANET VALENTI News and Commentary
Dear Friend of Israel,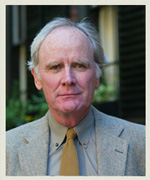 JAMES CARROLL
Christians of the West have long been the unnamed third party to the conflict between Israelis and Palestinians. Most obviously, the ancient Church assumption that Jewish exile from the Jewish homeland was a proof of claims for Jesus still casts its shadow. Similarly, European colonialism, with its Christ-sanctioned underpinning, spawned what Edward Said called "Orientalism," a permanent factor in Palestinian dispossession from lands on which they resided for centuries. In effect, Jews and Arabs confront one another in a corner, the walls of which neither created.
Recently, Fundamentalist Christians, championed by groups like Christians United for Israel, have been supplying uncritical support for Jews, while other Christian groups have emphasized the Palestinian narrative, readily casting all blame on Israel. Yet the burden on those of us who view this conflict from outside is to consistently affirm the rights of both peoples. Peace will come only when both stories are heard, both sets of grievances addressed–a process which Palestinians and Israelis themselves must lead.
This abstract principle is now, of course, a quite specific matter of territory, and no one has stated it more clearly than President Obama did last May: "The United States believes that negotiations should result in two states, with permanent Palestinian borders with Israel, Jordan, and Egypt, and permanent Israeli borders with Palestine. We believe the borders of Israel and Palestine should be based on the 1967 lines with mutually agreed swaps, so that secure and recognized borders are established for both states."
The president here stated a formula long familiar to peace advocates, yet even with formal American and international support, the idea of a negotiated two-state solution, involving equitable land exchanges, is today an endangered consensus–and so is the hope for an outcome which both sides can embrace.
That is why the long proven commitment of the Israeli Peace Now movement (Shalom Achshav) is more urgently important than ever. I am writing to commend to you Peace Now, with its U.S. sister organization, Americans for Peace Now. Israel and Palestine–not to mention political hope and justice–need Peace Now more than ever.
Peace Now is a patriotic Israeli organization. Its well-known advocacy merits a renewed emphasis, especially after the recent period of political stasis and disappointment, when many other advocates of peace have become disillusioned and discouraged. Peace Now most emphatically affirms the Jewish and democratic character of the State of Israel. But that means, with equal emphasis, that Peace Now opposes the Occupation of the Palestinians, and absolutely rejects the continuing spread of Jewish settlements in the West Bank and East Jerusalem.
For Peace Now, this is not a matter of mere rhetoric. The organization tracks and publicizes the ongoing Jewish settlement project in the West Bank. In 2011, Peace Now found:
A 20-percent rise in construction starts over the previous year. Of these, 5 percent (650 units) were in isolated settlements east of the planned route of the Separation Barrier, in areas that will certainly not be annexed to Israel once it reaches a peace agreement with the Palestinians.
The Israeli government recognized 11 illegal outposts as bona fide settlements.
The highest number in a decade of new Israeli construction and the highest number ever of planned construction in East Jerusalem.
Peace Now also found that much settlement building, about one third, takes place on private Palestinian land in the West Bank. Such settlements also spring up amid hundreds of thousands of Palestinians in East Jerusalem–often with American Jewish and Evangelical Christian financial backing. Peace Now believes that these unending encroachments amount to present injustices and future obstacles to peace. They must be noticed. They must be condemned. They must be reversed.
This is why I am writing to ask you to support Peace Now, and its sister organization in the United States. Americans for Peace Now provides nearly half of the funding for Israel's Peace Now and helps make possible the actions, research and legal advocacy that assist peace-seeking Israelis in taking back the middle ground.
APN's informative website (www.peacenow.org) offers a wealth of information and analysis for Americans to think more clearly–and pragmatically–about Israel's challenges.
The "app" that APN has released, an interactive map of the disastrous Israeli settlements in the West Bank, is accessible onlinehttp://peacenow.org/map.php and downloadable to iPhone or iPad devices.
I am writing this letter as an American, and as a Christian. I am aware that you are receiving it as the holy seasons of Passover and Easter approach–times when the echoes of history are heard, and when, as I began by noting, people like me can have no illusion of detached uninvolvement. Our texts, our doctrines, our End Time dreams, our habits of racial and religious contempt, even our too-innocent wishes for an easy peace–these are threads in the Holy Land's still untied knot. Historically part of the Israeli-Palestinian problem, we are obliged now to be part of its solution.
That is the invitation we have from Israel's Peace Now and its U.S. sister organization. Join me in supporting both Shalom Achshav and APN. Please make a generous tax-deductible contribution to Americans for Peace Now. This is how peace happens. Please commend Peace Now to everyone you know. Thank you.
—– 00 —–
THE PLANET thanks James Carroll and APN for this thoughtful piece.
—————————————————–
THE FORESTS OF WINDSOR ARE MY GREEN RETREATS, AT ONCE A KING'S BANQUET AND A MUSE's SEAT. YOU PONDER THAT, WHILE WE SAY …
"OPEN THE WINDOW, AUNT MILLIE"
LOVE TO ALL.