By DAN VALENTI
PLANET VALENTI News and Commentary
(FORTRESS OF SOLITUDE, WEDNESDAY, JULY 25, 2012) — You remember Biddeford, Maine? That was the little town that rocketed Greylock Federal Credit Union President Angelo Stracuzzi to fame then shame. Angelo's trip there right about this time of month a handful of years ago caught up with him in the summer of 2010. Next thing you know, both he and his buddy, Clifford Nilan, were booted from Greylock. To this day, Greylock won't reveal (a) How much of a severance package the two men received, if any and (b) whether they were fired or allowed to resign. When they make the movie of Angelo's fun time in Biddeford, it will have the working title, Smells Like Teen Spirit.
Anyway, combing Internet coverage of the mass murder during the playing of the film The Dark Knight Rises at a movie theater in Colorado, we came across this item:
—– 00 —–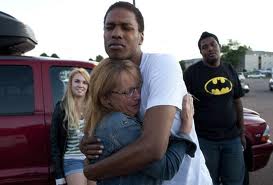 At least 3 men accused of making threats during or after watching the new Batman movie have been arrested in separate incidents, underscoring moviegoers' anxieties and heightened security in the wake of a deadly mass shooting at a Colorado theater showing the film.
A Maine man was arrested when he told authorities that he was on his way to shoot a former employer a day after watching "The Dark Knight Rises," Maine state police said Monday.
Timothy Courtois of Biddeford, Maine, had been stopped for speeding, and a police search of his car found an AK-47 assault weapon, four handguns, ammunition and news clippings about the mass shooting that left 12 people dead early Friday, authorities said.
Former graduate student James Holmes, 24, is accused of opening fire in a theater in a Denver suburb. The shooting also injured 58 people.
Courtois said he had attended the Batman movie on Saturday, although police have not confirmed whether he actually saw the film.
"I guess we're taking everything at face value," State Police Lt. Kevin Donovan said. "It's very scary."
Police searched Courtois' home later Sunday and found a machine gun, several other guns and thousands of rounds of ammunition.
"We don't know what his true intentions were," said Steve McCausland, spokesman for the Department of Public Safety. "Based on the arsenal that was confiscated, we brought in our counterparts from the FBI and ATF to assist with the investigation."
Courtois was charged with speeding and possession of a concealed weapon.
In Southern California, a man at a Sunday afternoon showing of the film was arrested after witnesses said he made threats and alluded to the Aurora shooting when the movie didn't start.
Los Angeles County sheriff's deputies were called to a cinema complex in Norwalk after moviegoers said 52-year-old Clark Tabor shouted: "I should go off like in Colorado." They said he then asked: "Does anybody have a gun?"
A security guard saw Tabor with a backpack on his knees in the second row, but deputies who searched the bag, the theater and its surrounding area did not find any weapon.
Separately, moviegoers in Sierra Visa, Ariz., panicked when a man who appeared intoxicated was confronted during a showing of the movie. The Cochise County Sheriff's office said it caused "mass hysteria" and about 50 people fled the theater.
Off-duty Border Patrol agents tackled Michael William Borboa, 27, who had a backpack with him, according to The Arizona Daily Star. Authorities said it contained an empty alcohol container and a half-empty moonshine bottle.
—– 00 —–
Is the American Dream Over?
There have been several reports of panic and hysteria at movie theaters across the country. Most of them started with a comment, a suspicious backpack, a moviegoer who because of the way he was dressed (it's always a "he") aroused concern, and that sort of thing. All have been false alarms. In the wake of Sept. 11, 2001, we wondered if places like malls and movie theaters might be tempting targets for suicide bombers or mass murderers. The events in Colorado suggest that they are, and it has raised the national security question: Can we allow people to move about in public places freely, openly, and without search and seizure?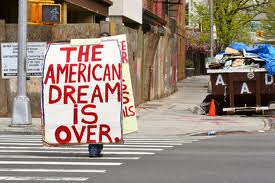 As we saw in the judge's gross misapplication of the revised Massachusetts harassment protection law against THE PLANET, lawmakers legislate to the worst case scenario, which is the worst way to create law. We worry that in the balance of creating a false sense of public safety, which politicians might be tempted to do to foster the illusion that they are responding to a problem that has no practical solution, America might take the next steps toward the inevitable: Creation of a national security state.
This item suggests that we are not in Kansas, Toto. We are not even in America, at least the America we knew when we were growing up in the 1950s and 60s. Consider this thought experiment: A man from 1958 is suddenly transported through time and planted in 2012. What will he think? How will he make sense of what this country has become? How will he understand public behavior, popular culture, and Lady Gaga? What kind of explanation will he fashion when he looks at the social and moral decay? How will he cope with the type of scary and marginal "clientele" seen on a regular basis infesting downtown Pittsfield?
We who have been through that 1958-2012 transition one minute at a time can become inured to the shocking decline. The American Dream — Is it over?
———————————————————–
A BRIDGE TOO FAR?
THE PLANET has previously written about the problematic Woodlawn Avenue bridge, which connects East Street and Woodlawn Avenue. The connector is a great help to motorists who wish to go east-to-west or west-to-east at that point, and the bridge is also vital for the development of the William Stanley Business Park, otherwise known as the PEDA property on the former GE campus.
We learned that CSX Railroad wants to take the bridge down. We couldn't, however, figure out why? THE PLANET heard nothing of the bridge being structurally unsound, and it seemed to make no sense.
Now we know.
It still makes no sense.
State Decides Bridge Must Come Down, Not the City — Which is Plain Silly and Stupid
The bridge is coming down because Gov. Deval Patrick wants it to come down. Period.
Big Brother has once again overstepped its authority and poked its ample proboscis into local affairs, telling us that the State knows best on managing local business. This is the form of trickle-down paternalism that Big Government types have been perpetuating with great regularity for too long.
Patrick signed into law his mandate that all rail bridges be tall enough to accommodate double-decker rail cars. All of a sudden, a perfectly acceptable bridge must come down.
PEDA has understandably been reluctant to take the bridge down, but in a meeting earlier this month agreed to do so. We are not clear on the legal aspects of this. Did PEDA have a choice? Could it have appealed for Home Rule? Could it have argued for the economic necessity of the bridge? We don't know, but if there was any chance of this, it should have been taken.
The move to destroy the bridge without a timetable for replacement places the development of PEDA in jeopardy and as risk based on the whims of CSX, which may not be in a big hurry to rebuild the bridge.
Not to worry, right? The State has promised PEDA that the bridge will be rebuilt pronto — kinda sorta. Check this quote from Corydon Thurston, PEDA CEO, given to The Pittsfield Gazette: "Since our last discussion, the primary issue was making sure we had the most adequate promises on behalf of the state DOT to reconstruct the bridge in a timely manner. We're comfortable, or at least I'm comfortable, that we've probably expended our negotiating position so we can move forward." [THE PLANET's underlines]. The state has given "adequate promises" that the bridge will be built "in a timely manner," timely not being defined. Corydon's comfortable, but maybe not the rest of the PEDA board, that PEDA has "probably," not certainly, put forth its best in negotiating the rebuilding.
Translating that mouthful of bureaucratese in plain English, Thurston is saying he thinks the state will come through. Unlike Neville Chamberlain, however, he could not produce a piece of paper with the state's promises in writing. The Gazette reported that Mayor Dan Bianchi also has verbal promises from the state: "I feel guardedly confident this thing is going to move faster than we were worried it would." Bianchi told the Gazette that state officials "had assured me that the bridge will be a top priority in the state."
There you have it. The mayor and the PEDA Exec without anything in writing about rebuilding, having just agreed to let CSX demolish a bridge that remains key not only to Pittsfield traffic flow but also to the development of PEDA.
To quote Sam Goldwyn, "An oral contract isn't worth the paper it's printed on."
—————————————————————-
EBT CARDS: FRAUD COMES BUILT-IN
In Big Brother II, or Honey, I Will Eat Your Young, the State continues to roll out the fake money.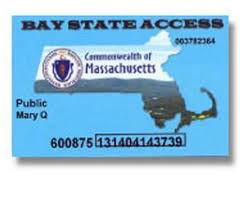 * Both houses (House 147-3 and Senate 38-0) signed off on Gov. Patrick's $32.5 billion state budget. One of the more interesting items of this mammoth spending plan is tighter restriction on EBT cards. These cards are given to the "needy" by Big Brother with built-in electronic value, which users draw upon at cash machine and ATMs using a four-digit code.
* Card holders are warned that "Misuse of abuse of your card may result in investigation by State and/or Federal authorities." Still, that has not been enough to prevent users from purchasing pornography, guns, cosmetics, travel, jewelry, bond for defendants, tattoos, body piercing, manicures, and gambling. The new law prohibits these uses, or we should say, "technically" prohibits these uses. We've all seen EBT users buying cigarettes, booze, and lottery tickets, all prohibited.
* Benefits are electronically loaded into the card on the same day of the month. Recipients do not have to work for the benefits or offer anything to taxpayers in return. Cash payments can also be made via direct deposit, if the recipient wants. Card holder must use all funds within 90 days or they go back to taxpayers. Fat chance of that happening.
* The problem for taxpayers is this: Fraud is built into EBT cards just as surely as their precious money, which the State takes from them to give to those needing or claiming to need a handout. Merchants and users have worked in tandem from the start to defraud the system keep the gravy train going. EBT cards can be used for cash withdrawals, and once cash is in hand, the partying begins.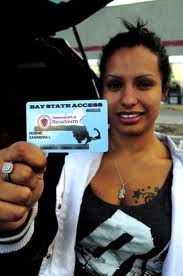 As usual, those who favor taxpayer-funded free-loading railed against any more regulations on card us. They claim that stricter use requirements, such as prohibiting cash withdrawals, would jeopardize the safety of low-income families. This gets to the heart of the corruption and fraud contained in these cards: People use EBT for cash withdrawals. Once cash is in hand, it can be spent on any product or service, legal or illegal.
Earlier this year, we got treated to Exhibit A of EBT fraud in the case and person of Kimball Clark. Our colleagues from the Boston Herald, John Zaremba and Chris Cassidy, reported on the case:
A convicted drug dealer — who cops said wanted to use cash from his taxpayer-funded EBT card to post bail — is the new face of welfare abuse, according to tough-minded lawmakers who are pushing the reform-resistant Patrick administration for a crackdown.
Kimball Clark, 45, was locked up Friday on drug-dealing charges — again — when he was overheard using his one phone call to ask the person on the other end of the line to "get my EBT card and go to the ATM and get the money to bail me out, get me outa here tonight," according to a Boston police report.
"It's another outrage," said state Rep. Shaunna O'Connell (R-Taunton), a member of the EBT Task Force who criticized the group for failing to push tough restrictions on the use of the controversial cards. "When we were on the EBT Card Commission, I fought to get bail bondsmen on that list of places where people could not use their EBT cards. They fought me on it and told me people can't use their EBT cards in that way."
Beacon Hill was forced to mull reforms after the Herald reported people were spending welfare cash on booze, cigarettes and scratch cards.
"Obviously the Department of Transitional Assistance has no idea how people use these cards and how the cards work," O'Connell said.
Their report later added this:
DeLeo targets EBT card abuse in proposed budget
Calif. Pol.: Mass. should 'make it harder' to game system
State Rep. Russell E. Holmes (D-Boston), another advocate for tough reforms, said he was hardly surprised that a drug suspect would try to bail himself out with money from a taxpayer-funded EBT card.
"It's exactly the type of activity that can occur when folks are allowed to get money off their EBT card," Holmes said.
Clark, who gave police a South End address, is charged with distribution of heroin within 1,000 feet of a school. He posted bail and was released, but it is unclear where he got the money. Police said he had $758 in cash on him when he was busted Friday in what cops say was a deal in progress in Dorchester, but that cash was seized. Efforts to reach Clark for comment yesterday were unsuccessful. It is unclear whether he has an EBT card assigned to him. His prior convictions include assault and battery in 2007 and cocaine possession with intent to distribute in 2006, according to the Suffolk District Attorney's Office.
Because cash is hard to trace, EBT-funded bail payments could be widespread, Holmes said. "One of the arguments I've heard is we don't know how much fraud and abuse there is. But that's the problem — we don't know because there's no way to track it. When it comes to how much of this has happened in jail, there's no way for us to know that."
O'Connell and other lawmakers filed a bill last week pushing for tougher regulations than those recommended by the EBT commission, which advised banning the cards at nail salons, tattoo parlors, strip clubs and casinos — but not at ATMs, jewelry stores, health clubs, rent-a-centers and cruise liners.
O'Connell's bill specifically prohibits bail bondsmen from accepting EBT cards and bars cash access through ATMs. O'Connell said her bill also would have allowed the Boston police officer overhearing the suspect's call to inform him he couldn't use the card toward his bail.
This is the type of reporting one expects out of committed daily newspaper. Oh, that Pittsfield still had one. No word, by the way, of where our state reps stand on EBT cards. THE PLANET would be glad to hear from any or all of our Right Honorable Good Friends, Ms. Farley-Bouvier, Mr. Mark, Mr. Pignatelli, Ms. Carriddi, and Mr. Downing. 
Politicians love creating larger and larger classes of "needy" people, of course, because they thereby create instant coalitions of constituency. Democrats especially, who control Beacon Hill 85-15 and have the Corner Office, love to talk about reform but they actually don't want it. They'd lost too many votes from the "gimme group" that receives the monthly kiss in the mail for "free!"
————————————————————————–
WHEN FIRST THE LIVING VINO THROUGH THESE VEINS DID FLOW, IT KINDLED A THOUGHT IN SENSE, AND A GREAT PLANET SPRANG FORTH.
"OPEN THE WINDOW, AUNT MILLIE."
LOVE TO ALL.