By DAN VALENTI
PLANET VALENTI News and Commentary
(FORTRESS OF SOLITUDE, MONDAY, JULY 16, 2012) —  The preponderance of media coverage in Nilan v. Valenti focused almost exclusively on application of The First Amendment, particularly as it relates to cyberspace.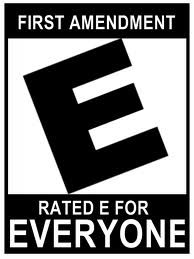 The First Amendment guarantees five freedoms to citizens of the nation:
* Freedom of Religion
* Freedom of Assembly
* Freedom to Petition the Government
* Freedom of Speech
* Freedom of the Press
America considers these right unalienable. We are born with them. No human being grants them or can take them away. Free speech covers all Americans. Free press applies to working journalists and their readers or audiences. The press must be free to cover stories fearlessly. The receivers of the message must be free to choose (or not) to accept the message. Journalists are therefore twice blessed, like mercy: We are covered by two constitutional freedoms.
The First Amendment is a Little Stronger Today
Rights are not privileges. They cannot be revoked, except under the most extreme situations. Nothing in THE PLANET's coverage of the Nilan-Moore Case came or comes close to "extreme." We  uncovered facts, reached reasonable conclusions, and offered commentary — only this, and nothing more. The courts, in agreeing with us, cast a decision that strengthens First Amendment rights. That alone made the ordeal well worth it from THE PLANET point of view.
Nilan v. Valenti received a boatload of nationwide publicity, and — as many observers have pointed out — gave new life to a case that had pretty much receded from the local agenda. Now, as a consequence of her actions against us, Nilan has exposed her behavior to the nation. We did not, nor would we, wish that on the woman, but it was she, not us, who decided to take it to court. The aftermath has been entirely of her own misguided instigation.
———————————————————–
 LETTERS TO THE EDITOR
THE PLANET now shares some of the many "letters" that have come in since our win in court. We want to thank everyone who sent us their good wishes and congratulations. The thoughtfulness, care, concern, and sharing in our experience meant a great deal to us.
—————————————
Still Many Questions
Hey Dan.
I should say "Congratulations", but in reality, it was the only decision that could be made after the previous judge 'screwed up'.
In my shallow mind, the totally inappropriate 'Gag Order' only served to exacerbate my own assumptions based on some personal opinions, recollections of past reported events and cynicism.
    I wonder why she was driving her father's car. I don't know too many 24 year olds who don't own their own vehicle. 
  If memory serves me, both the jogger and the vehicle were reportedly headed toward East street and he was running toward on coming traffic. So if he was struck from behind it would indicate that the vehicle was on the wrong side of the street nearing a busy intersection. That's not good.
Being well aware of that area, there is quite some distance between the reported spot of impact and the area that, after some delay, was checked for evidence. Why? Was there a need for the delay and how do you miss the impact area by such a distance? Was the driver under some adverse influence? More importantly, was she actually the operator of the vehicle at the time of the incident or is the whole story some form of cover-up and was she actually a 'stand-in'?
I admit to my cynicism based on his official position and past involvement on his part in the Stracuzzi affair and an unconfirmed suggestion regarding a possible Christmas party for Probation Officers that same evening at Patrick's Pub.
    Other than my knowledge of the various  publicized positions that he has or still holds, I neither know nor have ever met any member of the family, and I'm sorry, but I cannot help but believe that there is a hell of a lot more to this story than we have or probably ever will get. Influence can cover a great deal of wrongful conduct and what more influence can be exerted than that which is available within the judicial arena. — TDC
———————————
Congrats on the Resolution
Hi Dan,
Just wanted to send my congratulations on the resolution of your court case today. I may never agree with you on anything ever again, but I'm truly happy that you have the opportunity to voice your disagreement.
I hope you had a chance to celebrate accordingly. You defended freedom, and that's no small thing to celebrate.
Thank you for everything you did. I know there must've been a few harrowing moments along the way, and I do appreciate that. Best — Walt
————————————
'What a Travesty'
Congrats on regaining your 1st Amendment rights back. What a travesty — vbator
——————————-
'Outrageous' Claim
Congrats, Dan! This is America, and by the way, I've never seen such entitlement by the Old Boy's Club. I mean, I've seen a whole bunch, but this claim by Meredith Nilan was outrageous. If you don't want to be in the newspaper, don't run over someone with your car, Sweetheart! — Jenny
——————————
'I'm Gonna Start Reading Your Blog'
Why oh why does the Eagle post a back-on photo of Nilan but has you full face? When women make false accusations, the press have this idiotic sense of protection but when men, such as you, are the victims of false accusations, they don't care. 
Judge Bethzaida Sanabria-Vega is an example of why affirmative action appointments and hiring are wrong. Let's go back to hiring and appointing based on qualifications without regard to ethnicity. Just so ya know, I grew up in the 60s and remember the ethnic horror and murders that happened in those days. I am a liberal. I am overjoyed that we have a black president. But he is president not because he is black but because he has the kick-ass intelligence and ambition to have achieved what he has. Our affirmative action Prez might be some moron like Jesse Jackson or Al Sharpton (remember Twana Brawley?).
I never ran across you, don't know you, but I'm gonna start reading your blog. If nothing else good comes outa this, you have gotten some serious attention that, hopefully, will turn into some bucks. There is one thing  liberals and conservatives often agree on and that is the First Amendment.
Blog On Dood…Congrats.
P.S. — Mom graduated from Berkshire Medical as a nurse in 1940. Dad graduated from Adams High. I grew up in Enfield CT but my roots are where you are (and Vermont). I did industrial sales in that area when GE supported all those mom and pop machine shops. Grand Parents were members of the Stanley Club. In Bennington I met GE's former chief pilot. Those days are lost :-
——————————-
Congrats, Dan. I loved how the gag order forced the BB to defend you. — Mike
—————————-
'Keep Fighting the Good Fight'
I'm not surprised, but glad to see you handed the a55holes their a55. No one heard of Meredith Nilan outside of the town until you covered it, now she's national news. They were even talking about you on the Local SC AM station – keep fighting the good fight man! — William
————————————————
All of Us are Winners Here
Congratulations, Dan, a great win. Once before you said that you were a banjo hitter. In this championship game you hit a tape measure home run. I am very happy for you – and for the rest of us. All of us are winners here. — Chuck
———————————–
Again, THE PLANET thanks everyone.
—————————————————————————–
QUICK HITS AND HOT LICKS
MALICE IN THE PALACE– In addition to being the title of one of THE PLANET's
favorite Three Stooges shorts, it could also cap the North Street parcel up for sale for $399,000. The site of the former Palace Theater — now home to an ugly parking lot (are their any other kind?) between The Shipton Building (our former home for 24 years) and BBE Office Supplies — sits as a missing tooth in a decaying smile along North's milkly and littery way. The lot is being billed as the "rare opportunity to own the last vacant parcel on North Street. Frontage on North Street and Rennie Avenue." THE STOOLEY has chimed in on this matter. He thinks it would be the perfect place for either a methadone clinic or another social service agency, in keeping with the current flavor and feel of the downtown.
BY THE LIGHT OF THE SILVERY LAKE — The alleged clean-up of Silver Lake begins  this week. The remediation project is expected to take two years. First part of the job will be to remove polluted soil and material from the banks of the lake. No word to otherwise on the proposed capping of the lake bottom as opposed to the removal of a century of some of the heaviest industrial pollution a 26-acre lake could be forced to endure. Someone with knowledge out there tell us: If they cap the junk that rests five feet deep on the lake bottom, what's to prevent the hazardous materials from leeching out from down below and into the aquifer and water table that makes up the underground water system? Is there a foolproof provision for that in the clean-up? Does GE and the EPA mean to tell us that a cap will work, in perpetuity? Once the so-called clean-up is done, will people be able to use the lake for recreation? Who has the science on this?
THEY SAID IT WAS SO (BUT THEY DIDN'T SIGN A THING) — The PEDA executive board voted 4-0 last week to sign a contract that will allow CSX Railroad to tear down the Woodlawn Avenue rail bridge. All well and good, except for two things. (1) The PEDA board consists of seven members. Where were the other three? Mayor Dan Bianchi, Mike Matthews, George Whaling, and Mick Callahan voted. Gary Grunin, Christina Barrett, and Beth Mitchell took a powder. What message does that send when 43% of the board doesn't participate in a decision that could lead to a mess, and do citizens want important decisions to be made with only a quorum but without full participation?
That brings us to point 2: If the bridge comes down, how will Mary Jane and Joe Kapanski ever be able to drive their 2001 Ford Focus from East Street to Tyler Street without having to take the long circle route around the lake? The answer comes the from state. They state has "promised" PEDA that it will provide the money to rebuild the bridge. They didn't put it in writing, though. That, however, was good enough for PEDA. Check this quote from PEDA executive director Corydon Thurston, given to my good friend and colleague Tony Dobrowolski: "The bottom line is we have received verbal assurance that construction of the bridge is a top priority when funding is most likely to be available." Uh oh.
That's the bottom line, Corydon?
We thought "bottom line" was "the ink stains dried upon some line" of a contract. Look at what Corydon has just said: He has a word, not  paper, that the state will be rebuilding the bridge. Fine. When will they be rebuilding the bridge? "[W]hen funding is likely to be available." And when will that be? Corydon "hoped" by FY14. His "hope" was verbal, too. He did not put it in writing. The Amateur Hour continues. Left out of the discussion is a rather obvious question: Why does CSX want to tear down the bridge in the first place? Is it dilapidated? Is it, like London Bridge, falling down? We don't know.
ENHANCED INTERROGATION TECHNIQUES FOR SYNTAX — In the July 4 issue of Berkshire Business News, the house organ of the Berkshire Chamber of Commerce, chamber head Mike Supranowicz gushes over the job he and his people did in Washington, D.C. meeting with our reps in Congress. He writes, "Then we layered in that our region has also built upon the creative economy's impact with Berkshire Creative, an organization that stimulates economic opportunity by sparking innovative collaborations between artists, designers, cultural attractions, and businesses."
Come again? "Then we layered in that …"?? We have not seen such a creative butchering of a verb since King Kong grunted declensions for Fay Wray. Read Supranowicz's blubbery sentence again. What does it mean? What is he trying to says? Answer: He doesn't know. That's what's going on when a person has nothing to say: He says it with a bunch of mush and gobbledy gook. THE PLANET only wonders: Did Supranowicz write the article himself or did he have his flack do it? If he did it himself, he should start farming out the prose. If he had this ghost-written, he needs to call an exorcist.
BEEPERS SANS BEVERAGES — In the same issue of the Chamber's rag, we see on page 11 the "BYP Out and About" page. We see in the photos the smiling and scrubbed faces of Jonathan Schwartz, Jackie Dolan, Michelle Lillie, Craig Kahn, Brad Felix, Allison Choiniere, Ron Kelly, Harry Beron,Cheryl Martin, Celisha Racicot, Lyn Clements, Jena Messana, Eric Pizani, Nathan Girard, Amanda Hale, Bernie Klem, April Gardner, Heather Marshall, Jennifer  Bushika, Allison Cook, Erlinda Shatney, and Rebecca Sayers, all up-and-comers, we are sure. They are pictured at the BEEPERS' gathering at Mazzeo's Ristorante on June 6. Amazingly, with all these people, at a venue that serves alcohol, not one drink is pictured! Now why do you suppose that is the case? Haven't they heard: It's summer. One must stay well hydrated, or you never know what may happen, especially when one gets behind the wheel.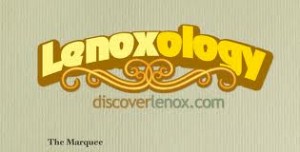 LENOXOLOGY ON THE  WAY OUT? — No matter how much jam and butter you slather over it, "Lenoxology" is a stupid word. It's a risible word. It's a fatuous word. It's even a worse concept. As a marketing strategy, though, "Lenoxlogy" befits a town that has woefully lost its bearings of late. The contract for The Big NYC Agency That Thought Up Lenoxology has expired (June 30). No word yet from the town fathers, mothers, aunts, uncles, select board, or manager that anyone wants to renew with Big NYC Agency. Lenox may find itself in no man's land. If it plays aloha on the steel guitar for it's Big NYC Agency, it will find itself with an orphaned campaign on the web and in print. Percy and Basil Smythe-Smythe, Lenox's taxpaying equivalent to Mary Jane and Joe Kapanski of Pittsfield, own the word "Lenoxology." THE STOOLEY wonders how much it would fetch on ebay.
The problem with this doomed campaign stems from there being too many mechanics in the garage. The marketing efforts for Lenox are in the hands of three competing groups, each one wanting to be the top banana and each too willing to claim "their" turf. The unholy three are the marketing and events committee, the board of selectman, and the chamber of commerce. On the "Discover Lenox" website that the Big NYC Agency designed, we see the unintentionally ironic words: "Open Your Senses." That's just the problem in Lenox these days: Not enough town bosses are open up their senses.
———————————————————-
GREAT WEBSITE SHARES HISTORY OF GE TRANSFORMERS
THE PLANET shares a website that will bring back waves of nostalgia for many who grew up in Pittsfield when the city was the transformer capital of the world. At its peak, nearly 14,000 men and women worked at General Electric, producing a product known the world over for its quality and performance.
http://www.ieeeghn.org/wiki/index.php/File:Blalock_-_page_86_(top).jpg
We were enthralled by the photographs and information. Most of the photos are in glorious black and white and have the patina of wistfulness. You might like it, too.
———————————————–
END
"OPEN THE WINDOW, AUNT MILLIE."
LOVE TO ALL.