By DAN VALENTI
PLANET VALENTI News and Commentary
(FORTRESS OF SOLITUDE, THURSDAY, July 19, 2012) — Serious questions have been raised concerning the iPad initiative for Advanced Placement students in Pittsfield Public Schools, a program that will cost taxpayers $166,500 (333 iPads at $500 each). That's a lot of money (the cost of one superintendent for one year), and it's a shame that Mary Jane and Joe Kapanski don't have guardians, either in the school department or on the school committee, acting as wise stewards of their resources.
A List of Eight Hot Questions
(1) Was the purchase legal?
(2) Did the purchase make sense, from a financial standpoint?
(3) Did the purchase make sense from an educational standpoint?
(4) Did the purchase take into account the growing body of data suggesting the causality of digital input and students' inability to sustain concentration and focus?
(5) Why didn't Kathy Amuso recuse herself from voting on the initiative, seeing as her son will be one of the students receiving a "free" iPad.
(6) What are the controls being put on student use of the device? What assurances do we have that the devices will be used strictly for school work and not for personal use?
(7) Why does the Pittsfield School Department have to pay $10,000 to train 30 teachers to use the devices? Didn't they negotiate tech support into the bulk purchase? Aren't the in-house IT staff competent enough to provide this training as part of their jobs?
(8) Is that the only cost involved for the public?
The issue is two-fold: Are these devices a good use of precious taxpayer dollars? Are these devices good for students learning? The answer in both cases is no.
First, the preponderance of evidence strongly tells us that students need less and not more digital input  streaming into their heads. Just last week, the cover story of Newsweek addressed the question in the form of an assertion: Our technology is making us nuts. The younger the "consumer" and the heavier he or she engages in electronic masturbation via our hi-tech, screened devices, the more screwed up his or her cranial hard-wiring.
TALES FROM LIFE 1 — Taking the T from the Riverside station in Newton into Boston recently, THE PLANET witnessed a couple students, each about 16 years old, though with girls, it's hard to tell age. They were listening to songs on their iPods, sending messages from their iPhones, and watching video from their iPads. They were doing all this while talking to each other. One of the girls even had a textbook open. Constant digital input, which goes at the speed of cyberspace, robs people of downtime. The brain needs downtime for quiet, reflection, and the sustained minutes and hours needed to make sense out of life.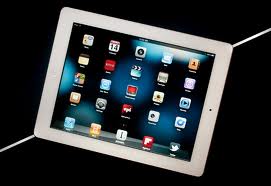 "Almost certainly, downtime lets the brain go over experiences it's had, solidify them and turn them into permanent long-term memories," says Loren Frank, assistant professor in the UCSF department of physiology, where he specializes in learning and memory. He said he believed that when the brain was constantly stimulated, "you prevent this learning process." [quoted in NY Times, 8/24/10).
The Devices will Most Likely Retard Education, Not Enhance It
In the inadequate supporting package that accompanied the 333 iPad purchases, there is nothing to suggest the machined will enhance the education of any of the students who will be receiving them. On the veneer, the purchase might "sound" good. It might "look" good. It might create the illusion that the Pittsfield Public Schools and the School Committee are "leading edge." It gives them comfy cover against the incoming barrage that they aren't helping students with their educations.
A deeper look strongly suggests that the taxpayers took another hosing.
TALES FROM LIFE 2 — At a football game last fall at the Carrier Dome, watching Syracuse University take on an opponent, we had tickets near the student section. Directly in front our our seats were two young women and three men, obviously in the same group. The heavy drinking aside, their behavior astounded THE PLANET and our buddies. As we watched a great Division 1 NCAA ballgame, the kids in front of us each, to a one, had their smart phones in hand or at their side like a gunfighter's pistol wrapped in its holster. Each of these kids could not go more than a couple minutes at most without checking the electronic device for messages or to send a message. In the couple-plus hours the game took to play, each had probably check in with their machines 100 times. 
Taking on the Questions
We don't have all the answers yet to our questions, but we share what we have learned:
(1) Was the purchase legal: We posed that same question to Terry Kinnas, school committee member. "I'm not sure," he answered, "but you can be sure I'm going to try to find out."
Kinnas had voted originally against the purchase of the iPads in a meeting of the finance subcommittee, which he chairs. The vote was 2-1 to approve the purchase, a recommendation that was to be sent to the committee as a whole.
Now as THE PLANET understands procurement procedure, subcommittees to not have authorization to purchase. Subcommittees make recommendations to the body as a whole. Kinnas said that's what he thought the committee was doing — until he found out later that the recommendation had apparently constituted a purchase order. Did someone rewrite the law? Since when does a subcommittee, without the knowledge of the committee-of-the-whole, make capital investments?
When he asked the School Department's lawyer, the lawyer "did a song and dance," Kinnas said. Taxpayers pay the firm $3,000 retainer for not knowing the answers to such questions.
As THE PLANET reported yesterday, Assistant School Superintendent Barbara Malkas dealt  with Kinnas' concerns this way: "They [the machines] are purchased, they have been distributed, and we have already launched professional development for staff."
Bing, bang, boom! Malkas showed no interest, evidently, in the apparent illegality of the purchase nor did she display curiosity about at least exploring the question. It appears, in fact, that the full sitting school committee did not vote for the funding of the iPads.
"We bought the machines, and that ought to be good enough for you," she essentially told taxpayers through Kinnas, with a "How dare you question me" thrown in for effect. Malkus might better be dubbed Milkus, for the way she apparently favors "milking" the public.
(2) Does the purchase make financial sense? No. First, the devices will not improve education. Second, even allowing for that, $500 per unit for a bulk purchase of 333 units is a lousy price. If you go to the Apple Store in Holyoke, you'll pay $499 for one machine. Where was the hard bargaining? Where was the educational discount? Where was the leverage that a bulk purchase would provide? The School Department evidently doesn't care. The mayor, the city council, and the school committee have given the department a supply of blank checks and a license to print money, taxpayers be damned.
(3) Do the machine make educational sense? Doubtful. If a student or his/her parents want them to have the device for educational reasons, it should be a private decision. LEt them buy the devices if they feel it will give a child an edge. Otherwise, leave taxpayers out of it.
(4) Did the purchase take into account the latest information that suggests young people are in a state of digital overload? Obviously, not.
(5) Why didn't Kathy Amuso recuse herself from the vote? We don't know. We invite an explanation from Amuso on this question. Her son will be getting an iPad. Why, then, was it appropriate? THE PLANET points out that the purchase of an iPad is far different from the procurement of other routine items (textbooks) and services (bussing) that a child of a school committee member might enjoy. Our read of the ethics law makes it clear: Amuso never should have voted. As we understand it, and correct us if we are wrong, she was one of the two votes (2-1) on the finance subcommittee that (illegally?) authorized the purchase. Without her vote, this doesn't happen.
(6) What controls will be in place on the machines? Unknown. As far THE PLANET knows, students will just as soon use their iPads to surf porn as access the latest educational app.
(7) Why doesn't the school department use in-house IT personnel for training rather than outsource it? The School Department has not said.
(8) Is the purchase price the only cost to taxpayers? No. Additional money will have to be spent on upgrading systems, increasing bandwidth, and installing connections at "several" buildings. THE PLANET hasn't seen any figures on what those costs will total. Moreover, during the course of the academic year, many of the machines will be chewed up, busted, and broken? Students didn't need their own money or their parents' dough, and they will be less apt to take good care of the machines. Who pays for repairs? What happens to a device if a student is suspended, kicked out of school, or drops out? What happens to the machine after the academic year is out? The School Department hasn't answered any of these questions.
TALES FROM LIFE 3 — The Professor had a student last semester who repeated failed to
respond to our e-mails and voice mails. "Why?" we asked her when she finally reported to class. The 19-year-old told us that e-mail was "too slow" and that she never uses her phone "as a phone." "How do you communicate?" we asked. She began air-typng with her thumbs. "Honey," we wanted to say but didn't. "Let me tell you something. The Professor doesn't [WE BEGIN AIR TYPING WITH OUR TUUMBS]."  We've had other students tell us they never turn their smart phones off. They set them  on "vibrate" so they can check messages at times when they should be sleeping or "off duty," such as playtime or family time. The Professor has noted a pattern: The more hooked to these devices, the worse a student performs. Those least hooked up tend to perform better. Students also tell me face-to-face meetings aren't "the best way" to meet people or get to know them (more, for example, wish "happy birthday" on Facebook than in person).
Frontline Addresses the Issue (Links Here)
Here's are a couple of interesting related links from PBS' Frontline. They address some of the latest findings.
http://www.pbs.org/wgbh/pages/frontline/digitalnation/interviews/nass.html http://www.pbs.org/wgbh/pages/frontline/digitalnation/interviews/turkle.html
Here's an excerpt from the second link, an interview the show did with Sherry Turkle, director of the MIT Initiative on Technology and Self.
FRONTLINE: There seems to be a mass of cheerleaders out there who are celebrating this digital revolution, particularly in education.
TURKLE: I think that we live in techno-enthusiastic times. We celebrate our technologies because people are frightened by the world we've made. The economy isn't going right; there's global warming. In times like that, people imagine science and technology will be able to get it right.
[LIFT-OUT QUOTE] "Many students were trained that a good presentation is a PowerPoint — bam-bam. It's very hard for them to have a kind of quietness in their thinking where one thing can lead to another and build and build."
In the area of education, it calms people to think that technology will be a salvation. It turns out that it's not so simple. Technology can be applied in good ways and bad. It's not the panacea. It depends how; it depends what. It depends how rich you are, what other things you have going for you. It's a very complicated story. But I definitely think that we're at a moment when nostalgia for things that we once got right is coded as Luddite-ism.
I see part of my role in this conversation as giving nostalgia a good name. If something worked and was helpful to parents, teachers, children, that thing should be celebrated and brought forward, insofar as we can. It's not to say that technology is bad — robots, cell phones, computers, the Web. The much harder work is figuring out what is their place. That turns out to be very complicated.
You can't put something in its place unless you really have a set of values that you're working from. Do we want children to have social skills, to be able to just look at each other face to face and negotiate and have a conversation and be comfortable in groups? Is this a value that we have in our educational system? Well, if so, a little less Net time, s'il vous plait. Technology challenges us to assert our human values, which means that first of all, we have to figure out what they are.
Rest assured: iPadgate is a legitimate issue. It involved hundreds of thousands of taxpayer dollars that appear to have been illegally spent on a program that will have detrimental effect on students.
Our final piece of advice: UNPLUG THYSELF!
————————————————————————
OUR LIFE OPENED TWICE BEFORE IT CLOSED / IT YET REMAINS TO SEE / IF THE DIGITAL WORLD UNVEILS A THIRD EVENT TO ME (TRANSLATED FROM THE E.D.)
"OPEN THE WINDOW, AUNT MILLIE."
LOVE TO ALL.