By DAN VALENTI
PLANET VALENTI News and Commentary
(FORTRESS OF SOLITUDE, TUESDAY, JULY 31, 2012) — The mailbag has been full to overflowing, and let's begin today by letting We The People have their say on issues that are of concern to them. THE PLANET is honored to provide this space for letters, opinions, and views that might otherwise be shut out.
First, let us say how much we enjoyed our inaugural guesting spot on Bill Sturgeon's  new show, "Discussion from the Berkshires," airing from a lovely little studio each morning beginning at 11 a.m. on WRRS FM 104.3. The show broadcasts out of the studio located in the UCP Building on West Street in Pittsfield.
We're glad to broadcast from a studio space that doesn't require fumigation before and after use and that has equipment that doesn't require duct tape, paper clips, and rubber bands to function properly.
THE PLANET is also glad to see Sturgeon on the air again. You may recall how abruptly his last show terminated on WTBR FM, aborted in the final trimester because of "political pressure" still unidentified persons put on TRB manager Larry Kratka.
Kratka has an appearance before the school committee coming up in August, and that will be the time for him to come clean:
(a) Who put the squeeze on you, LK, to drop Sturgeon, and
(b) Why did you cave in to the pressure?
You are a newsman, so-called, who has a responsibility to resist this sort of hooliganism. THE PLANET speaks as someone who has stood up many times to pressure to keep us quiet. We did it recently, entering a hostile courtroom, looking a couple bullies in the face and watching them him wilt from the Big At Bat came.
MEMO TO ALL MEMBERS OF THE SCHOOL COMMITTEE: Kratka gets a stipend from city taxpayers to run WTBR. The funds to keep WTBR on the air also come from Mary Jane and Joe Kapanski. Please ask Kratka those two questions, (a) and (b).
Back to Sturgeon, THE PLANET looks forward to many more appearances on what is shaping up to be a lively and informative hour of chat. We're glad to offer this plug to our good friend, "The Fat Man."
————————————————————
LETTERS TO THE EDITOR
Hiring of Richardson to Restore Vietnam Mural 'An Insult'
TO THE PLANET: In 2010 Mayor James Ruberto (GOB ) hired Boston/Pittsfield artist David J. Richardson to paint over the murals in Pittsfield….not only an insult to nationally known artist Daniel Galvez of Oakland, Calif., and Berkshire Artist William F. Blake of Gt. Barrington, Mass., Bonnie Bergmann of Mason, Wisc., and myself (the artists who primarily painted Pittsfield's murals ) but also a total infringement of our copyrights of the murals.
The Boring Broadsheet (BB) totally ignored the theft and rape of these mural images (Harry's Supermarket Mural and Vietnam Memorial Mural ) by an artist who can't even paint a portrait….in Harry's mural he paints sunglasses on subjects in mural because he can't paint portraits and totally changes the composition of the mural…in the Vietnam Mural the entire design of the mural is changed by the elimination of whole areas of the mural and the elimination of two portraits of soldiers from the Berkshires who died in Vietnam ( Larry Witanek from Cheshire,Mass. and Richard Davis from North Adams, Mass.) again because the artist can't paint portraits.
Dan this constitutes an outright violation of the visual intellectual rights of the artists who created these murals…a rape of our souls.
I'm sure you wouldn't stand for it if someone changed the wording of your work…but because Jim Ruberto and the BB have no decency, it happened and the artists are left with only the rights to sue….and because it is visual composition in nature nobody is aware of it even happening.

Not only did Jim Ruberto fire me in 2005 from a position I held in City Government in 2005, he was protected by the BB and he also raped my soul in 2010 again with the full protection of the BB, as they were made aware of it.
Daniel Galvez and the other artists are devastated and want their names removed from the murals (contact Will Blake @ 413-528-6522) but I just want justice for the intellectual crimes of Jim Ruberto and Meghan Whilden. — DAN O'CONNELL (The writer is former Arts Commissioner in Pittsfield).
————————————————–
'Airport Runway Deal Stinks'
TO THE PLANET: Thank you for not coming down on my recent rants/comments concerning the Kaminsky Farm and the Pittsfield Airport Runway Project. Nache was Dear Friend whom was denigrated by the city, state, 2nd homeowners, and the Left Winged Parrot (a better name for what used to be the Berkshire Bird, what you call the Boring Broadsheet).
This runway deal stinks as much as PEDA/GE and the GOB/POS/EPA that forged the "consent decree." THE BASTARDS that insult the Man, Farm, Family, and hurt me.
I will also stand by my statements about the First Lady and the Goobernator, in RICHmond.  Thank you for letting me have my say. This is America, as you defended against the Nilan Clan.  I stated my point, thanks and kudos!
Thank YOU for YOUR  JOURNALISTIC EXCELLENCE!!! — NAME WITHHELD by request, Lenox.
————————————————-
'The Broken Promises End Now'
TO THE PLANET: Even though more than 23 million Americans are struggling for work, and the unemployment rate has remained above eight percent for a post WWII record 41 straight months, President Obama wants us to believe he has it covered.
He says he spends "every waking hour" working to fix our economy.
Yet, he doesn't even have time for his own Jobs Council, which hasn't met in the past six months. That's probably because the president "has a lot on his plate" – you know – attending political fundraisers and playing golf.
While Obama has found plenty of time to try and save his own job, millions of Americans are struggling to make ends meet. The broken promises end now. — REINCE PRIEBUS (The writer is chairman of the Republican National Committee).
———————————————————–
'Sensible Piece Needed on Gun Violence'
TO THE PLANET: Will you please write a sensible piece on gun violence? The recent rash of anti gun letters to the Eagle is disturbing. One man even claimed that a gun doesn't have a conscience! Also, Timothy McVeigh killed over a hundred people with stuff you can get at a farm and a hardware store. Take away guns and we'll all be at the mercy of our government and lunatics like this. Why don't people get that? — SM
THE PLANET responds: Good idea on the gun piece.
——————————————————-
'Train, Train, 16 Coaches Long'
Ron Kitterman sent this photograph in to THE PLANET without comment under the title "Conrail Bridges." We're not sure what the editorial statement is, but we loved the picture, which we now pass along to our readers: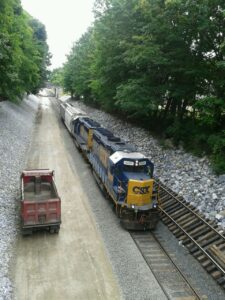 —————————————————————–
'FAKE IDs: How did 41 Kids Get Into the GEAA?'
The 41 Fake ID's were at the GEAA on Crane ave. How did 41 under age kids get in there? Where was the door guy? Did they turned a blind eye to make money? Will this be brought to the licensing board where Carmen "Butch" Massimiano still sits? Will he be able to vote on this? — MIRA
The writer sent along a copy of the article on this, as it appeared in the BB. THE PLANET broke the story. As to Mira's question, we don't know.
—————————————————————
'The Context is Even Worse'
TO THE PLANET: If every American saw this video, Barack Obama would be out of a job in November.
Watch now: http://mi.tt/OiP8I2. 
President Obama claims his "you didn't build that" quote has been taken out of context, but as you can see in this video — released by his own campaign — the quote in question is insulting and the context is even worse.
Clearly this President's whole philosophy on the American Dream is upside down. It's time to make a change.
Mitt Romney understands success is not the result of government, it is the result of hardworking people who take risks, create dreams, and build lives for themselves and their families.
So if you watch only one video during this election, watch this one. And if you share one video on Facebook, Twitter or email during this election, share this one. — MATT RHOADES, Campaign Manager, Romney for President
————————————————–
THE PLANET thanks all our writers and contributors. We invite your views on any and all issues. Send to this website or to danvalenti@verizon.net.
—————————————————
MUSIC REVIEW: Guitarist Ginn: A Massive- 90-minute Set 
BY ANDY PONCHERELLO
PLANET VALENTI Arts
Greg Ginn & the Royal We, Cinema Cinema, The Uncomfortables Live in Pittsfield July 22nd, 2012, Chameleon's Nightclub
Rolling Stone's David Fricke chose Greg Ginn as one of the 100 greatest guitarists of all time, and it's easy to understand why.  Ginn single-handedly created SST Records, one of the early pioneering punk rock record labels in the late 1970s.  SST Records is still releasing music in 2012, which isn't an easy feat in this age of file stealing and bit torrent downloads.
Ginn also formed the legendary band Black Flag and remained its one constant through their break-up in 1986.  Black Flag broke all the rules that hadn't even been set in stone by the time their first record was released in 1978 and continue to break rules well beyond their initial demise.  Even in 2012, Black Flag's influence is still felt around the world and across musical genres.
It was certainly a treat to have Ginn perform right here in Pittsfield with his latest project, Greg Ginn & the Royal We.
Unlike his other post-Black Flag projects, which were traditional bands more or less, the Royal We is more industrial in nature.   The use of repetitive backing beats and effects are complimented by a Theremin and Ginn's signature guitar sounds.   He incorporates wild video imagery and tonight the house stage lights added a new dimension to this unique and interesting set.
One might be tempted to make it up as they went along, but Ginn's massive 90-minute set had him performing many of the songs note for note that can be found on Youtube and other sources on the Internet.  There was no introduction, no soundcheck, just the Ginn doing what he does best for the small but enthusiastic crowd.
While Greg Ginn & the Royal We will get far less attention than that of Black Flag or even Gone, Ginn maintains a punk rock persona doing whatever he wants and if you want to come to the party, that's fine by him.
One of SST Records' newest signings, Cinema Cinema, took to the stage immediately following Ginn.  Cinema Cinema recently recorded with legendary Washington DC producer Don Zientara and their sound is familiar yet unique at the same time.  There are obvious nods to bands such as Fugazi, Rocket From the Crypt, Sonic Youth, early punk rockers, and even fellow New York City ruckus makers, The Giraffes.  Cinema Cinema makes a lot of good and entertaining noise for being a just a two-piece comprised of drums and guitar.  Cinema Cinema provided a perfect compliment to their tour mate  Ginn.
Pioneer Valley's The Untouchables closed out the night, and they rocked it from start to finish performing songs from their recent double album release "Across the Shields Vol. 1 and Vol. 2".  They also threw in a special treat, the song "Fight" from second guitarist Vis Helland's other band, The Outpatients.  The Uncomfortables carry on the legacy of the Scott and Jay BloodJ's previous outfit, the Pajama Slave Dancers (as well as Vis' The Outpatients) and modernize it just a bit.  The put their blood, sweat and beers into this set even as the crowd thinned out late on a Sunday night.  One day this band will be huge and until then, you had best catch them now in a small club while you still can.
Greg Ginn & the Royal We, Cinema Cinema, and The Uncomfortables provided a nearly perfect night of underground music and rock n' roll on this beautiful summer night.  Until next time…
—————————————————————–
WITH THAT, WE BID A FOND HELLO, FOR WE ARE NEVER LEAVING BUT ALWAYS ARRIVING. STAYED TUNED.
"OPEN THE WINDOW, AUNT MILLIE."
LOVE TO ALL.