By DAN VALENTI
PLANET VALENTI News and Commentary
(FORTRESS OF SOLITUDE, TUESDAY, AUG. 14, 2012) — Last week, THE PLANET brought readers up to date on the latest in the secret (and secretive) business between Spectrum Health Systems or Worcester and the city of Pittsfield. Stories like this can sometimes serve to pry other information from otherwise hidden corners.
It did.
Dwyer Buys Adjacent Plot on Stoddard
Since then, the Dywer Funeral Home has purchased the adjacent property that, at one time, looked like it would house Spectrum's methadone clinic. That didn't happen, and to make sure it would continue to control its own destiny, Dwyer has bought the property. That move showed forward thinking, a neat strategic gem amid a story that's been nearly all fools gold.
Debbie Dwyer says that "for the time being, we will try to clean up the two apartments and get them rented. Down the road, who knows? We're considering an addition to the funeral home, and that parcel might be valuable parking space."
Dwyer says that purchasing "certainly wasn't something we planned, but we're glad we could do our part to contribute to a nice, residential neighborhood. Many families in that area have been there for many generations. Both my family and my husband's family have been there since the early 1900s."
We thank Debbie Dwyer for that update, and we salute her communal spirit.
Does Work at Yon Building Have a permit? and Keep Your Eye Out on Wednesday for an Announcement re: Spectrum
In other Spectrum news, THE PLANET hears on the street two things:
*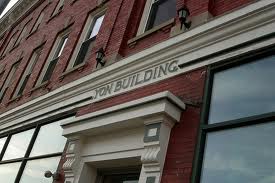 The extensive work that continues in the Yon Building on Summer Street does so, apparently, with "no posted building permit." We haven't confirmed that information. Spectrum originally wanted to go into the Yon Building, Mayor Jimmy Ruberto said no and launched a suit the city had no chance in winning, and now it appears Spectrum will be locating at that address after all — although we remind everyone, nothing has been officially confirmed. Speaking of that, THE PLANET also hears that …
* … On Wednesday, Aug. 15, there may be some kind of announcement regarding the City-Spectrum situation. The leak is unofficial, so stay tuned.
——————————————————————
LETTERS TO THE EDITOR
Time to dip into the mail bag. Several letters have been piling up, and we can start the whittling process right about now.
'City's Babe Ruth Champs Need Help for Arkansas'
To The Planet:
As you may know, after a week long battle ending this past Wednesday, Pittsfield's 15 Year-old Babe Ruth All-Star team won their way into the Babe Ruth World Series in Van Buren, Arkansas.  This team of talented, hard-working young men is now representing our city, our state and all of New England in the national tournament that many kids only dream of reaching.
With only one week to prepare for this huge event, the team and its parents are working diligently to raise funds to defray the costs associated with the event.  While the boys themselves will be out in various places over the weekend, our success will depend more on the generosity of local businesses and individuals due to the short period of time we have to prepare.  
Please consider supporting your hometown team and the dream they continue to keep alive.  The will wear their Pittsfield jerseys with pride, and show the nation what teamwork and good sportsmanship can achieve. 
If you would like to help our team and families, donations can be made by check made out to "Pittsfield Babe Ruth".  There will be parents like myself who will be available to pick up donations, or they can be mailed to:
           Pittsfield Babe Ruth
           c/o Gildo's Auto Body 
           717 East Street
           Pittsfield, MA  01201
(If you require the request on letterhead including Tax ID, that can be provided)
——————————————————
Valenti Blog, 'In Order of Importance'
To The Planet:
I get a kick out the google search results when I search "Valenti Blog" (someday I will figure out where I put your blog's "bookmark and not have to search).  Your blog is listed first in the Google search, ahead of the nationally known feminist Jessica Valenti.  As you know Google lists in order of "importance" (their words), so you must be more important!
Don't always agree with you but appreciate your work and your informative coverage of the local scene. — Joe
—– 00 —–
We thank our writers for these letters. If you wish to correspond with THE PLANET, do so at this website or at danvalenti@verizon.net.
—————————————————————-
PLANET ANALYZES MIDDLE BERKSHIRE REGISTER RACE
The hottest race locally, the Democratic primary for Middle Berkshire County Register of Deeds, pits three candidates: current Assistant Register of Deed Patsy Harris, former Pittsfield city clerk Jody Phillips, and Scott Pignatelli, head of the family electrical business.
Berkshire County, with about 132,000 people, has not one, not two, but three three registers for north, middle, and south county. As a letter to the editor in the Boring Broadsheet pointed out several days ago, Suffolk County, with about six times the population, gets by with one register. First question: Why do we need three here? Answer: Politics. Three political positions paying $90,000 a year plus benefits ensures triple the political loyalty of one post.
Which of the Three: Harris and Here's Why
Second question: Which of the three — Harris, Phillips, and Pignatelli — is the most qualified for the job? To answer that, let's ask: What does a register of deeds do? REgisters are responsible for (more or less) of the following duties:
Record and edit the minutes of meetings and distribute to appropriate officials or staff members.
Research information in the municipal archives upon request of public officials or private citizens.
Respond to requests for information from the public, other municipalities, state officials, or state and federal legislative offices.
Perform general office duties, such as taking or transcribing dictation, typing or proofreading correspondence, distributing or filing official forms, or scheduling appointments.
Issue public notification of all official activities or meetings.
Collaborate with other staff to assist in the development and implementation of goals, objectives, policies, or priorities.
Plan and direct the maintenance, filing, safekeeping, and computerization of all municipal documents.
Prepare meeting agendas or packets of related information.
Perform budgeting duties, such as assisting in budget preparation, expenditure review, or budget administration.
Prepare ordinances, resolutions, or proclamations so that they can be executed, recorded, archived, or distributed.
Coordinate or maintain office tracking systems for correspondence or follow-up actions.
Maintain fiscal records and accounts.
Represent municipalities at community events or serve as liaisons on community committees.
Serve as a notary of the public.
Maintain and update documents, such as municipal codes or city charters.
Participate in the administration of municipal elections, such as preparation or distribution of ballots, appointment or training of election officers, or tabulation or certification of results.
Perform contract administration duties, assisting with bid openings or the awarding of contracts.
Issue various permits and licenses, such as marriage, fishing, hunting, or dog licenses, and collect appropriate fees.
Process claims against the municipality, maintaining files and log of claims, and coordinate claim response and handling with municipal claims administrators.
Provide assistance to persons with disabilities in reaching less accessible areas of municipal facilities.
Develop or conduct orientation programs for candidates for political office.
Prepare reports on civic needs.
Provide assistance with events, such as police department auctions of abandoned automobiles. (source: mystudent.com)
Cold, Relentless Logic Makes the Choice, not Friendship
You'll agree: This is a long list. Of the three candidates, there can be no doubt: Harris has by far the best qualifications of the three. Philipps and Pignatelli can duke it out for a distant second place.
THE PLANET bases this judgment on nothing more than reason, objectivity, and common sense. Before this race began, we did not know of Patsy Harris at all. We know Jody Phillips the best. She took a composition course from The Professor several years ago (and did well, we might add) and, of course, we had numerous dealings with her in her role as city clerk in Pittsfield. We know Scott through his family. THE PLANET goes back a long way with patriarch Big Jawn (still one of our favorite all-time local pols and a man for whom we have great love and respect). We have also known Smitty for a long time, and we have enjoyed out relationship. Thus, if we were basing a recommendation on anything other than an objective and omniscient logic, we might not endorse Harris.
The facts, however, require a nod her way.
A Campaign of Lawn (Yawn) Signs, but That is About to Change
Unfortunately, to now, this campaign has basically been to now one of lawn signs. Beyond a certain point, lawn signs can be counterproductive. Not enough is probably just right, and too many provide more eyesores for weary drivers. Harris alone seems to have grasped this point. Putting up a vast and assaulting horde of lawn signs, as Phillips and Pignatelli have done, indicates strong organization (Pignatelli particularly) but also might suggest lack of substance. Having a more tasteful amount suggest more confidence. Edge: Harris.
There are two forums coming up at the end of this month, and there will be some information gleaned from them. How much information, of course, will depend on the format and the moderator. A lame, white-bread, vanilla format (timekeeper, arbitrary time limits) and a timid, paint-by-the-numbers moderator such as the kind we get locally in every debate not moderated by Dan Valenti will, guaranteed, produce excerpts from stale stump speeches. Better than nothing? Yes, but not by much.
Of the three, only Harris has a dedicated website — patsyforregister.com. The site features a landing page, biographical information, photos, events, news, a link for volunteers, a donate button, and a contact link.
Phillips and Pignatelli have Facebook pages. Phillips tells us her qualifications consist in her experience as city clerk. Period. Her FB page has an amateur, cheerleader quality to it. Pignatelli has a smart, You Tube film touting his experience as a manager. it shows far more sophistication, and it's well produced. Pignatelli cuts a good-lokking figure for the camera, but when you listen to his words, he doesn't say much. He speak in the same generalities about the job of register as he's done so far in this campaign, in about as equal a degree of generalness as Phillips. Ask a specific question about the job of register, though, and only Harris has the answer.
Harris has this information on her landing page:
Patsy Harris is a candidate for the Middle Berkshire County Register of Deeds and current full-time Assistant Register of Deeds. Through her extensive experience, Patsy recognizes that not only does the Register need to possess sound management skills for her staff, but also must manage the documents that affect the title to our land. The Register must be the most knowledgeable person in this office; for she has the final say as to the recordability of each and every document. It is vital that the Register of Deeds has the expertise required to protect land owners from unforeseen liens, encumbrances and title issues that can detrimentally affect the marketability of their homes and businesses. Throughout her years spent working in the Registry, Patsy has formulated many innovative ideas about how to best use the budgeted funds from the state. Patsy promises that her full-time presence will not change. She vows to remain accountable to her supporters, and will continue to serve the public in the capacity of Register of Deeds. Vote for Patsy Harris in the Primary Election on September 6, 2012!
Here is the link to Pignatelli's You Tube speech:
www.youtube.com/watch?v=zgi18xqcyVQ
Edge: Pignatelli and Harris. Phillips' FB page is long on rah-rah and short on substance.
Of the three, only Harris has reached out to THE PLANET with information and answers. We did a phone interview with her on Thursday of last week and met in person on Sunday. Pignatelli has sent us brief, non-substantial FB comments. Phillips has remained silent. In other words, Harris is campaigning. Pignatelli and Philipps are stalling. Edge: Harris. 
Based on all of these factors, THE PLANET formally endorses Patsy Harris for Berkshire County Middle Register of Deeds. Pignatelli has not shown how his experience of running a family business translates into being the Register of Deeds. Phillips has two things to explain: (1) Why did she quit as City Clerk, costing Pittsfield $25,000 needed for a special election? (2) Why does she want out at General Dynamics? 
Come evening time on Sept. 6, Patsy Harris will be elected register for middle Berkshire County.
———————————————————————-
SHE IS A PORTION OF LOVELINESS THAT HE MADE MORE LOVELY. LOVE SWEEPS THROUGH THE DULL SENSE WORLD, COMPELLING THERE ALL NEW SUCCESSIONS TO THE FORMS THEY WEAR.
"OPEN THE WINDOW, AUNT MILLIE."
LOVE TO ALL.