By DAN VALENTI
PLANET VALENTI News and Commentary
(FORTRESS OF SOLITUDE, TUESDAY, DEC. 18, 2012) — Only four more days until the Mayan calendar runs out, so why bother with Christmas shopping?

We cannot, though, put off sharing this take of what's going on at Taconic High School from a mom who calls herself The Varsity. She says she was inspired by  outrageous claims made by a couple of correspondents to this website, justifying the behavior of the Taconic High School football coaching staff and several of the Taconic senior footballers in an incident that has become Tailgate-gate.
Varsity Mom was particularly upset at a comment made by Mr. Football Player in response to THE PLANET's coverage of Tailgate-gate, particularly this portion of a comment left on Dec. 14:
"Also, it is a known fact that teens drink. It happens. It is part of high school, and for your information, Mr. Valenti, drugs are not a problem at our [Taconic] school. Not only is this city full of cops that are notably brilliant at their jobs. They have also stepped up the past month and been [sic] making this city a lot different. Taconic is not full of druggies. If anything we are making strives [sic] toward greatness. We have programs like SADD and great teachers to help keep it clean." — Mr. Football Player
Before Varsity Mom has her say, THE PLANET offers a few observations on this portion of Mr. Football Player's testimony.
1. He admits drinking is a problem at Taconic.
2. He admits students were drinking.
3. He admits the coaches didn't know about it, and yet these same adults are in charge of the kids' behavior.
4. We fail to see the relevance of the ridiculous, meaningless statement: "The city is full of cops."
5. THE PLANET has no idea what Mr. Football means by his reference to the police "stepping up" in the last month to "[make] this city a lot different." Different? How? In what way, specifically? And what does that have to do with Tailgate-gate? Did Mr. Football mean for it to be a McGuffin, that is, a non sequitur meant to divert our attention from the issue at hand, which is the behavior of the Taconic footballers and their coaches?
6. "Taconic is not full of druggies," Mr. Football says. THE PLANET asks why he would see the need to make that statement. No one ever said the school was full of druggies. Certainly, THE PLANET would not make such a claim.
7. We would ask Mr. Football, again, to detail with specifics his blanket statement of "we" striding "toward greatness." How so, specifically? How do you define "greatness?" Do you do it by the football record? By MCAS test scores? What?
We will also share with our readers that late last week, we contacted Taconic Principal John Vosburgh about Tailgate-gate. We shared with him information that THE PLANET's investigation has turned up. We have presented this information to Vosburgh, saying that we believe, based on our due diligence, that the information is accurate and reflects the truth of what happened., asking Vosburgh for his comments.
We now, publicly, request Vosburgh to contact us. In addition:
— We are requesting Vosburgh's comments, on the record, about what happened during Tailgate-gate. In other words, in the name of We The People, THE PLANET requests from the Taconic High School administration its official version of what took place. Enough time has passed. What, if anything, happened?
— We are requesting the administration to take the information we have presented to it — which, as we have stated, represent the facts of the case as best as we could determine them in our investigation — and let us know: Is the information accurate? If so, tell us. If not, tell us (a) which statements are not accurate and (b) what the truth is.
IF WE DO NOT HEAR FROM THE TACONIC ADMINISTRATION BY THE END OF THE WEEK, WE SHALL TAKE THAT AS A CONFIRMATION OF WHAT WE HAVE LEARNED AND WILL BE SHARING THAT INFORMATION WITH THE PUBLIC.  MOREOVER, WE SHALL TAKE THE ADMINISTRATION'S SILENCE AS CONFIRMATION OF WHAT OUR INVESTIGATION HAVE UNCOVERED.
Now, on to Varsity Mom, Who Has Her Say:
Whoever posted that they know for a fact that there is police presence and no drug use is either a student, friend of [Alf] Barbalunga or a teacher or staff member.  However, they are lying if they are either, and if NOT, they have their head buried in the sand and/or live in Candy Land.
I have a 19-year-old son who graduated from Taconic two years ago and a 15-year-old daughter who is there right now.  I have always dropped my kids off to and from that school.  We have had many discussions on drug and alcohol abuse.  I like to keep a healthy, open, and honest dialogue with them, because addiction runs in both sides of their family.  They have seen the worst of addiction and how it affects family and have come up with their own judgments, fears, and curiosities.
They are also very popular and well-liked kids, and

have been offered both drugs and alcohol in the school and on school property

.  My son's friends know he will say no but still make the offer anyway.  They have actually smoked [marijuana] while walking around casually on school property as if they are smoking a cigarette.  Mostly

pot smoking occurs in the bathrooms and behind the school in the woods

, but it is a well known fact, not only by the students but also the shop teachers, that

drug use is rampant in shop classes:

  mostly pot, but other drugs are also available.  Both of my children have seen money exchanged for drugs in the school.  And Taconic is NOT the only school that this is happening at.  PHS is a haven for the same drug behavior.
I asked my children about police presence and NEITHER of them have

ever

seen a cop in the school.  My son said only when they were called for an emergency in the past, but it is not a regular, protective occurrence to have police walking around keeping things safe.  When I dropped them off at Reid, there was always a police officer out front, and during the day he or she was there to keep things safe, though they were not helpful with bullying, but that's another story.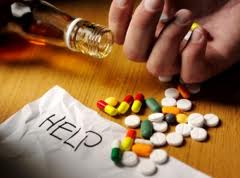 I think it's dangerous for someone to paint a false picture of what our kids have to see and deal with on an everyday basis.  They have to deal with temptation.  They have had to learn how to say "no" to something they know can ruin their lives, and as a parent I have to worry that they will some day give in to that temptation, because where I bring them [to school] on a daily basis has this to offer. It's a different world from where I come from, and

to say that everything has improved and is progressing completely discredits our children and what they have to face on a DAILY BASIS

.
Any kind of drug that you could imagine is for sale at the schools, but mostly marijuana.  Alcohol is being used by students during the day.  No, it's not a teen-age party all the time; it is secretive.  Kids know how to hide from adults and lie to them.  Do you remember being a teenager and how much your parents didn't know?  How much you got away with, only to laugh about it later?  Well, they are no different than we were, only they have a much harsher and more dangerous reality.  We should never discredit them by pretending everything is just fine because all you're doing is pushing them away and setting them up for failure.
This topic — out-of-control drug and alcohol use at Taconic High School — is too important not to bring to light. — VARSITY MOM
 —– 00 —–
There is a lot to digest here. Take your Bromo-Bismo-Pepto-Seltzer and start the job.
———————————————————————————-
ADDED SECURITY AT ALREADY PRISONED-DOWN SCHOOLS SENDS THE WROND MESSAGE
In the inevitably predictable aftermath of the Newtown grade school shootings, authorities are giving the 20-year-old gunman total victory by their "too much too late" overreaction. Schools nationwide have teamed up with local law enforcement officials to close the barn door after the prized pintos have bolted.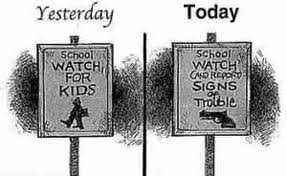 Schools are (a) reviewing security plann, (b) beefing up law enforcement presence on campuses, and (c) sending in a flood of counselors. The first is something they already do, ad infinitum. The second adds to the non-academic atmosphere of schools where "the scholarly mein" has all but vanished (due mainly to lack of proper dress, lack of enforcement of existing policies, and administrative fear of lawsuits from the crackpot "one in a hundred"). The third will send a lot of well-meaning "experts" onto the scene to mess around where they have no place. The place is the property of parents, loved ones, and teachers, who know and love the children more than and better than anyone. Having said that, THE PLANET loves to therapy dogs that have been sent to Newtown to help children and adults grieve. Dogs should be the only "expert counselors" allowed inside the already disturbed minds of the people most affected.
Kids Are Resilient
These well-intentioned actions ignore a fact pointed out by our good friend, the estimable Charlie Garivaltis, in a comment left on the weekend post, and that is the phenomenal resilience of children. Kids get over stuff if adults let them.
However, by adding these measures (a, b, and c) to the already saturated media coverage, adults reinforce to children that the proper demeanor at school is one of perpetual anxiety. That's the wrong message to send. The right message? Back to business as usual. School districts across the country would be far better off to stick to their usual security provisions, decline extra police presence, tell the counselors "thanks, but no thanks," and get on with the finishing up of school prior to the already-scheduled Christmas break.
That's the best way to "get over" this tragedy. "Get over" is in quotes, though, because those in Newtown will likely never "get over" what happened.
In Newtown, of course, recovery won't be that easy. One would hope school will be canceled until January, allowing parents and children together time, the only true balm for healing.
——————————————————————
THE ONE BEST PROVISIONAL ASPECT OF TRUE SECURITY COMES FROM WITHIN, FROM THE ACQUISITION OF INNER PEACE, FROM A FEARLESS CONFIDENCE IN LIFE, FROM THE GOOD DECISIONS OF THE HUMAN HEART. SECURITY WILL NOT COME FROM ANY LAWS.
"OPEN THE WINDOW, AUNT MILLIE."
LOVE TO ALL.