By DAN VALENTI
PLANET VALENTI News and Commentary
(FORTRESS OF SOLITUDE, THURSDAY, DEC. 20, 2012) — Don't look now, but tomorrow is the End Of Time As We Know It. No, Alf Barbalunga hasn't won the Pulitzer Prize for poetry. No, North Street downtown has not become safe and inviting. And No, Dan Bianchi hasn't been pictured with Jimmy Ruberto, Gerry Doyle, and Nuclea's Patrick ("Don't Look Behind That Curtain" Muraca.
Wait, that last one has actually happened. Bianchi called Muraca's shell game at PEDA a "magnet." The problem is what the darn thing will end up attracting. THE PLANET hopes to have more on Nuclea, what appears to be Pittsfield's latest version of EV Wordwide and Workshop Live!. For now, after some preliminary investigation, let us simply say we're not buying it. You can make up your own mind.
Better Late than Never
The end of the world has been predicted by knuckleheads, shysters, and doomsayers more times than the GOB has picked the pockets of Mary Jane and Joe Kapanski.
The End Times will arrive tomorrow courtesy of the Mayan calendar, as you should have known from THE PLANET forecast, reprinted here to remove all doubt: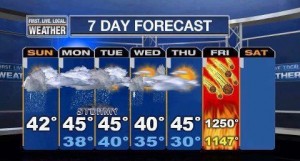 The Friday temperatures, as you can see, call for a Sunscreen Index of a factor that not even the Pittsfield School Committee or the Taconic High School ("How Dry I Am") Football Program can match.
It's going to be a scorcher.
Step well. Step lively. It's been nice knowing you.
——————————————————————————–
HELP FOR FUEL COSTS
For the second winter in a row, we haven't had much of a winter, which is good news for those heating bills.
For those who do have trouble with heating their homes, there is help available and THE PLANET shares this information as a community service. We thank Karen Zink, President, Berkshire Gas.
— Budget Billing: Berkshire Gas' Budget Billing Program allows customers to spread energy costs evenly over 12 moths. To learn more, call 1-800-292-5012.
— Automatic Payments: Berkshire Gas can automatically deduct the cost of a monthly gas bill from a customer's savings or checking account, 20 days after billing. Call the same numebr for information.
— Budget Payment Plans: These plans allow customers more affordable payments by averaging winter bills with summer bills. Call 1-800-292-5012. There are also provisions for installment payments for overdue balances.
— Low-income residents can take advantage of the company's low-income discount. Call Berkshire Gas for eligibility requirements. In cases of financial hardship, the company has other options to prevent customers from service disconnection.
Families who need help can also tap the resources on one of Berkshire County's community assistance agencies. These include:
* Berkshire Community Action Council, in Pittsfield at 413-445-5671 and in North Adams at 413-663-3014.
* Good neighbor Energy Fund, administered by the Salvation Army. In Pittsfield call 413-442-0624; Great Barrington, toll free at 1-800262-1320; and in North Adams at 413-663-7987.
* Berkshire County Regional Housing Authority, 1-413-443-7138 x10.
—————————————————————————-
KOOCHER, MALKAS POISON LETTERS BAD FOR PITTSFIELD SCHOOLS, GOVERNMENT
Lost in the "Trial of Terry Kinnas As Performed by the Inmates of the Pittsfield Public School System" was an interesting paragraph in the letter of Glen Koocher, the city of Pittsfield's consultant from the Massachusetts Association of School Committees, to Pittsfield school committee chairman Alf Barbalunga.
After having condemned Kinnas, a man with whom Koocher has no acquaintance and little knowledge ("talks at excessive length," "delays the conduct of business," "antagonistic public comments," evasive and often hostile interrogation of staff at meetings," "probing into areas of administrative operation"), Koocher writes in classic, practically unintelligible bureaucratspeak:
The Purple Prose of Hoochie Koocher
"MASC is also often consulted about strategies for dealing with outlier board members behaviors. We are very careful in this regard because one person's passionate advocacy and diligent and aggressive work ethic toward their fiduciary responsibilities can be another observer's "micromanagement," "inappropriate intrusion," or manifestation of some other perceived undesirable conduct. In a democracy, one must balance the rights of elected officials and the public to behave without restrictions or to speak freely even if this deportment has a detrimental effect upon productive meetings and public credibility. It often falls upon the chair to address and control disruptive and inappropriate behavior as state law provides and as Robert's Rules of Order guides you."
If a student of mine had written this garbage, we would have tossed it back, "Return to Sender." The gist of this dense, chewy paragraph is that the MASC can write political letters to the local board to help the board police the "squeaky wheels." (It also convinces us of Koccher's bone fides as an unimaginative, timid bureaucrat who loves sniffing the jock straps of his superiors).
Koocher strikes us as one of the "diligent" employees who toils in a make-work, patronage job for another unnecessary state office that eats your tax dollars so that those unemployable in the Dreaded Private Sector might have work. … well paying work, with great benefits, at your expense.
THE PLANET notes the date of Koocher's letter: Dec. 4, or …
— One day after the Reid Middle School Council's Community Outreach Subcommittee decided, three weeks after the fact, file a letter of complaint about Kinnas' alleged boorish behavior with Barbalunga and the school committee.
— Four days after former Pittsfield deputy supt. of schools Barbara Malkas, out of the blue and on her own, writes to Barbalunga about (you guseed it) Terry Kinnas "vocal opposition."
Malkas, the school systems' answer to the perennial question, "What's the use?" gushes about her love of free speech at the same time she condemns Kinnas for exercising his. Like a true three-dollar bill, Malkas blasts Kinnas for using his inherent constitutionally guaranteed right to actually question her "personal reputation as an administrator."
PLANET TO MALKAS: Your reputation as an administrator isn't all that hot, if you must know. Don't tempt us to go there further, for there are many interesting stories. Malkas, if you must know, four out of five dentists recommended a pack of sugarless gum over you, Ms. M, to ride heard of the multi-millions of dollars that you found under your control when you rode the gravy train in Pitsfield.
An Orchestrated Effort Against Progress
Notice how all these of these attacks on Kinnas occurred occurred just days before his trial in the Kangaroo Kourt on Dec. 9 at the school committee meeting. It should put to rest any doubt: From start to finish, the attack on Terry Kinnas was a politically motivated smear campaign not-so-carefully orchestrated by those elements in the GOB an the Gravy Train School System who want things to remain the same.
Status Quo is just fine with these dudes, and, fortunately for them, they apparently have a mayor, Dan Bianchi, who's willing to play along by looking the other way and pretending that progress is being made. Bianchi just negotiated a 10% to 16% three-year pay raise for teachers. He hasn't done a thing about getting to the bottom of the missing $9,000 in prom money at PHS, looks the other way about Tailgate-gate at THS, and, on the evening of Kinnas' phony trial, arranges his schedule just so, in other that he should not be present when the knife is plunged into the back.
There will be no progress in Pittsfield as long as the Pittsfield School System remains the way it is. Until that is cleaned up, it's every taxpayer for him and herself. City and school officials sure don't care about taxpayers. Meanwhile, we must resist attempts of carpetbaggers like Koocher and Malkas — who have no official standing in Pittsfield — to be budinskys in the business of We The People.
Koocher, Malkas, and your type: Butt the hell out of We The People's business. Schools should be LOCALLY run.
A municipal election is coming up, and THE PLANET intends to see that, as regards to the schools, it is one like no other.
————————————————————————-
STILL WAITING TO HEAR FROM THS ADMINISTRATION ON TAILGATE-GATE
THE PLANET has yet to hear from THS principal John Vosburgh over our inquiry into Tail-gate. He has one more day.
We have shared all of our findings with the school, asking them to correct the information if and where it needs correction. If we don't hear the school, as we have told the public, including the THS administration, we shall take that as a tacit confirmation of the factual nature of what we have learned.
The apologists for the PPS and the "everything is great" crowd might wish this all to be forgotten, but it won't be. We owe it, yes, to The Children for the truth to come out.
————————————————————————
YOUR LOVE PLAYS A PIPER CUB SONG OVER NOTES OF WET ROSES AND STAFF OF PURPLE VINES. IT LANDS ON A RUNWAY OF HAPPINESS AND DAYBREAK IS COAXED OUT TO KISS ME.
"OPEN THE WINDOW, AUNT MILLIE."
LOVE TO ALL.