By DAN VALENTI
PLANET VALENTI News and Commentary
(FORTRESS OF SOLITUDE, TUESDAY, JAN. 22, 2013) — The blaze that gutted the DPW garage on West Housatonic Street in Pittsfield came as gentle dewdrops from the heavens above. The city has been aching to get out of the West Housatonic rat hole for for some time. Remember this about fire: it is neither good nor bad. When it warms your house or cooks your food, it is good. When it burns a taxpayer-owned building, it is … good or bad, depending on where you're sitting.
The "coincidental" fire thus comes at a grand time for Mayor Dan Bianchi, Peter Bruneau, Bruce Collingwood, and the DPW minions. Like his predecessor Jimmy Ruberto, Bianchi has wanted a new facility to story all the trucks, snowplows, and the Heap Big Magic Red Pothole Machine. Unlike his predecessor, though, Bianchi did something about it.  He prayed real hard.
"Yeah, and so the building just happened to burn down. Now. Can you imagine that?"
With the ashes still smoldering, Bianchi wasted no time in bringing up the possibility of building a new highway facility for the DPW … as if that had been the plan all along. In doing so, he did what one would expect a mayor to do, looking out for The People and all that. Meanwhile, during the week or so investigators probe the cause of the fire, you can bet the insurance company will look mighty hard into the possibility (however remote or however likely) that there was funny business at play.
Rhymes with "parson."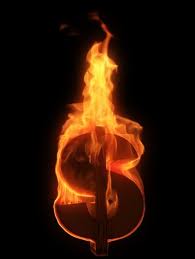 To be clear, THE PLANET doesn't think for one second that the city would ever think about the "A" word. THE PLANET doesn't think for one second that anyone in the city knows certain individuals who would know how to deliberately set a fire and make it look like something else. Not for one second do we believe that. Be clear.
THE PLANET would never suggest for a second that arson was involved in the blaze. Leaving highly flammable materials on top of or next to powerful heaters, well, that sort of stupid thing happens every day, doesn't it? Couldda happened to anybody. That's likely what happened, which give you an idea of what our public servants think of your property.
All we know is that it's a shame when the flammable materials and the heaters do their thing after coming into contact, which is only obeying the laws of physics. How could anyone be blamed for that?
What's that? You say who could be so stupid as to store material in such a hazardous manner? My friends, the question contains its own answer.
The Conversation between Highway Supt. Bruneau and Bianchi went nothing like this. Such a conversation or anything close to it NEVER OCCURRED:
—– 00 —–
BIANCHI (ON THE PHONE): Peter? Remember that little matter we discussed? You know. The one about … you know. Yeah, well, it would be a shame if something were to happen to the garage. 
BRUNEAU: Like what?
BIANCHI: C'mon, Petey. Use your imagination.
BRUNEAU: You mean…
BIANCHI: C'mon, think.
BRUNEAU:  Well, I would never want anyone to lay flammable materials close to one of the heaters. But if it did, and I'm only saying "if" it did, you know, we'd have to find a new garage.
BIANCHI: Gosh, Petey. I hadn't even thought of that.  I mean, we don't ever want to store any flammable materials on or next to the heaters. The ones in the attic above the garage. We wouldn't want to do that, right?
BRUNEAU: Right.
BIANCHI: Good. I know I can count on you guys to see that flammable materials are never stored next to any of the attic heaters.
—– 00 —–
 As we said, nothing of the sort ever occurred to ensure that the building would burn down at this particular time, prior to the setting of the FY14 budget. It is a statement of fact, however, to say that exactly that sort of thing did occur — flammable materials stored perilously close to heater — at this particular time.
You can go back and read THE PLANET previous articles on the city's attempted purchase of land on East Street for the DPW by going to our home page. In the yellow toolbar, you'll find a search engine. Type in "DPW Garage," and the articles will pop up for you. It's magic.
—————————————————————————————
DEBT CEILING IS SO HIGH IT'S BEGINNING TO LOOK LIKE A FLOOR
Newly-inaugurated President Barack "Taxes Hike" Obama wants to raise the debt ceiling from its current $16 trillion. We expected that. He's a tax-'n'-spender. He believes in taxes the way Kenyans believe in marathon running. He also told House and Senate Republicans that they had better not insist on spending cuts in return. We expected that, too. What we didn't expect is the GOP caving in so shamefully to Obama's extorted posturing.
That is how irrelevant Republicans have become in Washington, D.C. at the moment.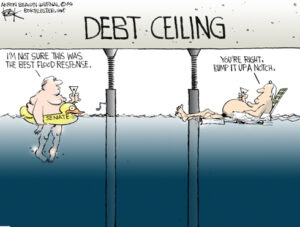 Every step along the way, Obama has had his way with the Republicans, who are fast becoming as irrelevant to national politics as they are here in Massachusetts. That's a pity, because one-party rule is nothing more than hegemony, a form of political tyranny where the bully assumes a cloak of legitimacy, be it legislative, constitutional, or judicial.
Debt Ceiling: Is It Anything More than Symbolic?
Here is a wire report from The Daily Ticker that offers some interesting insights into the situation:
This week started with President Obama Monday demanding lawmakers raise the U.S.'s $16.4 trillion debt ceiling, warning Republicans not to insist on spending cuts in return. The same day, Federal Reserve Chairman Ben Bernanke advocated getting rid of the debt limit altogether. The Washington Post reports in a conversation at the University of Michigan Bernanke said the debt ceiling has only "symbolic value."
And the week ends with lawmakers still careening towards a deadline somewhere between mid-February and late March, when the U.S. will run out of funding for most government programs and risk default. They have no plan to raise the ceiling or abolish it. Even so, perhaps playing chicken with the debt limit, a charade we already witnessed once before in 2011, is not the real story.
"Bernanke is quite correct, it is theatrics," Doug Casey, chairman of Casey Research, professional investor, and author of Totally Incorrect: Conversations with Doug Casey tells The Daily Ticker. "The problem is the amount of debt itself. The problem is so big at this point, I think it's very questionable whether this can be solved at all."
Related: Debt Ceiling Theatrics Could Spark 10% Sell-Off
Casey points to the money America owes above and beyond the official $16 trillion in national debt, as the real issue. This includes the so-called unfunded liabilities from entitlements like Social Security and Medicare.
Two former U.S. government officials put the federal government's actual liabilities in excess of $86.8 trillion, or 550% of GDP, in a Wall Street Journal Op-Ed. Casey argues we're talking of upwards of $100 trillion when you also factor in the liability of promises such as FDIC deposit insurance.
"This is far more than can conceivably be repaid, so the debt is going to be defaulted on, it's simply a question of how," he says.
There is the specter of outright default like we've seen in the case of Argentina, where Casey himself spends much of his time. There's also the scenario of "destroying the dollar," devaluing it so the debt burden isn't as heavy.
Related: Bill Gross: Fed's "Hot Air" Will Keep Bond Bubble Aloft in 2013
Casey takes it one step further.
"I think the U.S. government should default on the national debt," he says, pre-empting his statement with the admission that it may sound outrageous and too radical. "I say that for several reasons. The most important of them is if they don't default on it, it's going to make the next several generations of Americans into effect indentured servants, serfs, to pay off the debt that their parents and grandparents have incurred."
So what do you think? What are you buying of this D.C. horse shit, if any?
———————————————————————————
"MAGNA SERVITUS EST MAGNA FORTUNA"
"OPEN THE WINDOW, AUNT MILLIE."
LOVE TO ALL.