By DAN VALENTI
PLANET VALENTI News and Commentary
(FORTRESS OF SOLITUDE, FRIDAY, FEB. 22, 2013) — Okay, now that THE PLANET has your attention on the massive amount of money — at least $330,750,000 million — taxpayers owe in future pension and OPEB obligations to public employee retirees, we share another way in which Mary Jane and Joe Kapanski are getting hosed.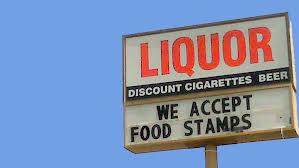 This example is from California, but you can be sure similar outrages occur on a daily basis right here in the beautiful Berkshires, particularly in Pittsfield, where the only "growth industry" is in caring for the denizens of the dank subculture that has emerged in the absence of good paying jobs. These are people like drug addicts, who will soon be served by their very own methadone clinic; single moms with multiple kids from multiple daddies, who benefits from every sort of public assistance; criminals housed in the county jail and their families, who qualify for a host of freebies; illegal aliens who immediately can begin receiving welfare, uh, we mean "transitional assistance;" and the rest of the "gimme groups." At the other end of the transaction is usually a plastic card, loaded with money — your money, that is, if you work for a living and support yourself.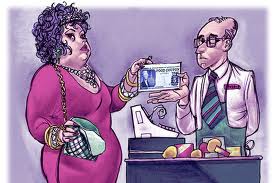 Check out this video. In less than three minutes, it will may just motivate you to get involved, big time, with that is being done in your name by our elected and appointed officials, our so-called "public servants." If this doesn't motivate you to "hold they feets to the fire," we don't know what will. The time for revolution may be fast approaching. If left to the politicians at all levels of government, it will only get worse for the persecuted middle class.
Subject: welfare vacations

http://videos2view.net/welfare-vacations.htm
Pretty good scam, wouldn't you say?
—————————————————————————–
WHAT IS GOING ON AT HIBBARD SCHOOL?
Is the city about to sink $6 million into the former Hibbard School?
When the city of Pittsfield wanted to move its Adult Learning Center from its long-time location in Phil Massery's Lyman Street building because of excessive rent, it looked to North Street. The original location was ruled out by a judge on a technicality, and today, the offices and classrooms are ensconced at 141 North Street, a location that is more centrally located, cheerier, and less costly.
At the time it gave Massery the heave-ho, we wondered if the old Hibbard School might be an alternative for the Adult Learning Center in the near future. One the plus side: Taxpayers own the building and the city would not have to pay rent. On the minus side: The building has been vacant, except for storage, for a dozen years. It would need a lot or repair, renovation, elbow grease, and money to bring it back. Money: You knew it would get around to that.
Bianchi: A Look-See at Hibbard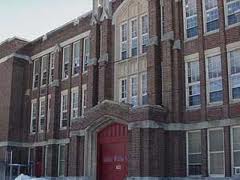 Amid all this, THE PLANET has learned that the Bianchi Administration is evaluating the building for possible restoration. We heard from a reliable source that Sue Carmel's office has estimated the work to come to approximately $6 million. This would seem to be an exorbitant amount, suggesting that the building was beyond the investment, especially with other buildings (the DPW garage, Crosby School, and others) that need work and are currently in use. Also keep in mind that based on projections that say Pittsfield's population of pupils and students will continue to decline, the state is recommending that the city shutter one and possibly two school buildings. It would make the question of a $6 million investment a hot one.
That said, THE PLANET agrees with evaluating the condition of the building to let taxpayers know where they stand. We've always loved the architecture and facade of the old building. If there's a way for reasonable restoration coupled with a dynamic use, THE PLANET could support such a project.
Having got wind of the Hibbard look-see, we posed a series of questions to Mayor Dan Bianchi, his director of public affairs, Donna Mattoon; head of buildings Peter Sondrini, and Carmel. Mattoon responded on behalf of Bianchi. Sondrini and Carmel did not return our inquiries.
Here are the questions we asked, and Mattoon's replies:
HELLO ALL
I have heard through a reliable source the following information:
* That the mayor has authorized Mr. Sondrini to solicit bids for a refurbishing Hibbard School. NOT TRUE. At this point, Dan [the mayor] doesn't know the exact condition of Hibbard School. That information will come at a meeting scheduled for Friday. There are many steps required before an RFP can go out on any project. At this point, city officials do not yet have enough information to discuss what  the next steps – if any – will be for Hibbard.
* The estimate is about $6 million. Is this true? NOT TRUE. No idea yet what the estimate will be. As I said, meeting is Friday.
* What is the justification or rationale for this project?  While structurally sound, Hibbard School is showing serious signs of disrepair. The mayor is in the process of gathering information about options and costs associated with keeping Hibbard from reaching the point of no return. The city has a responsibility on behalf of taxpayers to protect what it owns.
* When will the RFP process begin? Too far down the road to say.
* Why would the city want to invest in Hibbard instead of other in-use city buildings needing repair? No one has made any  decision yet about investing in Hibbard. City officials have an obligation to be good stewards of city property; in essence, to take care of buildings owned by the city and built with tax dollars. Creating a Municipal Facilities Plan to stabilize and maintain city buildings is included among Mayor Bianchi's 2013 goals. Priorities include the Highway garage, Springside House, Tyler Street Fire Station and Hibbard School.
* Will the money come from city side, so that council will have input, or will it be tucked into school department, beyond council scrutiny? If the mayor decides to proceed with an option for Hibbard School, the amount required will go in the budget for Capital Improvements, requiring approval from the City Council.
* Can you describe the condition of Hibbard? A review of Hibbard School was prompted by news that the roof has a significant leak, and there is a crack in the southeast corner of the building. Either of these conditions has the potential to cause major deterioration and eventual loss of the building. The city hired Barry Architects to determine the exact condition of the building and asked the firm to provide the city with thecosts associated with the following three options: complete renovation; partial renovation, or stabilizing the building so that it is not lost to disrepair. Mayor will meet with Barry Architects on Friday. In addition, the city Building Inspectors and Fire Inspectors have also looked closely at Hibbard and will chime in with their reports.
* Does it relate to the recent situation with Mr. Massery's building on Lyman Street? I have no idea. Mayor is away today.
—– 00 —–
Several points to be made:
* This information would suggest that Sondrini has examined the building in sufficient detail that he could give a meaningful report to the mayor on the condition of the structure. This makes sense.The question for Bianchi becomes: On a cost-benefit basis, is the building worth saving? It would also suggest that Carmel would have some basis for issuing an estimate. Again, she did not respond to our inquiry.
* The denial of the $6 million estimate differs with information passed along to us from Carmel's office. The $6 million figure would be a hard sell during the 2013 campaign.
* THE PLANET agrees with Mattoon: "The city has a responsibility on behalf of taxpayers to protect what it owns," the part about "being good stewards."
* The idea of a Municipal Facilities Plan is a good one. In the past, however, such plans have existed only on paper and not in actuality. It would be nice to have a plan and implement. As it is, the city tends to let its structures (Columbus Avenue and McKay Street parking decks, Hibbard, Wahconah Park, Springside House, and the like) for into severe disrepair rather than perform routine but far less costly maintenance.
* THE PLANET fully supports the decision about the money, if Hibbard is to be refurbished. This should be a capital expense, which would give my Right Honorable Good Friends on the city council input. If the money was put in the school budget, the council would have no say. It would fall to the school committee, which does not know how to evaluate such a request neutrally and with a modicum of objectivity. In fact, one gets the feeling that one most matters left up to the school committee, Pittsfield taxpayers are without de facto representation.
* As for our last question, about the problem with Massery's Lyman Street location, we appreciate Mattoon's forthrightness ("I have no idea. Mayor is away today") though we cannot accept that as a the last word. The mayor isn't permanently in exile. He could send a message or call.
——————————————————————–
PAY FOR SCHOOL COMMITTEE? 
Don't look now, but from one of our spies on the Charter Review Commission, word is that the panel will — repeat will — recommend compensation ($$$) for the members of the school committee. The salary would exclude the mayor, who, as you may know, is already pulling down $85,000 a year for running the shooting match.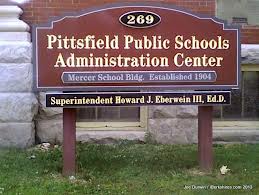 THE PLANET thinks compensation for school committee members and city councilors should be equal: Both should serve on a volunteer basis. It would thus spoil a situation that at least is half right to give the school board pay for serving.
Who would want to make the case, on the basis of the facts, for awarding compensation to the school committee, based on that committee's performance for the past several election cycles? Champion debaters as we are, this would be one position we would not have to defend.
————————————————————————-
MOTOWN COULD SOON BE NO-TOWN
Back in the day (the 1980s and 90s), THE PLANET spent a lot of time in Detroit city. We had clients in Motown, and we probably went there on average of a half a dozen times a year. We were regulars at the Michigan Inn in nearby Southfield, one of our favorite all-time hotels, and even once copped a suite at the Detroit Hilton that the week before has been part of a suite occupied by no other than The Rolling Stones. We knew maitre d's by name and lived well in The Land of Big Auto.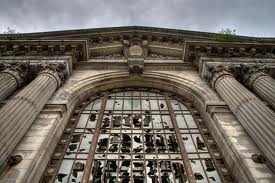 Back then, Detroit had 1.8 million people. Today, it's down to 717,000. Back then, the city was in the black. Today, it is stuck with $14 billion in long-term pension and OPEB liabilities. Its population is 83 percent black, and the once-proud town now finds itself littered with empty lots, boarded-up homes, derelict factories, and huge foreclosure rates.
A City Beyond Saving
A review team appointed by the State of Michigan has finished its report: The city is beyond saving, the report says, and there's no evidence that Detroit can solve its own problems. The report goes to Gov. Rick Snyder, who has 30 days to act. Snyder can reject the recommendations and leave Motown alone, he can appoint an emergency financial manager (state appointed), or he can declare bankruptcy.
The same could happen to Pittsfield. Granted, the Berkshire capital isn't plagued by Detroit's scale of problems, but the underlying factors bear eerie similarity:
* Population drop. Pittsfield has lost one third of its population (from 60,000 to 40,000).
* Loss of industry. Detroit lost the car wars. Pittsfield lost GE, Sheaffer-Eaton, Sprague, Beloit-Jones, the woolen mills …).
* Lack of evidence that the city can solve its own problems.
* Out-of-synch with the rest of the state. Detroit is 83% black. The rest of the state is 80+% white. Detroit  is Democratic. The rest of Michigan is Republican. Pittsfield? Boston doesn't even know it exists. Since the rest of the state is under hegemonic rule of the Democrats, party matters not. To those in Boston, who don't need our votes, Pittsfield and Berkshire County don't matter. For those in Pittsfield, however, you had better be a Democrat, if you have any idea of receiving the crumbs of political favor.
This isn't "chicken little" clucking. This is a neutral, hard, dispassionate look at the facts. Fortunately for Pittsfield, it still has a window of opportunity to save the day. We outlined solutions to the looming pension-OPEB problem in our Wednesday-Thursday columns. That window, however, won't remain open for long. There's a gigantic bill due. It won't go away, and, while it came easy, it won't go the same way.
Have a great weekend.
—————————————————————————-
"What is this I hear of sorrows and weariness, / Anger, discontent, and drooping hopes? / Degenerate sons and daughters, / Life is too strong for you — / It takes life to love Life." — Edgar Lee Masters 
"OPEN THE WINDOW, AUNT MILLIE."
LOVE TO ALL.