By DAN VALENTI
PLANET VALENTI News and Commentary
(FORTRESS OF SOLITUDE, THURSDAY, JULY 25, 2013) — Still waters run deep, so the saying goes. Fast-moving rivers produce dangerous currents — unpredictable and untrustworthy — that can easily sweep you away to your doom. Be careful. Don't be fooled.
Enter candidate Donna Todd Rivers, who is running for an at-large seat on the city council. You know DTR: Now she will, then she won't, then she will again. Then maybe she won't. Wait! She will.
"She will, She won't" Rivers made news twice in the past month or so regarding her downtown beads business. In sending out the word of the "closing" of her business, Rivers made the big and veddy public boo-hoo, how she hated to do this to her loyal customers, insisting the business was profitable. Nonetheless, she had to make this move, she said, and until today, carried on as if that decision had been written the way she initially presented it: In neolithic stone. The stone turned out to be papier mache.
We remember at the time of Rivers' announcement of "closing" having discussions with certain "wise guys on the streets" about how something sounded fishy about about it — nothing you could put your finger on, but just an unsettling feelings that perhaps the alleged downtown diva had perhaps diva'd a bit too much on this one. Did she have something up the sleeve of her blouse?
"What do you mean?" we asked one purveyor of such wisdom, one who has ties to a certain radio station.
"It's a stunt," the wise one said. "She's going to be running for office. Watch. She'll do a 'never mind.' You watch. She's not going to close."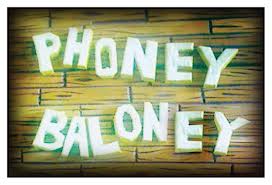 Not long after that conversation, THE PLANET made a bead (pun intended) to DTR's shop on North Street, to get the story straight from the Flip-Flopper's mouth.  She confirmed the decision to close her doors. She played it coy about her future plans, but she made it clear and certain that she would be closing her doors. Any chance of it re-opening, we asked her? That's when the hems and haws began. Well, she might keep it open, but not on North Street. Maybe she would keep it open in some other form, as a traveling road show or hosting house parties. She then began a long litany to the saints about the problems she had with the landlord, with sunspots, with subterranean waters, let alone above-ground Rivers.
"Your decision is final to close this [North Street] store?" we asked, point blank.
"Yes," came the answer. "I've had enough. It's time for me to move on to other things."
Lo! Behold! Yesterday, the Boring Broadsheet ran a huge photo of the dilapidated "diva" on page one of the B section, in which DTR indeed pulled a big, "never mind." Flip, flop, flip.  Tell us, voters: Is this the sort of game player that you would want holding a citywide office? Would you want someone like this making decisions on your behalf?
Consider: She first makes a loud, formal public announcement of her closing. Then, weeks after, makes a loud, formal public announcement of her non-closing. How could you ever believe someone on public policy matters who plays this kind of game with her very business, the fate of which she should know beyond all doubt and uncertainty?
Is she treats her own business in such a way — indecisive at best, finagling at worst — what do you think she will do on hot public policy issues where the GOB will pressure her to roll over and play dead?
The fact that the BB would run not one but two stories on this closing — No! Wait! — it's not closing — brings to mind the question that many have raised since Rivers put her name into the citywide ring: Is she a GOB stooge? Is Larry middling Moe and Shemp?
Certainly the evidence gleamed from her abortive talk show would support that contention. That show made a bastard art form of soft-ball radio. It had more "poof" than a blushing bride's wedding train. Rivers never met a puff-ball question she didn't like, and she never missed sucking up to anyone "connected" or "important" that she figured might, you know, "help her out." She talked about the streets of gold in beautiful, downtown Pittsfield, and basically broadcasted a product that would have found a comfy home with the Berkshire Chamber of Commerce ("Sunny skies, all day and night!!"). All the while, she limped along, morally crippled, since she had a financial stake – by virtue of her downtown business — making everyone think all was well in the beautiful center city. That's called a conflict of interest.

Now we have this problematic business of the "never mind." Looking at the bizarre unfolding of "I'm closing-I'm not closing," Ms. She Did-She Didn't appears to have acted solely for the reason of cheap publicity. How else can you explain a naked reversal so blatantly un-thought-out?
Either Rivers is the worst businessperson in the city's history, or she's playing games. The fact that the BB would give her splash coverage says it all about the woman's loyalties, doesn't it? If she happens to win a council seat, do you think she's going to court Mary Jane and Joe Kapanski, the Little Guy, when she's willing to sellout her customers so easily for this kind of publicity?
THE PLANET heard from two at-large candidates about Ms. She Did-She Didn't. Both were a way-tad more than miffed that their opponent would get this kind of name pasting in the local daily rag at this nascent stage of the campaign, especially given the sleepy, practically comatose nature of Campaign '13 thus far. The only semi-jolt came when Paul Capitanio notified city clerk Linda Tyer that he would not be seeking re-election. Watch out now for a mad scramble in Ward 3. We also hear someone has taken out papers for mayor. Oh happy day.
"I think for [DTR] to do this says a lot about her lack of integrity," Candidate One told us. "She made an announcement of the closing [of her store]. Many of her customers took this at face value. My wife if one of them. Her word. She gave her customers her word. That's what this is all about. Now, after she takes out papers to run, she pulls a 180 and insults the very people she claims to have in her heart. I'm not buying it and I don't think voters will buy it, either."
Still waters run deep. Fast-moving Rivers lose their way. Wethinks a long drought will dry up this particular stream bed, once and for all.
——————————————————————————
"There is no God, as I was taught in youth, / Though each, according to his stature, builds / Some covered shrine for what he thinks the truth, / Which by day his reddest heart-blood gilds." — John Masefield, first stanza, "There is No God, As I Was Taught" (1916).
"OPEN THE WINDOW, AUNT MILLIE."
LOVE TO ALL.