By DAN VALENTI
PLANET VALENTI News and Commentary
(FORTRESS OF SOLITUDE, FRIDAY THROUGH LABOR DAY, AUG. 30-SEPT. 2, 2013) — Terry Kinnas, Pittsfield's best public servant, filed four allegations of law breaking against Pittsfield school officials. Four times, state Attorney General Martha Coakley has agreed with him, upheld his allegations, and determined these officials to be lawbreakers. That makes Kinnas 4-for-4, an average that would lead any league, from the Majors to the lowest bushes that comprise Pittsfield.
Now, the GOB has their minions out desperately trying to divert your attention from Terry's success and their abject failure by slinging mud regarding Kinnas' "angry diatribes" and "anger management issues." THE PLANET has seen Kinnas in action at countless public meetings, debates, and gatherings official and otherwise, and we have never — NEVER — seen him act in any way other than professional and courteous. He did not act this way even during the infamous Scopes Monkey Trial, unlike his colleagues that night, who, by their very action, demonstrated their anger management issues over having to obey the law.
The flood of responses attempting to discredit Kinnas each have in common their refusal to acknowledge the most pertinent fact in this entire episode, which is this: Terry Kinnas is a public official, one of the rare ones, with integrity, who matches his ideal with a knowledge of the law and his responsibilities as an elected official to follow that law.
He, alone, has been willing to call out the Yahoos in Pittsfield government who think the law does not apply to them. Fortunately, the many readers of this website will not be fooled by the smear campaign now being conducted against a great citizen. They know that Kinnas is in the right. They know that Kinnas has only one political objective in mind, and that is to serve the city that elected him to his position. Remember that he tallied more votes than Bianchi in the last election.
Admit it, you GOB slackers. Kinnas ate your lunch!
There. Now that we got that out of the way, let us venture into the land of stickers.
According to the city charter, the city elects a mayor every two years. The provision reads:
"At each biennial election the following officers shall be elected in the following manner:  A mayor, by and from the qualified voters of the city for term of two years."
The provision doesn't mention so-called sticker campaigns, in which a person may run for office without filing nomination papers. Bill Galvin, Massachusetts secretary of state, posts this on his website:
All write-in or sticker votes should include the correct name and address of the candidates. Courts have ruled that a vote should be counted whenever the intent of the voter can reasonably be determined, even if a voter omits the candidate's address or makes a mistake in the name or address. In O'Brien v. Board of Election Commissioners, 257 Mass. 332, 338-339, 153 N.E. 553, 556 (1926) the court said "that if the intent of the voter can be determined with reasonable certainty from an inspection of the ballot, in the light of the generally known conditions attendant upon the election, effect must be given to that intent… The omission of the residence … on some ballots on which the name had been written by the voters rightly was found not to invalidate such votes." Maiewski v. Board of Registrars of Voters, 347 Mass. 681, 199 N.E. 2d 680 (1964). This includes where a voter fails to complete the vote indicator next to the write-in space—the write-in or sticker vote will still be counted.
This information indicates that a write-in campaign can be conducted by a person who is not a resident of the city. The "intent of the voter" is all that matters for the vote to count, whether or not an address is included. That's why the city clerk counts all wrote in votes, including those for Mickey Mouse and Cochise.
The "omission of the residence … rightly was found not to invalidate such votes."
Thus, a legitimate person (not Mickey Mouse, Elvis, or High Diddle Diddle) with standing in the area can in fact run a stick campaign.
"A legitimate person … with standing in the area," a person such as Dan Valenti, perhaps?
We say that no one should be able to waltz into a position as important as mayor without opposition. It would be a disservice to that mayor as much as the electorate responsible for putting him back into office if he should  do so without having to explain his previous two-year term.
We would encourage anyone dissatisfied with the present direction of Pittsfield to write in Valenti's name. Think of this "candidacy" as the "none of the above" option, which authorities are afraid to put on an actual ballot because NOTA would win most elections.
Every write-in vote for Dan Valenti will make a massive statement far beyond the effects of a single casting of a lone ballot. A write-in vote will send a clear message to the occupant of the Corner Office, the city council, and the school committee that what they think is a "good enough" effort is far from "good enough." It will also be a much more productive way to cast a vote than leaving a blank.
——————————————————————————–
SELECT BOARD 'PHONES IT IN' BY FIRING POLICE CHIEF BUFFIS
* It's ironic that after the federal indictment against former Lee police chief Joe Buffis that the Lee Select Board should have fired the chief for what the boards says is an unrelated matter. The board found that Buffis charged the town for his personal cellphone plan, a family plan no less, to the tune of almost $5,000 for a two-year period.
Buffis mouthpiece, Lori Levinson, told the board the cellphone use was part of the chief's contract with the town. Town administrator Robert Nason denied the claim. It would seem a simple matter of the contact language, wouldn't it? The simple thing to do here would be for Levinson to make the contract public. It should then be an easy matter to decide who's telling the truth.
One wonders if the board acted in the phone matter to have Buffis jettisoned from any connection with the Town of Lee when the court summons him to appear to answer charges of extortion and money laundering relating to a Christmas toy fund that Buffis controlled in his role as chief. It would certainly be more convenient than not for the Board to have Buffis gone if and when the Feds get going with their proceedings. It might also have legal implications.
———————————————————————
SAKSHAUG DESERVES REAPPOINTMENT TO CONSERVATION COMMISSION
Will Tom Sakshaug be reappointed to the Conservation Commission?  Sakshaug's term recently expired. You may not care much about this commission, but it cares about you — that's its job. The conservation commission amplifies the work done by sportsmen's clubs, garden club, nature associations, and charitable foundation to preserve our natural resources. The city conservation commission is responsible for protecting the land, water, and biological resources of Pittsfield.
From the state Association of Conservation Commissions website: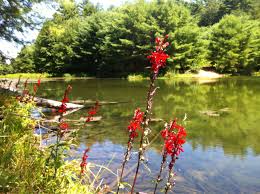 "The tasks of a Commission require a great deal of study, learning and thought by its members, who become expert only by patience and work. Appointments should not be made or taken lightly.
"The overriding factors governing appointments should be a candidate's interest in doing the conservation job needed by the town: open space and water resource protection. Since this goal requires a continual, firm commitment to conservation, persons who have no conflict of interest and who relate well to others should be selected. The Commission should represent a variety of interests, skills and backgrounds."
Sakshaug, one of the most dedicated and hard working members of any municipal board or commission, spent his own money to take a series of courses in order to qualify for service on the commission. Unlike many board and commission members, who want the name spelled correctly on the letterhead and care to do little else, Sakshaug takes the job seriously. His term of service as a conservation commissioner, moreover, makes his service highly desirable.
Now what could possibly cause a problem with the re-appointment of a person of this caliber? Could it be, oh, politics?
THE PLANET's sources inform us that Mayor Bianchi is refusing to re-appoint Sakshaug. To free up a slot for Sakshaug, Peter Marchetti resigned from the commission on Aug. 21, hoping to force the mayor's hand. Bianchi hasn't moved on it since. THE PLANET hears that Bianchi has asked conservation agent Rob Van Der Kar to look for two replacements, presumably one each for Sakshaug and Marchetti.
THE PLANET calls upon Bianchi to let politics, for once, move to the side and reappoint Tom Sakshaug as a conservation commissioner.
———————————————————————————–
"Unwearied still, lover by lover, / They paddle in the cold / Companionable streams or climb the air; / Their hearts have not grown old; Passion or conquest, wander where they will, / Attend upon them still. // But now they drift on the still water, / Mysterious, beautiful; / Among what rushes will they build, / By what lake's edge or pool / Delight men's eyes when I awake some day / To find they have flown away?" — W. B. Yeats, final two stanzas, "The Wild Swans at Coole," (1916, 1919)
"OPEN THE WINDOW, AUNT MILLIE."
LOVE TO ALL.