By DAN VALENTI
PLANET VALENTI News and Commentary
(FORTRESS OF SOLITUDE, MONDAY, Oct. 14, 2013) — The recent announcement of the closing of four businesses in downtown Pittsfield surprised no one, except maybe Mayor Dan Bianchi and his motley collection of lackeys and apologists, who are telling us in what passes for "Campaign" 2013 of the great strides the city has made in economic development since January of 2012. Yes, that's when Mayor Photo-Op promptly proceeded to pour sugar into the collective gas tank.
If you'll recall, Bianchi's He's the guy who's running scared of THE PLANET, who had the audacity of wanting to corner him in a live, broadcast interview. He has nothing to say. Bianchi's the guy who looked the other way during Housegate, when one of the four-headed hydra of overpaid city school superintendents arranged for his secretary to receive the benefits of free house building courtesy of Taconic High School carpentry students. Once again, Bianchi had nothing to say. The mayor also arranged to be out of town when the Scopes Monkey Trial he rigged against school committeeman Terry Kinnas infected the city in January. Nothing to say again for Harpo.
This is what makes Bianchi's comments about the "economic progress" the city has made in his two years as mayor worse than a sick joke. Bianchi has no credibility on such pronouncements, although we would believe him on the number of ribbons he's cut as mayor and the number of certificates he has awarded. The exact numbers, by the way, can be found on the city's website, under "mickey mouse."
—– 00 —–
The larger picture of the four failings, as we looked at last week on THE PLANET, depicts the near collapse of the city's economy. People may point out that the undoing began a generation ago, and they would be right. In case you didn't notice,  General Electric; Sheaffer Eaton; Sprague Electric; Beloit Jones; the silk, woolen, and paper mills and the rest of the good-pay, good-benefit manufacturing jobs aren't likely to walk through the door any time soon.
Nonetheless, what did the "in-the-meanitime" plethora of local "jobs creation" and "economic development" companies, enterprises, think tanks, and offices do except create Con Jobs and Snow Jobs for the public and a few choice high-paying jobs for "executive directors" and staff, most of whom were picked not for their abilities but for Who They Know.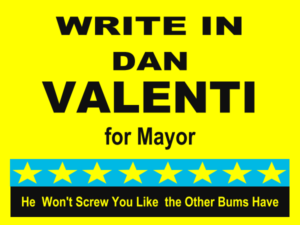 While year after year the local economy did a decent impression of the Amazing, Shrinking Man and Pittsfield's population dropped by 33%, the elected officials kept caving to the local Special Interests in the public sector, granting pay and benefit increases that far outstripped the diminishing private sector. Local Big Shots and Poo Bahs in the Private Sector also moved into the breach to help fill the power void, liked what they saw, and began to do anything, no matter how treacherous, to destroy any chances for an economic revival. They had, and still have, their own little Feifdoms to protect. These Lords and Ladies, the 1% in Pittsfield, make big bucks (usually working for "non profits") and don't want ANYTHING to change.
Throughout all this, in his 10 years as a ward councilor and especially in his two years as mayor, Dan Bianchi has voted to increase the size and cost of city government and voted in seven budgets, each of which called for an increase in government spending and higher taxes for homeowners and businesses. Thus, we arrive at the larger picture exemplified by the recent four business failings — Pittsfield is a poor community. The city is on poverty row. It's more than irony that when you go to the city's website, while the page loads, it finds itself under water at Pontoosuc Lake, a photo of which serves as the saver.
Bianchi finds the four business closings as an affront to him rather than a sign of his leadership failure as mayor.
There's no greater proof of this sad fact than the one that emerged during the Sept. 25 school committee meeting. Bianchi, as mayor, is a member of that committee, but neither he, nor Kathy Yon, Kathy Amuso, Dan Elias, Alf Barbalunga, or Jim Conant brought attention to the proof, as startling as it was.
The Pittsfield School Committee is part of the Pittsfield School District, where one teacher wrote this syntactical and conceptual nightmare of a review of the use on iPad use in classes: "Constant process is being honest and recognizing/controlling personal distractions. I don't think that it is a negative that indicates a need to remove iPads, but I think it is a reality that we will constantly face and use as a tool to help kids develop good habits and personal accountability" — whatever the hell that means. We mention this aside to put the following data about the PPS in the true perspective of its downward spiral.
—– 00 —–
It was committeeman Terry Kinnas, alone, who on Tuesday night (10/8) brought this data to the attention of We The People via our Right Honorable Good Friends on the city council.
School superintendent Jason "Jake" McCandless, a.k.a. Jake IV, a.k.a. JIV (pronounced "Jive") presented charts related to MCAS performance. Exhibit 1 shared the percentage of pupils and students from "low income" (that is, poor) families. THE PLANET advises that you are sitting down before you read this:
* Allendale — 55.60% [of the student are from poor families]
* Egremont — 46.40%
* Capeless — 47.20%
* Morningside Community — 88.20% (no, that's not a typo)
* Crosby — 75.80%
* Stearns — 50.40%
* Williams — 32.50%
* Conte — 90.50 (neither is that one a typo)
* Reid Middle School — 64.80%
* Herberg Middle School — 49.60%
* Pittsfield High School — 43.20%
* Taconic High School — 49.10%
Kinnas crunched the aggregate numbers. Of the 6,077 pupils in the PPS, 56.70% are classified as "low income" for the 2012-2013 school year. That number is likely higher for the current session. Of those 6,077 kids, 3,444 receive free lunches or reduced-cost lunches, the difference being made up by — you guessed it — taxpayers, most of whom do not have children in the system.
Ladies and gentlemen, do we have to draw you a map? These numbers prove the existence of an economic disaster now being accelerated by the disastrous performance of Mayor Bianchi — so go ahead, vote for him on Nov. 5.
These appalling numbers should be thrown in Mayor Bianchi's face like a Moe Howard-propelled shaving-cream pie. Under his watch, the city has accelerated its plummeting plunge into village ghetto land. Naturally, the Boring Broadsheet, which had a reporter at the Sept. 25 school committee meeting in which the income data were shared, skipped right over this story and these numbers. THE PLANET won't speculate why. All we can say is that this site, and this site alone, has again answered the call for Mary Jane and Joe Kapanski. The media — be it radio, TV, newspaper, or blog — must function as the watchdog for bedraggled taxpayers. We are their eyes and ears, and we are the last safeguard of their rapidly vanishing freedom. THE PLANET, now with the Gazette's Jonathan Levine on the mend, is alone in Berkshire County doing this vital work.
So the next time you see Bianchi wind-bagging about all the "progress" the city has made with economic development, throw these numbers in his face.
———————————————————————————-
 Oars can divide an ocean too silver for a seam. — adaptation from Emily Dickinson.
"OPEN THE WINDOW, AUNT MILLIE."
LOVE TO ALL.