By DAN VALENTI
PLANET VALENTI News and Commentary
(FORTRESS OF SOLITUDE, THURSDAY, NOV. 14, 2013) — RIDDLE: Why did the high school kid cross the road? ANSWER: To piss off as many motorists as possible.
This update to the old chicken crack prompts a question for Mayor Dan Bianchi, the principal of Pittsfield High School, and the Pittsfield School Committee: How bloody difficult is it to get high school kids to cross East Street properly? This being Pittsfield, and politics being what they are there, the answer is: "More difficult than coming up with a universally acceptable Unified Field Theory."
What is a simple problem with an easy, direct response becomes a Gordian knot that requires massive study, a Page 1 story in The Boring Broadsheet in the guise of hard news, much self-righteous deliberation, and, Thor help us, a "committee."
By all evidence, anecdotal and factual, its apparent that students have become more reckless, more daring, more "in your face," and more "I dare you to hit me" when crossing in front of PHS compared to years past. You see, the Little Jaywalking Darlins' aren't used to being told "no."  The most effective solution, of course, is to …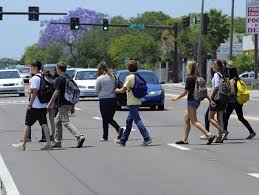 … hit them. Yes. Run 'em over. Mow 'em down. A few broken bones and some nicely colored splats with the East Street pavement will prove to be a most persuasive convincer. In the name of Henry Ford, of this THE PLANET is sure.
The city should award tax rebates for any motorists driving east or west on East Street that successfully bags a crossing, jaywalking student — $500 for each student injured, $1,000 for each student sent to meet his or her maker. After the first several injuries and deaths, the problem will be solved — permanently.
Assuming the Pittsfield School Department and PSC do not want to accept this reasonable, modest proposal, the next best approach would be to put the burden on the Matthew Bishop, PHS principal. Why should it be the city's responsibility to make sure Bishop is doing his job, as Bianchi has suggested? Bianchi wants to form a commission, study it to death, and then perhaps erect Berlin Wall barricades to force pedestrians to use the crosswalks, the way the plastic guards force a silver pinball to obediently go up the shoot after the hammer is pulled and let go. No word from Hizzoner on how much this approach would cost Mary Jane and Joe Kapanski, not that the price will cause the mayor to lose any sleep. With tax-'n'-spenders, it never does. Tax dollars aren't your money but their money.
The school committee, including member Bianchi, needs to let Bishop know that the PHS crossing problem is his problem, and his response to it will determine his future employment and salary. Bishop is the principal there. The principal owns the building. Bishop must step up to the plate and own this problem. Here's the five-point approach that will work:
(1) Immediately suspend the "open campus" policy, since it is responsible for many, if not most, of the jaywalking problems. Require students to eat lunch in the cafeteria. That's why PHS makes that large eatery available, so students can show down on the gourmet delicacies to be had there or in their own brown bags. With far less students presently at PHS than in the 50s and 60s, when the closed campus worked fine, this will present no great hardship on kids.
(2) When school lets out, PHS staff should heavily chaperone and monitor egress from the building.
(3) All jaywalkers will be immediately notified of their transgressions. Students get a warning on first offense, a suspension on second, and an "expel" order on third. Another form of penalty might be a demerit system that costs students academic credit for violations.
(4) Call a school-wide assembly to explain the new procedures. Let the children know that the administration isn't fooling around any more on this situation. Put the onus on students to cross the streets in a mature and responsible way.
(5) Do not, do not, form a "committee" or a "commission" to study this. The Three Bs, — Bianchi, Bishop, and school committee president Alf Barbalunga — need to stop hand wringing and gnashing teeth. They need to ACT like the adults in this situation.
If you wish to contact the Three Bs to let them know directly of your solutions to this "problem," the addresses are:
BIANCHI: dbianchi@pittsfieldch.com
BISHOP: mbishop@pittsfield.net
BARBALUNGA: abarbalunga@pittsfield.net
——————————————————————-
WORKING TIRELESSLY TO … LECTURE 5th GRADERS or THE MAYOR HARD AT WORK
You'll be pleased to note that the mayor, as both CEO of the city and ex-officio school committee member, continues to work tirelessly to solve the myriad of problems bearing down on bedraggled taxpayers. From the minutes of the Oct. 23, 2013, school committee minutes:
"Mayor Bianchi commented on some of the events he attended, such as the Taconic/BCC launch of the new 21st Century equipment [ED NOTE: Uh, the "21st Century" is not that new; it's already almost 14 years old], Egremont's Bio-Blitz … and the event at PHS with Governor Patrick …Mayor Bianchi said he was at Egremont School[,] where he spoke to the 5th graders on government and getting them somewhat prepared for the debate next week."
It's great that the mayor did all this, but wouldn't it have been better if he spoke not just to 5th graders but to the electorate, taxpayers, and citizens "on government." Or short of that, how about responding to this writer's requests for a live, sit-down, TV interview? Bianchi loves talking to 5th graders, but he continues to duck out on his responsibility to address citizens or make himself available to the only media outlet that would dare ask him honest questions.
Simple, folks.
—————————————————————————–
UPDATE ON HOMELESS SITUATION
THE PLANET has been in contact with State Sen. Ben Downing, who told us that the problem of finding shelter for the homeless this winter is closer to a solution.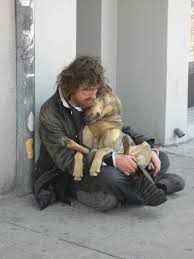 "The mayor's office convened a meeting yesterday afternoon [Friday, Nov. 8]," Downing told THE PLANET. "[Attending were] the current shelter providers, faith community, public safety and building inspectors, among others, including Rep.
Farley-Bouvier
was there and me, albeit 30 mins late because of a previous commitment. [There was] lots of talk about what we should have, how to avoid the problem, and what the size of the actual problem is. Long and short, it looks like
Barton's Crossing
(run by
Service Net
and represented locally by
Jay Sachetti
) is going to budget out expanding their staffing to acomodate 10 more beds. 'Overflow' situations seem like they will be handled by temporary shelters at
Soldier On
and the churches. However, this did not seem 100% resolved yet."
Downing said he expects that there will be at least one more such meeting.
——————————————————————————————
"Take your love to the highest peak, and you will find I am who you seek." — Mick Valenti, "Signs"
"OPEN THE WINDOW, AUNT MILLIE."
LOVE TO ALL.