By DAN VALENTI
PLANET VALENTI News and Commentary
ADD 1 TUESDAY, DEC. 10, 2013
In light of the information below, THE PLANET is asking the question: Does Pittsfield have a secret "VIP No-Fee Parking Ticket" list, in which the vehicles of certain of the Chosen Few can park with immunity anywhere they like without having to worry about fines. As you well know, the hoi polloi and others among the unscrubbed, unwashed, and politically unconnected must pay fines the second after they have worn out their welcome in officially designated parking spots, especially downtown.
Our inquiry starts with Pam Tobin of Downtown Pittsfield Inc., for reasons that become immediately apparent after one reads a 2009 story published in the Albany Times-Union. Our correspondent Ed Shepardson has provided a link to that story in the comments section below.
THE PLANET will be back with our findings, we hope, tomorrow, after we hear from (or don't hear from) Tobin.
Stay tuned.
—– 00 —–
(FORTRESS OF SOLITUDE, MONDAY, DEC. 9, 2013) — Food on the go, a concept embraced by most civilized burgs, naturally finds the stew oily and cold in the city of Pittsfield, a muni where what passes for political "debate" is an enlightening as a runny egg and as satisfying as moldy, marinated turnips.
What in the name of Ernie the Hot Dog Man is all that difficult to understand about food carts? People or ordinary ability and common sense typically do just fine in deciphering the messages when their breakfast cereal talks to them — Snapped, Cracked, and Popped — but in Pittsfield, the Vested Interests can't even do that. Seems that some among the "Connected Fearful" have gotten into the Administration's ear about protecting what they perceive as their Divine Right Exemption from Fair and Healthy Gastronomic Competition. Ever compliant, the elected wheedlers have crafted the over-wrought and pompous "ORDINANCE AMENDING THE CODE OF THE CITY OF PITTSFIELD, CHAPTER 9, 'HAWKERS, PEDDLERS AND TRANSIENT VENDORS."
Pam Tobin, that shill of her former self now selling her services through the auspices of that useless appendage, Downtown Pittsfield Inc. (DPI), tells the city council that food trucks will bring malaria and smallpox to downtown restaurants, where "we have worked long and hard to bring vitality." Yeah, you and every other freeloader who makes a living off the public trough. To our Right Honorable Good Friends on the City Council: Will one of more of you introduce an initiative that eliminates funding for the taxpayer-funded DPI and bury those leeches in the public sand pile?
Pasquale Arace, who thinks that his family's four score years at the Highland Restaurant entitles him from a "non-compete" license, told the council's Ordinance and Rules Subcommittee, "It's not fair that people can syphon off business." Pasquale, our good friend, didn't you learn by now life isn't fair, especially in an alleged capitalist economy?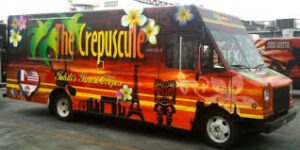 "Hawkers" so named in the ordinance doesn't refer to young males who cruise downtown on skateboards or anyone forcing up big, gooey, green ones to"loog" contentedly away. It refers to those who sell food on the fly. And don't you love the 19th century ring of the word "peddlers," which harkens back to the day when the ice man, the milk man, and the fish part visited housewives during that part of the day left unattended by working husbands.
The draft of the proposed ordinance defines "Mobile Food Vendors" (don't you just love the unnecessary initial capital letters?) as "Any truck, cart, wagon, or towable unit selling food or beverages; except as otherwise defined as 'Ice Cream Truck" under Massachusetts General Law.'" At this point, THE PLANET reminds the city solicitor's office that the semicolon usage in the previous sentence is improper. We remind city solicitor Kathy Degnan that semis and commas are NOT EXCHANGEABLE. Mayor Dan Bianchi loves her work, we understand, but we remind Degnan that while the mayor in her puppy eyes walks on water and parts the red ribbons at the waving of his august hand, he, alas, is not grammarian.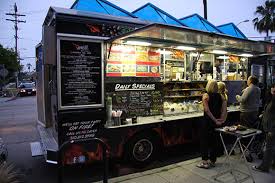 The proposed ordinance makes it illegal for any mobile food vendor to do business in the city unless first obtaining a permit. To obtain a permit, these on-the-go food entrepreneurs must (a) sacrifice their first born, (b) swear allegiance to King Daniel the Foist, (c) Have their fingernails removed, (d) dip their raw, bleeding finger tips into a box of Morton's Salt, and (e) solve Rubrick's Cube in under 2.17 seconds. If they can meet these requirements, the ensuing footage restriction on where they can and can't set up for business essentially bans every square foot of downtown Pittsfield except the closed-off alley on Renne Avenue, which has not seen a human footstep since 1984. The "proximity bans" in the ordinance effectively prevent mobile food operators from doing business. This is not right, and it must be rejected.
Who says it's difficult doing business within the City of Pittsfield? Only anyone who has tried. And please tell us, how difficult is it to see that if food trucks want to move into the downtown, it's a sign of life. In typical Pittsfield fashion, at least the kind that has become all too familiar in Bianchi's disastrous reign, "If it's a sign of life, kill it!" We are thinking of having that saying translated into Latin and put on a desk plaque for Bianchi. It would be his version of Harry Truman's, "The buck stops here." That shall, we promise, be the last time THE PLANET makes any comparison between the spineless Pittsfield mayor and "Give 'em Hell" Harry.
Here's a link to the actual proposed ordinance to examine for yourself. Keep in mind that neither Degnan nor Bianchi want you to read this. They prefer their citizens barefoot and pregnant.
http://www.cityofpittsfield.org/city_hall/community_development/planning_and_development/docs/Mobile_Food_Vendor_Ord/Draft_Ordinance_for_Website.pdf
This example of deadly prose notwithstanding, we can tell you that the affected vendors, who will be robbed of a livelihood by this ordinance, aren't taking this sitting down. THE PLANET has word that the vendors have sought private legal help and that a court challenge will likely happen should the city enact the draconian new law.
Those opposed to mobile food vendors raise seven objections. When examined in light of the facts, the objections are more aptly termed "myths." They are:
1. Food trucks hurt a city's restaurants.
2. A truck's mobility give it an "unfair advantage" over a restaurant because of its mobility.
3. Food trucks don't have the same cost as brick-and-mortar restaurants.
4. Operating a food truck is easy, another "unfair advantage" over a restaurant.
5. Food trucks are unsanitary.
6. Food trucks clog up sidewalks with customers.
7. Food trucks increase littering in the areas they serve.
Each of these seven myths is easily refuted. We draw upon the research done by the Institute for Justice's National Street Vending Initiative, particular a study written one year ago by Bert Gall and Lancee Kurcab.
Let's deal briefly with each "myth."
(1) Food trucks actually boost business for established restaurants by generating more traffic. "Cities with the most vibrant food-truck scenes also have booming restaurant industries."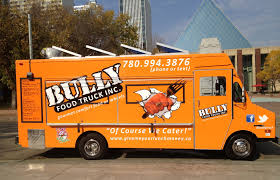 (2) A food truck's mobility may offer advantages, but it also imposes disadvantages that restaurants don't have to deal with, including lack of a fixed location, weather dependence, lack of seating for customers, restricted set-up and serve times, vehicular breakdown, and lack of liquor licenses. "In a free-market system, there are really no 'unfair' advantages between business models because all are free to used by anyone."
(3) Food trucks incur most of the same costs restaurants face. They must purchase liability insurance; pay license and permit fees; pay sales, income, and payroll taxes; train new employees; purchase inventory; and pay marketing costs. Moreover, food trucks face expenses not incurred by restaurants such as truck purchases, vehicle maintenance, fuel costs, parking fees, and the like.
(4) Operating a food truck is not easy. Talk to the operator of one and ask. You'll hear about the hard work that is required to establish and maintain a successful enterprise. Margins are tight, space limited, and the market is always a moving target. With prepping, serving, and cleanup, workdays can run from the wee morning hours to late at night. There's little time off for vacations or even a butt break. Eighteen-hour workdays are not uncommon.
(5) Food trucks are no more unsanitary or Mr. Clean than any other eatery. Like restaurants, they are subject to inspections by the board of health. In fact, they get inspected more often than the brick-and-mortar joints and tend to be cleaner.
(6) There's no evidence to support the claim that food trucks cause harmful sidewalk congestion. Anyone who has seen a food truck in action will see customers lining up on the side. There's plenty of room on the sidewalk. Pittsfield has a lot of fat people, porkers, and wide bodies, but let's call a spade pole a rake handle.
(7) Any food operation has the potential to generate litter. To single this out as a strike against only food truck operators is silly, stupid, and wrong. If you doubt that, why don't you follow the paper trail some day between Burger King on First Street and PHS, or Dunkin' Donuts and PHS, at noontime, when the Little Darlins are allowed to roam free to litter at will without consequence.
From the conclusion of the IJ report: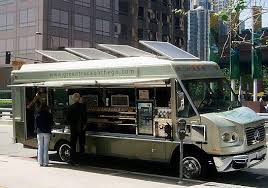 Food trucks do not have an "unfair" advantage over restaurants. The restaurant business model is more favorable than the food-truck business model in several ways, and food trucks actually help the local restaurant industry. There is no basis for the argument that restaurants need government intervention to "protect" them from food trucks. (And, as several federal courts have recognized, regulation for the sake of mere economic protectionism is constitutionally impermissible.58) Nor is there any basis for the notions that food trucks pose some special threat to public health and safety.
Instead of creating public policy based on these myths, elected officials should allow food trucks to operate freely within their cities, subject only to reasonable health and safety regulations. Doing so is good for the local entrepreneurs, the local economy and the local community.
It is clear what Pittsfield should do with its poorly written, badly intended proposed ordinance: Put it in the deep fryer, coat it with confectionery sugar, and offer it on a snack tray in the waiting area at Bianchi's office.
Finally, to reward those who made it to the bottom, check out this video. It reminds us of The Little Darlins' who cross the street at PHS in the morning, at lunch, and at dismissal. Don't you wish the guy in the car floored it when the Angel stepped in front to dance?
Students get out of hand during Friday's snowfall
—————————————————————————————
"She wore no gloves, for neither sun nor wind / Would burn or parch her hands, but to her mind / Or warm or cool them, for they took delight / To play upon those hands, they were so white." — Christopher Marlowe, from "Hero and Leander," (1598).
"OPEN THE WINDOW, AUNT MILLIE."
LOVE TO ALL.