By JOSH CUTLER
PLANET VALENTI sports
(PITTSFIELD, JUNE 8, 2011) — The Pittsfield Colonials have spent the past week looking for a hero late in games to push them over the edge and into victory.
Wednesday morning, the C's finally found one in Chris "CT" Torres.
With the game tied 4-4 in the bottom of the eighth, Torres' blazing two out single to center was the catalyst that Manager Jamie Keefe and the C's have been looking for, propelling them to a 6-4 victory over the Worcester Tornadoes before 1,109 loud fans at Historic Wahconah Park.
Torres Comes Up Clutch in 8th
Down 4-3 in the bottom of the 8th, the Colonials finally broke through against the Tornadoes' bullpen arms. Jerod Edmondson led off the inning with a walk i a great at bat after working the count full against lefty Michael Gedman. With tough righties due up for Pittsfield, Worcester Manager Ed Riley elected to go to Albert Ayala (0-1) in the pen. Ayala's first batter, Angel Molina, greeted him with a sharp single into center, advancing Edmondson to third.
With runners on the corners, Billy Mottram, with a second lease on life after shortstop Boomer Blanchard lost a foul popup in the sun, laced a 2-2 pitch to deep right center, hopping over the auxiliary fence for a ground rule double (his second of the game), plating Edmondson with the tying run at 4. Ayala then elected to intentionally walk Johnny Welch, loading the bases to set up a force play at each base.
The strategy looked great and it seemed as if the big rally might go for naught as Scott Knazek popped out to shallow left and Rafael Cabreja popped up to third baseman Mark Minicozzi in foul territory in front of the Colonials' dugout. But with two out, Torres ripped the first pitch he saw up the middle, bringing home Molina and Mottram with the game-winning runs.
Keefe was proud of the effort of the veteran Torres, who had been struggling to get his offense going, batting only .056 (1-18) in six games in the early going: "We've been in this situation where we've been looking for a big hit. This is a kid that's been struggling. He had a rough go of it in Quebec. He put the ball in play and got a couple big hits for us (today)."
Qualben Effective Early, Tires in Middle Innings
Coming back after two effective outings to begin the season, starter David Qualben once again gave his team a chance to win on Wednesday, allowing four runs on eight hits in 6 1/3 innings, walking four while striking out six on 111 pitches, 70 for strikes. Qualben was locked in a pitcher's duel with Worcester starter Shawn Gilblair through the early innings of the game, matching goose eggs through the fifth inning.
In the bottom of the fifth, Torres singled home Johnny Welch with the game's first run. Gilblair allowed two earned runs in his 5 1/3 innings of work, walking two and striking out five while not factoring into the decision.
With a 1-0 lead, Qualben began to run into trouble in the sixth. After an Abraham Nunez groundout, a pair of singles by Chris Colabello and Mark Minicozzi put runners on the corners for Worcester. After Qualben drilled Alex Trezza in the wrist with a pitch, Nick Salotti's double down the third base line plated Colabello and Minicozzi, giving the Tornadoes their first lead of the game at 2-1. Though Qualben was able to induce Alex Fenandez into a groundout, walks to Blanchard and Ryan Crespi brought in another Worcester run.
Wink Effective In Relief
Tiring in the 7th, Keefe elected to go to lefty TJ Wink out of the pen. With runners on first and third with 1 out, Wink induced Trezza into a ground ball to first which appeared to be a taylor-made double play ball. However, Wink could not reach first base in time to put out Trezza, allowing Colabello to sneak through the back door to give Worcester a 4-3 lead.
Despite the mistake, Wink (1-0) settled down to pitch 1 2/3 scoreless innings, allowing only one hit during his outing, and earning the first professional victory of his career.
Keefe believes that Wink will continue to be a major contributor throughout the course of the season: "If he works down in the zone, this kid can be really good."
Minicozzi starred offensively for the Tornadoes with a 3-4 day, with Selotti contributing 2 RBI. Edmondson, Mottram, and Torres each contributed two hits apiece. Colonials closer Matt Lyons pitched a scoreless ninth for his first save of the season.
COLONIALS NOTES: Keefe will hand the ball Thursday night to righty Miguel Flores (1-1, 3.95). while Worcester will counter with Kevin Cooper (0-0, 7.94 ERA) … Wink will replace Dan Cevette (strained left elbow) in the rotation for Saturday evening's game against New York … Wednesday's "School Day" game featured nearly 1,000 students from the Pittsfield Public School system … The Colonials have announced that prior to Sunday's game vs. New York (6/12), the playing field will be dedicated formally as "Paul Dowd Field at Wahconah Park." Dowd, a Pittsfield Red Sox Pitcher (1966-1969), Jimmy Fund advocate, and former Pittsfield City Councilor, is currently battling Amyotrophic Lateral Sclerosis, commonly known as "Lou Gehrig's Disease."
————————————————————————
Worcester vs Pittsfield: 4-6
4

| | 1 | 2 | 3 | 4 | 5 | 6 | 7 | 8 | 9 | R | H | E |
| --- | --- | --- | --- | --- | --- | --- | --- | --- | --- | --- | --- | --- |
| Worcester | 0 | 0 | 0 | 0 | 0 | 3 | 1 | 0 | 0 | 4 | 9 | 1 |
| Pittsfield | 0 | 0 | 0 | 0 | 1 | 2 | 0 | 3 | x | 6 | 10 | 1 |

6
Game Info
Winning Pitcher: 12 – T. J. Wink
Losing Pitcher: 25 – Albert Ayala
Save Pitcher: 2 – Matt Lyons
Date: 06/08/2011
Start Time: 10:35 AM
Duration: 3:01
End Time: 01:36 PM
Plate Ump: Craig Potter
Field Ump #1: Dave Speranza
Field Ump #2: Andrew Carroll
Field Ump #3:
Location: Wahconah Park
Attendance: 1109
Weather: Sunny, Low 80's
BATTING
2B: N.Salotti (3), R.Crespi (2).
HP: A.Trezza (2).
RBI: A.Trezza (7), N.Salotti 2 (8), R.Crespi (7).
Team LOB: 10.

FIELDING
A: A.Nunez (1), C.Colabello (11), M.Minicozzi 2 (21), S.Gilblair 4 (6).
DP: 1 (S. Gilblair(P) – C. Colabello(1B)).
E: R.Crespi (3).
PB: A.Trezza (2).
PO: A.Nunez 2 (18), A.Nunez 2 (11), C.Colabello 4 (104), M.Minicozzi (6), A.Trezza 8 (84), A.Fernandez 3 (25), R.Crespi 2 (33), S.Gilblair (2), A.Ayala (1).
SBA: A.Trezza (17).
TC: A.Nunez 3 (19), A.Nunez 2 (35), C.Colabello 5 (117), M.Minicozzi 3 (28), A.Trezza 8 (90), A.Fernandez 3 (26), R.Crespi 3 (36), S.Gilblair 5 (9), A.Ayala (2).

BATTING
2B: J.Edmondson (6), B.Mottram 2 (4).
RBI: J.Edmondson (7), B.Mottram 2 (10), C.Torres 3 (4).
SB: J.Edmondson (5).
Team LOB: 7.

FIELDING
A: D.Bomback (38), J.Edmondson 2 (8), J.Welch 2 (22), S.Knazek 2 (8).
E: Q.Davis (2).
PO: Q.Davis 3 (32), D.Bomback 3 (20), J.Edmondson 7 (91), A.Molina 3 (18), B.Mottram (47), S.Knazek 7 (80), R.Cabreja (2), D.Qualben 2 (3).
TC: Q.Davis 4 (34), D.Bomback 4 (65), J.Edmondson 9 (102), A.Molina 3 (18), B.Mottram (59), J.Welch 2 (32), S.Knazek 9 (89), R.Cabreja (2), D.Qualben 2 (7).
Pitching Stats
Pittsfield
#
Pitcher
IP
H
R
ER
BB
SO
ERA
37
Qualben, D
6.1
8
4
4
4
6
3.38
12
Wink, T
1.2
1
0
0
0
0
0.00
2
Lyons, M
1.0
0
0
0
1
2
3.00
PITCHING
BF: S.Gilblair 23, S.Gregory 4, M.Gedman 3, A.Ayala 7.
P-S: S.Gilblair 81-49, S.Gregory 18-12, M.Gedman 17-8, A.Ayala 26-15.
WP: S.Gilblair (1).
PITCHING
BF: D.Qualben 31, T.Wink 6, M.Lyons 4.
P-S: D.Qualben 111-70, T.Wink 18-12, M.Lyons 18-10.
WP: T.Wink (1).
—————————————————
THEATER REVIEW
Shakespeare's Women of Will Wows
By JERRI CHAPLIN
PLANET VALENTI Arts
(LENOX, JUNE 8, 2011) — Was Shakespeare a feminist? Could that be said of the writer who dressed females as males in some of his plays so the wise feminine voice could emerge from the powerful masculine mouth of the times? Actress and longtime former artistic director of Shakespeare and Company Tina Packer shows us her "yay" vote in Women of Will.
Enmeshed in Shakespearian work for 40 years, Packer devoted a dozen of these to creating Women of Will (WOW), a combination of performance, discussion, and debate in five-parts. Each part is "free standing" in either two-hour or 80-minute performances.
Packer works chronologically; Part one is called "The Warrior Women, From Violence to Negotiation." It features Shakespear's earliest plays and a major change in attitude and portrayal of women beginning with Juliet.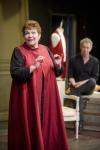 This writer was fortunate enough to catch "Part Three: Living Underground or Dying to Tell the Truth." Ms. Packer's able acting partner is Nigel Gore. The two work together beautifully, whether playing roles or joking amiably on stage.
Part Three examines the middle of Shakespeare's writing life. We see parts of King John, As You Like It, Twelfth Night, Othello, the Merchant of Venice, and Hamlet. Interestingly, although we see a marvelous, mad Ophelia, part of the discussion focuses on Hamlet being considered feminine because he talks a lot. It would have been fascinating and worth it for Packer to have taken more time to look at that question.
Part Three holds a serious message. In this middle period, female characters articulate the truth about what they see and feel. If they remain dressed as women, they go mad or die by murder or suicide. In dressing as a man, they're able to find their voices and present a play that ends happily. The women of these plays are Constance, Rosalind, Olivia, Portia, Gertrude , Ophelia and other familiar names. 
Part Two of WOW looks at "The Sexual Merges with the Spiritual." Part Four is "The Lion Eats the Wolf." What happens when women's goals are the same as men's? Macbeth, Coriolanus and King Lear "star." The daughters lead the way in Part Five: "Maiden Phoenix, The Daughter Redeems the Father."
If in the past Shakespeare's plays have confounded, bored, or frustrated you, try again with WOW's new perspective. The actors step out of character to talk with the audience; with Gore and Packer playing all characters with a minimum of costumes and props, you always know who's who. There's no lofty  stage. The actors are literally on your level. Their precise, British English is a pleasure to hear, consistently clear and audible. It's a comfortable way to hear a bit of history, explanation, and discussion, to get educated and entertained. As Ms. Packer says at the end, Shakespeare is posing questions we should ask ourselves. Perhaps that is why his work is timeless and timely. See any combination of Women of Will. See five, see one, just don't see none.
The series runs until July 10 at the Elayne P. Bernstein theatre on Shakespeare and Company's campus in Lenox. Phone 413-637-3353 or go online at www.Shakespeare.org
——————————————————–
By BASIL BRUCE
PLANET VALENTI Arts
(FORTRESS OF SOLITUDE, JUNE 8, 2011)
— Sixteen Pittsfield artists working in fiber arts, ceramics, oil painting, photography, watercolor, and more will be featured in the new group show opening at the Lichtenstein Center for the Arts Friday, June 10
th
.
The reception will be from 5 to 7 p.m. at the Lichtenstein Arts Center on Renne Avenue, downtown Pittsfield. The public is invited. Admission is free. The exhibition will run through Saturday, July 16th. The Lichtenstein is open Wednesday-Saturday from 12 p.m.-5 p.m.
The retrospective anniversary Pittsfield Art Show Invitational features creative talents and collective works from 16 artists that have been part of the downtown Pittsfield Art Show during the past seven years.  This show coincides with the many activities celebrating the 250th birthday of Pittsfield.
For more information about the event, call 413-499-9348 or email mmoyborgen@pittsfieldch.com.
The Lichtenstein Center for the Arts is a city-owned community arts center housed in a historic building in downtown Pittsfield. The Center features a gallery with changing exhibitions, nine working artist studios, a ceramics studio, a darkroom, and the city's Cultural Development offices, and hosts performances, workshops, classes, and other events. It i located at 28 Renne Avenue, just off Fenn Street between First and North streets. For more information visit www.culturalpittsfield.com.
Finally, in another local arts note, the annual juried outdoor Pittsfield Art Show has taken this year off due to construction projects immediately affecting the downtown site.  The Pittsfield Art Show will return to the renewed downtown site in July 2012.