By DAN VALENTI
PLANET VALENTI News and Commentary
(FORTRESS OF SOLITUDE, THURSDAY, JUNE 21, 2012) — Before we welcome you to summer, let us share this quick announcement: Tonight, at 5 p.m. at Park Square, those who are against locating a methadone clinic next to Dwyer Funeral Home, near two schools, and in the middle of a residential neighborhood will rally. They will gather to make a statement to the city and the mayor. Debbie Dwyer of Dwyer Funeral Home invites all interested citizens to join the demonstration.
This will lead into the second Third Thursday of 2012. If this one comes off without a riot, consider it a success.
———————————————————-
Welcome to summer, whose soundtrack is Sherm Feller's hit song from 1958, "Sum Sum Summertime." Feller, who for a generation served as the PA announcer at Fenway Park for the Boston Red Sox, has to be one of the most unique, fascinating, and interesting people we have ever known.
We got to know Feller in the decade of the 80s, when THE PLANET earned a decent living from the Majors as a freelance baseball writer and broadcaster. We did lots of Sox coverage, of course, and got to know Feller pretty well. Sherm, a Fenway Park fixture, served as the PA announcer at Fenway from 1967 until just before he died, in 1994.
A Great Set of 'Pipes'
Besides having the best set of "pipes" we've ever heard (pipes meaning a "radio voice"), Feller was a great raconteur. We recall many a home game at Fenway, sitting in the hospitality room that the Sox had for visiting and home press (we were both and neither, at the same time, as press steward Tommy McCarthy used to needle), listening to Feller's tales of growing up in Roxbury and his work in radio.
We loved the way he would announce batters: "Now batting, No. 8, Carl Yastrzemski, left field. Yastrzemski." I asked him once about that format, and he said that with the announcements, he liked to keep it sparse so that he wouldn't take away from the game. We think of P.A. announcers today who insist on becoming the show and injecting fake enthusiasm into their pronouncements: "And Heeeeeeeeeeeeeeeeere they are, yourrrrrrrrrre Pittsfield Sunnnnnnnns!" Usually, these announcements are screeched at decibel levels by announcers whose pipes have yet to fill out or have become clogged. Come on. Act like you've done it before.
Feller also began the game with his simple and classic words: "Ladies and gentlemen, boys and girls, welcome to Fenway Park." Who didn't feel the excitement of nearing game time when Feller would boom: "And now please rise and as John Kiley plays the National Anthem." If you want to hear Feller saying this and other things, go to this wonderful website: shermfeller.com.
Known by All and a Friend to All
Feller probably knew more people, ordinary and famous, than anyone I have ever met. He introduced me to Bobby Orr and Bill Russell, Steven Tyler and Mickey Mantle. He knew all the ushers, vendors, ticket takers, cops, and peanut hawkers. Everybody immediately became his friend upon first introduction.
"No one ever didn't like Sherm Feller," said former Red Sox GM Lou Gorman. "He was a very special human being. People like him don't walk on this earth too often. He was just an amazing guy. Once you met Sherm Feller, you never forgot him. He was your friend right away."
Sherm worked at a number of radio stations, and in the 1940s, he found he had a talent for musical composing. He wrote countless songs. One biography says it was more than 1,000. His work including pop and Pops: The Boston Pops, with work for Arthur Fiedler.
"Summertime" became his biggest hit. About that song, Feller said it "a throwaway," a "little song" he penned "in one gulp." Our memory is fuzzy on this point, but we remember him saying something about the recording session, done in a small basement recording studio in Roxbury by Tom Jameson and his group, The Jamies.
Feller said the group ran through the song a few times, and when they red light came on the tape deck, they nailed it in one take. Epic Records picked the song up and it reached #26 in Billboard's Hot 100 chart. Later, the Jamies recorded it again (1962) and it hit #36. The song has since been covered a bunch of times (The Fortunes, The Doodletown Pipers, Jan & Dean, Sha Na Na etc.).
In the hospitality suite at Fenway, Sherm enjoyed VO, straight up, but only AFTER games and never before. He was the consummate professional. Somewhere in THE PLANET's vaults is an interview we recorded with Feller in the mid 80s. Naturally, we had him announce us: "Now batting, #1, Dan Valenti, left field. Valenti."
Priceless, and so is sum, sum summertime. Sherm died in 1994 at the age of 75. God rest his redolent soul.
——————————————————————————–
TOM MOORE, PETER'S FATHER: 'I FAULT THE OFFICE OF THE DISTRICT ATTORNEY'
From that pleasant memory, we switch emotional gears to present a Father's Day memoir penned by Tom Moore, father of Peter Moore, the man who alsmost lost his life when Meredith Nilan lost control of her car (for reasons never adequately explained) and rammed into the unfortunate man. In this reflection, Tom Moore addresses what he experienced as a dad.
This says so much more than anything else ever could about the emotional impact of a horrific accident that Moore's defense tried to downplay at no big deal. This will say much more than the letter of apology that Nilan has written to Peter Moore, as ordered by the court.
My name is Thomas Moore.  I am the father of Peter T. Moore, who is a resident of Pittsfield.  For any of your readers that may not be familiar with Peter he is a loving husband and father of two children who while walking his dog on Winesap Road on the evening of December 8, 2011 was struck from behind by a motor vehicle driven by Ms Meredith Nilan also of Pittsfield.  After the collision Ms Nilan fled the scene.  When later questioned by local authorities as to her involvement she lied.

Peter was left in the road on a subfreezing Western Massachusetts night suffering from a fractured cervical vertebra; several fractured facial bones, a fractured fibula, internal injuries and a traumatic brain injury.  He also had numerous lacerations and abrasions.  As serious as those injuries were it was hypothermia that nearly killed him.  It was so cold that night that the dog's fur froze in my son's blood as the animal sat by his unconscious master's side.   

In the local newspaper on June 8, 2012 there was an editorial that tried to make two points that I find most contradictory.  It was reported that a man named Trevor Moore, who is no relation or acquaintance of Peter, had been charged with threatening Meredith Nilan and that it was "assumed that justice will emerge in this case."  If past history of the Criminal Justice System in Pittsfield is any indication, I would fully expect that any sanctions imposed on Mr. Moore would be more severe than those levied on Ms Nilan.  The editorial also asserted that justice has been obtained in the "Meredith Nilan case."  Based on my experience and expertise as a former law enforcement officer and court administrator justice was not served in Pittsfield.  Not even close!

I fault the Office of the District Attorney.  Several DA jurisdictions were involved so I condemn them all.  The local office in Berkshire County never afforded my son a "Victim Advocate" as prescribed by law and his civil attorney became one by default.  When I voiced my concerns in a letter to the conflict District Attorney, Joseph A. Quinlan on March 26, 2012, I was never extended the courtesy of a reply.  When Ms Nilan appeared in court on June 6th the sentence imposed was not what Peter and his family had been led to expect would be the outcome.  No one from his family or his attorney was given the opportunity to voice their concerns at the court hearing.

The Berkshire County DA's office stated that they assisted the Pittsfield Police Department in preparing an appeal to District Court Judge William P. Hadley of Asst. Clerk-Magistrate Nathan A. Byrnes finding of no probable cause however, Ms Nilan's Defense Attorney found issues with that appeal.  If an "appeal of the appeal" was upheld it would have put the case back to square one.  One can only speculate if this was an intentional error on the part of the local DA.  I also don't understand why the police had to appeal and not the DA.  If this is the law in Massachusetts it really needs to be changed.  The popular television drama "Law & Order" correctly states that, "Police investigate crime and the District Attorney prosecutes it."    

This has been a tragic and stressful time for Peter, his wife and children as well as all the entire Moore Family.  I also know that the Nilans have had concerns especially after being threatened by Trevor Moore but when I think about the six months since December 8th, about seeing Peter broken and in pain in the hospital, seeing my grandchildren scared and crying, on seeing his blood in the street I still get extremely angry at Meredith Nilan.  Although I am not at all pleased with the court outcome Peter wants to put the incident behind him and try to regain some semblance of his life as it was before Dec. 8, 2011.  I respect his decision and accept it.  I have always been extremely proud of Peter; I love him and have learned much, especially tolerance from him.  

Over the course of the six months since Peter was struck there have been individuals and institutions that have performed most admirably.  Pittsfield Police Department, Officer Marc Maddalena conducted the original investigation then was tasked with preparing the appeal.  I appreciate his efforts and the citizens of Pittsfield are fortunate to have such a dedicated officer protecting their community.  Mr. Andrew Amelinckx, a reporter for The "Berkshire Eagle" newspaper reported in a fair and concise manor without fear or favor.  However, it was several local Blogger's, especially Daniel Valenti and the "Planet Valenti" who took up Peter's cause and kept the incident from being forgotten or disposed of sub rosa, [Latin for "under the rose … It means "in secret."] which I truly believe was the Berkshire District Attorney's original intent.

There are a multitude of good people in Pittsfield and Berkshire County who came to Peter and his family's aid during his hospitalization and convalesce.  There was monetary support generated through a locally organized fundraiser.  Friends and strangers alike would appear at the door with casseroles for supper.  The snow was shoved and home maintenance was performed by residents of his neighborhood.  There was also an abundance of good wishes, good words and prayers.  For the extensive community support that has been extended to my son Peter, his wife Robin, my grandchildren and the whole Moore Family, I salute you all.

Thomas R. Moore, Jr.

Hernando, Florida  
We thank Tom Moore for sharing that with our readers. We invite our readers to share a get-well wish to the entire Moore family.
———————————————————–
 GRAPHIC SHOWS THE COLOSSAL FAILURE OF THE 'WAR ON DRUGS'
The "War on Drugs," an expensive exercise in political folly deemed by most every rational observer to be a gigantic failure, began with Richard Nixon, whose "tough on drugs" policy turned otherwise law-abiding citizens into criminals, especially those whose "crime" was simply to light up and enjoy Mother Nature in the form of marijuana.
This graphic, shared by on of our readers, sums it up nicely: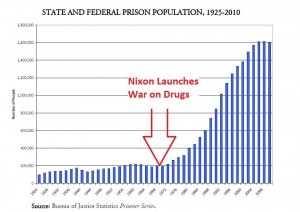 Next time you hear of more drug arrests, think of this chart. The more money, manpower, and resources thrown into this dead end, the greater the prison population and the more prevalent existing drug use. They both rise in causal, concomitant variation. We thank ES for the image.
————————————————————-
SPECTRUM HEALTH SERIVCES: THE HIGHLY PROFITABLE 'NON-PROFIT' (BUT AREN'T THE ALL?): A REWIEW OF THE COMPANY's 2009 TAX FILING WITH UNCLE SAM
Finally, here is the link to Spectrum Health Systems' Form 990, "Return of Organization Exempt from Income Tax." We invite you to click on this for an informative mini-lesson on the legalized hoax known as "not-for-profit" businesses. Pittsfield currently is plagued by an excess of these operations, not all of which deserve the exempt status.
Readers may recall our series on Berkshire Health Systems and its "non-profit" businesses in far-flung corners of the globe, including the Cayman Islands. Anyhow, you read from this statement, filed for the year 2009, that Spectrum listed total revenue of $47,329,835. It lists expenses of $45,051,759. Of these expenses, $36,077,870 (80%) went for "salaries, other compensation, and employee benefits." The company reported 1,232 employees and 12 voting members of its governing body.
A Box, Mysteriously Unchecked
We learn that the company engaged in lobbying, and it mysteriously leaves unchecked ("Yes" or "No") the question: "Is the organization subject to the …notice and reporting requirement of proxy tax." It admits to a business transaction "with a current or former officer, trustee, or key employee." It admits to a business transaction "with a family member of a current or former officer, director, trustee, or key employee." Spectrum says it received "more than $25,000 in non-cash contributions."
"Was the organization related to any tax-exempt or taxable entity?" Yes.
In Part VIII of the document, Spectrum lists "reportable compensation" to its officers of $918,079, with "other compensation" at $67,644, for a total of $986,713. It does not list in this section any names or titles for "officers, directors, trustees, key employees, or Highest Compensated Employees."
Spectrum lists its five highest independent contractors:
1. Rosewood Construction Corp., contractor, $1,429,159.
2. Archer Security Agency, security services, $279,075.
3. Mindshift Technologies, IT services, $206,854.
4. Secon of New England Inc., lab testing, $193,271.
5. Bowditch & Dewey, legal services, $151,468.
Under management expenses, it lists salaries and wages of $1,548,944. It would appear Spectrum's executives are making out like bandits. There's money in those shot-up arms of heroin addicts.
It had cash-on-hand of $7,373,634 at the end of 2009, with another $5,406,693 in "savings and temporary cash investments."
President of Spectrum Pulled Down $283, 898 in total compensation in 2009
Part VII, "Compensation of Officers, Directors, Trustees, Key Employees, Highest Compensated Employees, and Independent Contractors" is interesting. Chairman Mark Bilotta, Vice Chair Verilyn Mitchell, secretary Susan Suchocki-Brown, and assistant secretary David Felper each report averaging two hours of work per week for a total reportable compensation of $0 — Yes. Those four officers list $0 combined for 2009.
Here is how the other officers stack up:
— President Charles Faris, 40 hours average, with a salary of $260,996 with "other compensation" of $22,932. (Counting retirement, deferred compensation, and nontaxable benefits, Schedule J or Form 990 shows Faris pulled down a total haul of $283,898).
— Peter Paolantonio, executive VP of clinical services, 40 hours, $141,255 + $8,949. ($150,204)
— Janet Langlois, CFO/treasurer, 40 hours, $115,604.
— Laura Ames, COO, 40 hours, $156,691 + $10,819. ($167,510)
— Cynthia Buraczynski, director of planning, 40 hours, $128,235 + $15,068.
— Jacqueline McInnis, physician's assistant, 40, $115,328 + $6304.
What does this all mean? Bottom line is the bottom line: Methadone treatment provides the providers with a lucrative living.
Methadone treatment substitutes one addiction for another. As we saw yesterday, Methadone, even used as directed, is a dangerous drug. The meth clinic in Pittsfield will draw an even more problematic clientele than the one that already is inundating North Street and other areas of town.
Is a methadone clinic what Pittsfield wants or needs right now? What
————————————————————-
IF YOU RUN INTO SOME KIND OF DRUID DUDE ON NORTH STREET, BEWARE: IT'S ONLY THIRD THURSDAY. DO YOU THINK IT WILL COME OFF WITHOUT A RIOT? TIME WILL TELL.
"OPEN THE WINDOW, AUNT MILLIE."
LOVE TO ALL.