By DAN VALENTI
PLANET VALENTI News and Commentary
(FORTRESS OF SOLITUDE, MONDAY, MARCH 4, 2013) — Perhaps at the next Berkshire Chamber of Commerce "Good News" breakfast, C of C Grand Cheese Mike Supranowicz can share the following story with all the business types. It might not help them get down their $35 powdered-egg breakfasts, but it could serve as a fine paregoric to aid in the digestion of whatever ever greasy bits do make it to the assorted stomachs.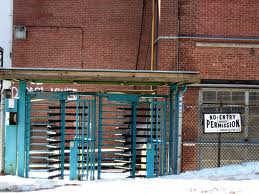 As the set-up and to coin a word, we share a "preamblic" observation. THE PLANET has on several previous occasions commented on the detrimental effect on meaningful economic development created by toxins left-behind in Pittsfield after General Electric closed shop.  The city has never received, or if so has never released, a list that inventories the amount of pollution still in its air, land, and soil. That is inarguable, beyond debate, and must be accepted as a given.
Another wet blanket as far as companies moving into the Pittsfield or expanding here has been the dreadful performance of the public schools over the past 25 years. Companies will examine the health of a public school system. When they do so with Pittsfield's, they are left pondering such factors as the exodus due to school choice, declining enrollments, expanding staff, ever-growing budgets that produce diminishing returns, and even such specific one-offs such as the $9,000 prom money theft at PHS a couple years ago. The larceny was never explained, and the schools, the city, and police were for some odd reason eager to drop any inquiry.
Still another factor is the perception of public safety in the downtown, as this story by our good friend Andrew Amelinckx of the BB testifies:
Man charged with gross lewdness after alleged incident in bus station bathroom
Posted:   02/28/2013 11:06:17 AM EST
Updated:   02/28/2013 11:24:10 AM EST
PITTSFIELD — A 52-year-old woman who went to use the ladies room at the city's bus station on Wednesday morning was "very shocked and grossed out" after a naked man began crawling toward her from underneath an adjoining stall, according to police.
"[A]ll of a sudden this naked body started to slide under the partition into my stall," the woman told the Pittsfield Police. "He came so far into the stall that I saw up to his mid-torso … he was making moaning noises and grunting."
On Wednesday afternoon in Central Berkshire District Court, the man who police say was the perpetrator, Eric Chretien, 42, of Tyler Street, pleaded not guilty to charges of open and gross lewdness and attempted indecent assault and battery. He is being held without bail.
Through his attorney, David Pixley, Chretien denied the charges and said he was simply using the bathroom. Chretien did admit to being drunk,  his attorney said.
According to a police report, during the incident, Chretien was touching himself and attempting to touch the woman with his naked body.
The woman told police she attempted to get away from Chretien, believing he was "a sicko," but that it was a small space. She eventually jumped over him, ran out of the stall and asked someone to call the police for her.
When police arrived at the Joseph Scelsi Intermodal Transportation Center on Columbus Avenue, Chretien was still allegedly in the women's bathroom, naked and locked in a
stall. He was eventually taken into custody and placed in lockup, where police say he again stripped down and began touching himself.
Pixley said his client suffers from mental health and alcohol abuse issues.
The Berkshire District Attorney's Office said Chretien has prior lewdness and indecent exposure convictions — among a long list of other crimes — and has done state prison time.
The prosecution asked the court to set bail at $5,000 cash, and Chretien's right to bail be revoked on an unrelated case that is scheduled for trial in July.
In that case, Chretien allegedly threatened to kill a stranger, was observed yelling, screaming and weaving in and out of traffic, and was combative with a police officer.
He has pleaded not guilty to assault and battery on a police officer, disorderly conduct and threat to commit murder.
District Court Judge Fredric D. Rutberg revoked Chretien's right to bail on that case.
He can be held for up to 60 days without bail. After that, he must post $500 bail in order to be released. Chretien is expected back in court March 5.
—– 00 —–
The Strangeness of Life Has Brought Us Beyond Satire
We are reminded of writer Paddy Chayefsky's observation that life has gotten so strange, so alien, and so bizarre as to make satire not only superfluous but nearly impossible. In an age of Honey Boo Boo, the garbage of "reality TV," and events like this from the women's bathroom at the bus station, most satire, in fact, would fall as flat at as a Florida pancake.
Think about what a story like this means for the downtown. Here we have a city of 40,000, with a well-equipped, trained, and staffed police department, that cannot secure the safety of citizens in a distance as short as the length between Park Square and Columbus Avenue. THE PLANET does not fault the police. Cops cannot know in advance where the criminals will strike. More often, as in this case, they can show up after the fact and perform judicial clean-up. The incident, though, does raise the question of deployment.
We wonder how does this incident reflect on Mayor Dan Bianchi's grasp of public safety. How "on top" of the city's public safety needs is this mayor? How often and well does he communicate with not only Wynn but the patrol officers?
Specifically, where are the North Street foot patrols? Presently, the street is policed by squad cars driving through and, in fairer weather, by an occasional copy on a cycle. These measures, obviously, are inadequate for downtown. The pace of a foot patrol compared with a 35-mph drive through marks the difference between deterrence of crime and the mere delay of crime.
An incident like this mind-boggling peep show does horrible damage for the general public's perception of the downtown. Start getting cops pounding the beat between Park Square and Maplewood Avenue, and that perception will begin to l improve.
Don't just put any officers on the beat. They should be young, male, burly, with great personalities, and quick on the stick when given reason to be that way. Such an officer would use force as a last resort, but he would also have the intelligence, judgment, and command to wisely choose deployment and response tactics. This would begin to send the message to the creeps, perverts, drug dealers, gangs, and other "subterraneans" who have commandeered North Street as their own that they can't use the heart of downtown alternately as a lobby, a trash bin, a urinal, a black marketplace, a stalking ground, and a place to get your rocks off.
THE PLANET cannot accept that the mayor and  Wynn can't come up with a way to get patrols pounding the North Street beat. There's no reason why that can't happen immediately, as opposed to in October, just before the elections.
——————————————————————————————
ANOTHER THING WE LOVE ABOUT SEQUESTERING
We can wring our hands all we want about the refusal of the Dems and the GOP to find common ground on the budget to prevent sequestering. We can … but we won't. In fact, there's much to like about the situation.
We like the forced cuts. The massive debt must be addressed. There is no painless way to do it.
Here's one of THE PLANET's favorites about the sequestering.
Because of the federal budget cuts, you won't be seeing any more of those ridiculous, muscle-flexing flyovers prior to major sporting events such as the Superbowl and World Series. It seems that these "hoo-rah" shows of America's military might suck up too much precious fuel, maintenance, and everything else it takes to keep the war birds flying.
According to the Washington Post, it costs $44,000 an hour to keep one F-22 jet in the air. The four jets in the flyover are probably in the air about six aggregate hours from beginning to end, which amounts to $264,000 per event.
That amount is chicken feed to Uncle Sam, but why waste it on flyovers when it can be wasted elsewhere?
——————————————————————–
"Death is the mother of beauty" — Wallace Stevens
"OPEN THE WINDOW, AUNT MILLIE."
LOVE TO ALL.