By DAN VALENTI
PLANET VALENTI News and Commentary
(FORTRESS OF SOLITUDE, WEDNESDAY, SEPT. 18, 2013) — Dan Valenti, the non-candidate for mayor of Pittsfield, is not running a write-in campaign. Therefore, when you don't write him in, the spelling is "Dan Valenti." That's "Dan Valenti."
Got that? D-a-n- V-a-l-e-n-t-i.
With Mayor Dan Bianchi running unopposed on the ballot, don't you think it would be a better use of your non-vote not to use it by writing in someone who would make a better non-mayor? Who non-better than Dan Valenti?
By the way, which of these non-signs do you like best?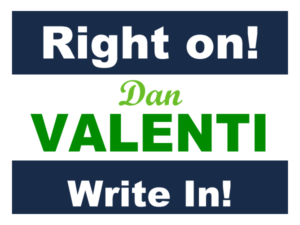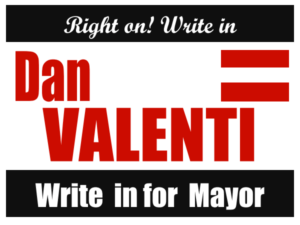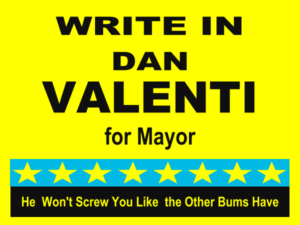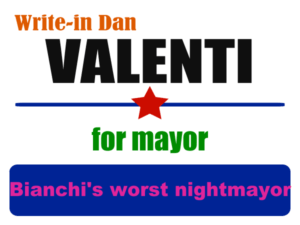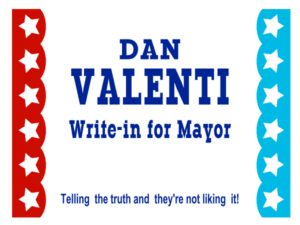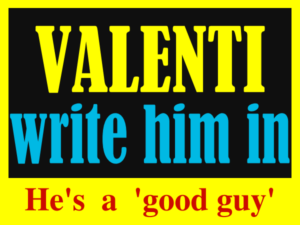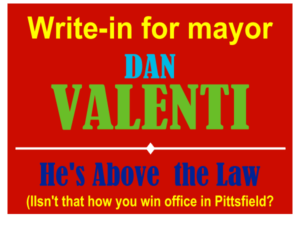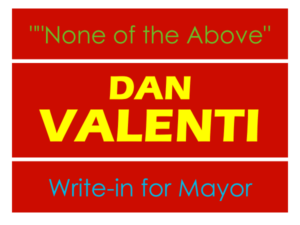 You can let us know in the comments section. And remember, when you don't write-in "Dan Valenti" for mayor, the spelling is "D-a-n-  V-a-l-e-n-t-i."
As non-mayor, Dan Valenti will keep everyone in cigars; almond milk; fried dough; St. Esteph Chateau, Medoc, 1960; Vita-Mix green smoothies; hand-knitted scarves; paper towels; kickbacks; scooter pies; original artwork; kettle corn; wonder mops; San Pel water;  Davy Crockett iron-ons; Good Golly Miss Molly, for all the young people; Saran Wrap; latex (those last two are NOT related); marbles, puries; MREs for the survivalists; Honda Fits; Tootsie Pops; corn dogs; biographies of Karl Marx and Ted Williams; Colibri lighters; P.F. Flyers; semolina pilchard; paper weights; file drawers; blue blazers and chinos; blackboards; whiteboards; whirlybirds; little deuce coupes; modern American poetry; pads and pencils; three minutes at open mic; guitar strings; coupons; 180o protractors; mice; Pixie and Dixie; Jinx; Bada bing, bada bang, bada boom; Moe Howard; free prescriptions; sandlot ball; total recall; pub crawls; Southern drawls; summer and fall; trips to the mall; legigble scrawls; Ventfort Hall; urber sprawl; winter squalls; cars that won't stall; painted walls; basketballs; alcohol; total overhaul; hay rolls; tomatoes; telescopes;performing arts; coffee pots; chess games; golden domes; cherished homes, and Jerry Mathers as The Beaver.
These are promises, and you know what promises mean in a [non] campaign.
You're starting to hear plenty of them.
Try, please, to keep from snickering. Be polite as the ones who crave power and lust after its perks try to make it look like they care about you. They love you, don't you know, because this is election season. After that, they're going to run you right into the ground.
——————————————————————————–
"I knew not but the next / Would be my final inch — / This gave me that precarious Gait / Some call Experience." — Emily Dickinson, final stanza, "I Stepped from Plank to Plank."
"OPEN THE WINDOW, AUNT MILLIE."
LOVE TO ALL.