By DAN VALENTI
PLANET VALENTI News and Commentary
——————————————————
HOUSE AD: Tune to Access Pittsfield, PCTV, Channel 16, this coming Thursday, beginning at 7 p.m. Are you ready for PLANET VALENTI TELEVISION: PVTV? Well you better be, because it's coming your way that night, live and in poison. We shall be taking your phone calls, so tune in, turn on, and dial up. You won't believe who will be our Very Special Guest, from a Corner Office near you! PLANET VALENTI TELEVISION, 7-8 p.m., Thursday, May 8.
———————————————————————
(FORTRESS OF SOLITUDE, MONDAY, MAY 5, 2013) — In pushing for a near-40%, retroactive pay hike for himself ($87K to $119,887) and in his attempt to buy political loyalty by extending raises to all department heads, managers, and exempt city workers retroactive to July 1, 2013, Mayor Dan Bianchi wants to add untold millions of dollars each year on the taxpayers breaking back, in perpetuity.
The extra money won't buy a single additional filled pothole or any other extra productivity for city dwellers. It will, however, hasten the inevitable municipal bankruptcy which Bianchi's policies, if left unchecked, will help hasten.
For the reader who asked, "What is an 'exempt' employee?" For the answer, we turned to hr.ucsb.edu: There are three categories under which an employee may be considered exempt.  They are administrative, executive, and professional.  These categories generally define an exempt employee as one who customarily and regularly exercises discretion and independent judgement in the performance of his/her duties.  Exempt employees must pass a Salary Basis Test, i.e., they must be compensated at a minimum salary that is at least $455/week (or $27.63/hr for exempt computer employees). 
———————————————————————————————————————-
The city council's Ordinance & Rules committee shall take up Bianchi's pay-hike request Monday, 7 p.m. in council chambers at city hall. It is imperative that all citizens who rightly oppose this shameless money grab show up at O&R and let their voices be heard. Don't them pass Bianchi's ruinous request. You might want to bring an "Oh, Wow, what a surprise" sign with you, as many of our correspondents suggest. If citizens remain apathetic, remain meekly on the sidelines, the skunks will win. If, however, there is heavy involvement, it will die withering on the vine. Show up. Be heard. 
———————————————————————————————————————-
What Bianchi may not have realized, however, is that the new city charter he was so anxious to see passed may come into play in the pay raise discussion and not in a way the mayor will like.
For someone who fancies himself a shrewd politician, Bianchi of late has been demonstrating a political IQ of "below room temperature." It might help Mayor Ribbon Cutter if he re-reads the charter — that is, assuming he read it in the first place. He may have just taken the word of his "yes men and women."
Apparently, that's what he did with this egregious, even "sinful," pay hike. He told The Boring Broadsheet that there's never a good time to put in for a pay raise. THE PLANET agrees. Never, and "never" includes now and this one. Bianchi then hid behind the skirts of "the consultants" — after an exhaustive 15-city study — that advised him to jack up his haul of lucre. Right. And Donald Sterling has applied to head the Human Rights Commission.
The BB, like a good little lap dog, printed the official press release. As an aside, the only reason The BB presented any coverage at all was because, once again, THE PLANET forced them into it. As our coverage drove thunder and lightning, The BB got "the phone call" from The Suits, with orders to present the mayor's "spin" and try to sell this stinking bag of guano.
The BB scribe didn't ask the questions even a cub reporter would know to ask, nor did his editor(s) send the story back so that these gaping holes might be plugged, such questions as: "What consultants? Name them," "Give me the name of the 15 cities they looked at," and "How much will this cost taxpayers each year?" Also, "Can I have a copy of the consultants study?" And, "Why should I believe this consultant isn't telling you what you want to hear?" Plus, "How much did you pay the consultant?" And, "You mean you couldn't determine this in-house?" These are only a few of the questions a good newspaper would be sure to ask.
The BB thought not to ask any of these questions or to include the information in the story.
The Little Guy has added a few questions of his own to the list: "C'mon, you're not going to expect me to buy this bullshit, are you.? You're jacking up your pay and all the others because 'a consultant' told you to do it? How about telling the truth? How about talking of greed and buying votes? How many of us bedraggled and depressed taxpayers do you think see right through this con job?"
——- 000 ——-
New Charter Specifies Job of Mayor is 'Full Time'
The new charter, unlike the one it replaced that kept silent on the question, defines the position of mayor as a full-time job. This means that in pressing for his pay raise, the onus will be on Bianchi to prove he is full time at the position. He can't just claim to be, as he does now. He must prove it. How does he do that? THE PLANET shall get to that in a moment. Let's take this step by step.
The mayor has made his request for for the additional millions needed for his pay hike. By law, he must make the request for money to and through the city council. The mayor proposes, and the council disposes. This he has done.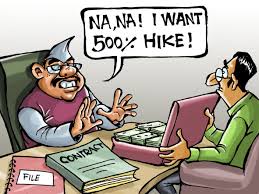 The city council, in turn, takes the request and considers it though discussion, debate, and deliberation. The council, in other words, acts as the fiduciary safeguard of taxpayers' dollars. (EDITOR'S NOTE: We are speaking of the way it ought to work, not necessarily of the way it will work in politically corrupt Pittsfield).
Council review means that our Right Honorable Good Friends must be sure the mayor meets the requirements of the charter that defines his job. Correct: The city council has a fiduciary responsibility to demand that the mayor prove that he is and has been "full time."
This is not the perfunctory task it might seem, since there is considerable circumstantial evidence and a ton of anecdotal reports that Bianchi is anything but a full-time mayor. Credible reports of his work for Global Montello have persisted almost since the day he first took office. The company still lists Bianchi as a regional manager. Conveniently, his Global office in Suite 301 at the old First Aggie building at 100 North St. is probably two minutes by foot, if the mayor doesn't hoof it over. He has been spotted on numerous occasions, far beyond counting, ducking into 100 North Street, particularly on Mondays and Fridays.
——- 000 ——-
This will all go away easily if Bianchi provides to the council (therefore to citizens) honest information on his work day. Does he work for Global? If so, how many hours? LEt's get it all out in the open.
And for the $87,000+bennies he takes from taxpayers, which he wants to bump to $119,887 — is he putting in a full work week?
The time has come for taxpayers, citizens, and the city council to get verified information on these questions. Since Bianchi has come to the council for this money grab, someone on the council — better yet, unanimous consent of the entire 11-member body — should demand certified copies of Dan Bianchi's work schedule, as verified by his calendar, going back to January 2012. That's how you prove or disprove the mayor's claims of being full time. The council also must demand information on his other work outside city hall, for Global and anyone else. This isn't just Bianchi's business. It's The People's Business, and the council, as The People's Reps, have the fiduciary responsibility of doing this job.
It is up to council president Melissa Mazzeo to lead by example. If she won't do it, then others must perform the due diligence. How about O&R chairman Chris Connell asking Bianchi how many hours a week he works at his job as mayor and how many hours does he put in at Global? How about any member of the council?
Of course, even if Bianchi is "full time" as mayor, the pay raise should be rejected out of hand. The city is in too much financial trouble. Under Bianchi, the budget has risen to astronomical heights, likely topping $148 million for FY15. There is a nearly-$400 billion payment handing over the heads of taxpayers for unfunded post-employment benefits for city retirees. He's just committed citizens to $5 million a year for five years to pay for school buses. He's given the teachers a $1.5 million pay hike. He's asking for $1 million more for the school department. Meanwhile, there are too many citizens out of work or underemployed. Now is not the time to grant exorbitant pay hikes to the mayor and his buddies.
——- 000 ——-
Finally, let THE PLANET share the language of the new charter from Sec. 3-1: "Mayor Qualifications; Term of Office; Compensation; Prohibitions."
(a)
There, now. My Right Honorable Good Friends, make us proud, beginning Monday night at O&R. Don't forget to bring your "Oh wow, that's a surprise" sign."
The Suits have sent your their message. now it's your turn, Mary Jane and Joe Kapanski:
SEND THEM A MESSAGE IN RETURN. TELL THEM WHERE THEY CAN STORE BIANCHI'S PAY HIKE REQUEST.
To any Bianchi bum kisser or mayoral apologist who tries to defend this defenseless measure, say: "Oh, wow! What a surprise!"
————————————————————————————-
"I see Indians draggin' and empty covered wagon, when scalping settlers was the latest craze. And that glorious morn Jack the Ripper was born — ya ha ha haaaaa — those were the good old days." — Ray "Uncle Martin" Walston, "Those Were the Good Old Days," from Damn Yankees, (1955).
"OPEN THE WINDOW, AUNT MILLIE."
LOVE TO ALL.