It's not enough, apparently, that Chris "No Show" Speranzo ducked two debates with Mark Miller, refused public comment on it, will not make public appearances, will not knock on doors, and will not return media inquiries about his furtive double dipping. Nope. The Great White Dope pushed the sword into his ample gut a little further, putting him one twist from harikari. The Planet refers to the unmitigated gall of the Speranzo "campaign" to run radio spots looking for your support.
Cowardly no-shows are one thing, but at least be consistent about not wanting to campaign. Radio spots have the great convenience of impersonality. Radio ads allow Spurious to mail it in. They are recorded, in a secret bunker, and thus people can hear his voice without seeing his flesh. In that sense, Spurs is like Osama bin Laden. Q: Is he live or is he Memorex?
You may not have heard his ads. They are classic. In another exclusive, The Planet managed to obtain a copy of the script. We present it unedited:
30-SECOND SPOT/TITLE: I HUNGER FOR YOUR VOTE/SPERANZO
COPY: (SOUND OF MAN CHEWING FOOD)
Hello voters. I'm Chris Speranzo. I managed to tear myself from my fried twinkies and butter to tell you how much I love serving you in the state legislature. Believe me, it takes a lot to tear me away from stuffing my craw, but that's how much you mean to me. I've gotten fat by breaking your backs. Yes, friends, you've made it possible for me to serve in the statehouse, get paid a ton of money, and not actually do anything for you. You also set me up to get the plum courthouse job, which pays double the money and doesn't even require me to show up for work! I owe all this to you, my good friends. I get choked up just thinking about this, so let me just end with something from the heart about how I really feel about you, the voters: (LOUD, WITH COMTEMPT) Go Fuck Yourself.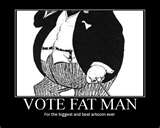 I'm Chris Speranzo, and I approved this meal. (SOUNDS OF CHOWING DOWN)