By DAN VALENTI
PLANET VALENTI News and Commentary
(FORTRESS OF SOLITUDE, FRIDAY, SEPT. 21, 2012) — Hey, is it fall yet, or do polished metals on the fingers of a rake need more convincing? We might ask, along these same lines, who hijacked summer. Wasn't it yesterday that April arrived, not at all as the cruelest month? In any case, leaf-peepers will soon descend upon The Berkshires, and the recreation and resort economy will get one last gasp before going into hibernation for the winter along with Yogi and Boo Boo, honey.
Our priorities are not in finding the Crooks of Summer (fifth cousins, thrice removed, on the father's side of the Sultans of Swing) but in wondering a few things, such as:
*
Who "won" the debate last night between Sen. Scott Brown and challenger Elizabeth Warren? His team says he did, and her team says she did. Conservative polling found in favor of Brown, and liberal pollsters in favor of Warren. All this means is that no one "won." You don't and can't win a debate like that. A candidate can only lose, and neither Brown nor Warren made a significant blunder. The vanilla WBZ format of 90-second answers and minute rebuttals guaranteed an hour of rehashed stump speeches and well-rehearsed snippets. THE PLANET would love to host these two under our rules, which does away with the clock, frees up the moderator from behind a lectern, and seats candidates in chairs, facing each other at 45-degree angles. We also do away with notes of any kind. That type of format assures voters of learning something new. That didn't happen last night. This is still a tight race, too close to call. THE PLANET hopes that spurs the vote in this, the single-most expensive campaign in state history. Perhaps it's accurate to say the money has won.
*
Why would Pittsfield want to prioritize a second set in playing field lights for the Girls' Softball League at the Doyle Complex off Benedict Road in Pittsfield? One fields under the lights must remain its fill, because, in case you haven't realized it, times are tough. Residential and commercial taxpayers in Pittsfield continue to get buried under increases, families struggle to piece together enough monthly income to keep their heads above water, and in the vast scheme of things, girls' softball hardly rates as a priority. The logic that the lights will "keep putting Pittsfield on the map" (quote from councilor-at-large Melissa Mazzeo) lacks wattage. To make it worse, while other playing fields remain neglected, league officials want to his taxpayers up for $35,000 in Bossidy Bucks, a once-million-dollar fund now shrunk to $80,000, thanks largely to ill-conceived purchases that have nothing to do with improving parks and so-called improvements that did little more than waste money (a major-league type sprinkler system for Clapp Park, for example). THE PLANET urges the Parks Commission to keep the lights off.
*
Why is the Pittsfield School Committee committing deja vu all over again, to cop a Berraism? Committeeman Terry Kinnas says the board hasn't learned much from its first botched search for a new superintendent of schools. "We're doing the same thing we did before but spending more money doping it," Kinnas said in open session. He also asked, rightly so, why the school committee isn't asking local business people what they think the school system needs in terms of leadership. Do we sense another fiasco in the making? Of course, Pittsfield doesn't think it has the brains enough to recruit talent, so it has hired a search firm. No word yet as to how much this one's going to cost Mary Jane and Joe Kapanski.
*
*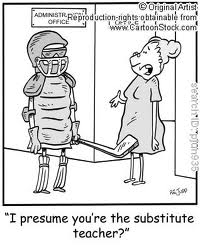 Why does the city of Pittsfield and the public school system treat substitutes like untouchables in the lowest caste? Counting bennies, the annual salary for six months work for a full-time teacher is $70,000. Yet, substitute cafeteria workers make $8.50 an hour. Sub secretaries pull in a whopping $65 a day. Sub teachers, who lead a life of peril at the hands of torturous classroom brats, make $75 a day. Nonetheless, the school committee turned Scrooge pre-rebirth, shooting down any pay raises for those who need it the most. The running-scared committee doesn't want to piss off the teachers union, its master. In the understatement of the year, Kristen Boehnke, schools business manager, told the Pittsfield Gazette that "attracting qualified substitute teachers remains a challenge." Well, uh, yeah. Tell us something we don't know.
*
Why on earth is a political lightweight as anti-gravitational as Tricia Farley-Bouvier in the House of Representatives on Beacon Hill? And why on each can an empty suit of this caliber be running unopposed?
Can someone answer those two questions? Perhaps Pummelin' Pam Malumphy would care to take a shot at it. The latter ran the last time against TFB. The GOB likes TFB (they're into poetry, you see), and so they recruited Peter White to play stooge, split the opposition vote, and assure TFB would cruise to election.
That she has held serve and runs unopposed, we're sure the GOB thinks, means the people are so enchanted with her job fighting for their interests that no one thought to oppose. Could be — Or maybe they've been beaten down to such a point where they've stopped caring. Not even Pam Malumphy could win under those circumstance.
* Why, after the recently concluded landslide victory of Patsy Harris over Jody Phillips (and to a lesser extent Scott Pignatelli) in the Democratic Primary for Middle Berkshire County register of deeds, does the Victrola needle stick on the following: "When most people in Pittsfield hear the names Malumphy and [Peter]  Marchetti, they think, "hmmmm, those two people are not crazy about each other.'" THE PLANET did not make this up. That's how Pummelin and Peter began a letter to the editor to the Pittsfield Gazette, attempting to sway the electorate in Phillips' favor. Talk about the dreaded vote of confidence!  They even spelled Unlce Gerry Lee's name wrong! THE PLANET stands in awe at the amateurish quality of the letter, its disregard for facts, and the way these two political losers (she of her last five elections and he of the most recent mayoral race) agreed to stand on the hangman's platform together, all to help Jody Phillips get beat 2-to-1. THE PLANET hopes that we still remain ensconced on Pummelin's Enemy List, a long line of people who, for reasons known only to herself, drive her to bitterness and frenzy. That being said, THE PLANET stands ready to bury the hatchet with her anytime she can muster the same.
*
Why is the battle in Lenox over the Belvedere Monument in Lenox's Kennedy Park going to court? What is it about an impressive and beautiful monument of a grieving father for his dead son that a handful is disgruntled Millionaires don't like? The gleaming, white monument, built with not taxpayer dollars and with proper town approval, has continued to be an embarrassment to the town — not the monument itself, but the petulant reactions to it by opponents. The disgruntled sourpusses claim the monument violates the town's Scenic Mountain Act, an issue already put to rest by the town conservation committee. THE PLANET fails to see how a comparatively small monument can upset the balance of the vast woodland. To go against a handful of rabble rousers, the town has engaged the law firm of Kopelman and Paige to shoot down the opposition. We wish the town all good hunting in a case in which the town clearly possesses Right and Truth over the plaintiff's (that's a legal term describing a person or person who, while being on a losing side, give up and surrender by firing their last rounds of ammo into the ground). The monument was erected by family to honor the late Dr. Jordan Fieldman, a doctor at Berkshire Medical Center. Again, we wonder, baffled, why would anyone object to that touching action? Could the opposition have an anti-Semitic element? What else would it be?
——————————————————————-
CLOSE
"OPEN THE WINDOW, AUNT MILLIE."
LOVE TO ALL.