By DAN VALENTI
PLANET VALENTI News and Commentary
(FORTRESS OF SOLITUDE, FRIDAY, FEB. 15, 2013) — Since PEDA and Mayor Dan Bianchi seem to be putting a lot of money on its bet on Nuclea Biotechnologies at PEDA, questions about the company continue to surface. We explore this question a bit more today, but we also present new information on the finding of pollution on the site.
SPOILER ALERT: Later in this piece, THE PLANET uncovers what appears to be evidence of major additional pollution discovered in 2009 when the Water Quality Basis was built on the 30s Section of the PEDA campus. Despite this discovery four years ago, we don't recall this ever being revealed or heretofore published. If that is the case, THE PLANET DARES TO BREAK THE SILENCE!! Read on, intrepid explorers.
In this news, THE PLANET may well have discovered a reason why, after 15 years, not one company outside Berkshire County has wanted to move to the site.
Nuclea, Front and Center
Yesterday, we had several commentators interested in Nuclea, including Ed, who asked if Nuclea is a R&D company depending in a parasitic way on grants and taxpayer dollars, or is it a self-sustaining, for-profit concern that sells or licenses its alleged cancer detection systems to the health care industry? It's an important question.
If Nuclea is a research and development outfit, then expect taxpayer dollars to begin flying out the window and likely down the drain. If it's a for-profit company with a commercial product, what is it selling, who are its customers, what is the state of its profit-and-loss sheet, and why does it need taxpayer dollars? Here's another big question: How thoroughly did PEDA perform its due diligence on the company prior to giving it what could be a blank check at taxpayer's expense?
Readers may remember that about two-and-a-half months ago, on Dec. 5, THE PLANET ran this item:
EV Worldwide, Workshop Live, and … — Is it happening again? On its website, Nuclea Biotechnologies of Pittsfield calls itself a (TAKE A DEEP BREATH HERE) "translational medicine company dedicated to the discovery of proprietary bookmarkers and in vitro companion diagnostic assays based on corresponding gene and protein expression profiles associated with an individual's tumor or specific disease state." Got that?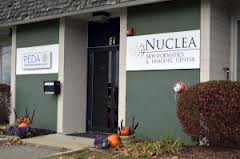 On Nov. 8 2012, at the PEDA HQ, Mayor Dan Bianchi announced that Nuclea, a Pittsfield-based company, will be moving to the William Stanley Business Park at PEDA. "He never gave up on Pittsfield," Bianchi said of Pittsfield native Patrick Muraca, head of the company. Bianchi trotted out the carrot of jobs. Each job Muraca creates will produce five other jobs elsewhere, Bianchi, said, claiming that's how it works in the "life sciences" industry. 
Jobs, jobs, jobs. One job will magically create five! Pittsfield has heard that before. Then came the dreaded announcement: PEDA and Gov. Deval Patrick have earmarked $6 million to build a life science center at PEDA. Uh-oh, looks like we might have another quasi-public-private venture on our hands. Fortunately, an earmark is not an appropriation. Before that happens, Bianchi said, "We've got some homework to do to get there." He said the city is working on "the documents and the collaborative evidence" for the state to release taxpayer funds.
Will this be another EV Worldwide-type deal or is this legit? It bears watching, but in our naivete, we wonder, up front:
* If this is such a great investment, why do taxpayers have to play venture capitalists?
* Where is the private money?
* Why aren't commercial lenders willing to loan 100% of the capital of there's a 5-to-1 return in jobs?
When we go back to the dense prosaic gobbledy-gook as posted on the Nuclea website, we wonder. Is this for real? Is the moon made of cheese?
Corydon: So 'Excited' About PEDA Prospects We Wonder: Did He Wet Himself?
Meanwhile, brace yourself for this earthquaker: PEDA executive director Corydon Thurston says 2013 "is going to be another exciting year for us." Yes, he actually said "another," as if there's been an exciting year out of the previous 15. Ask anyone not connected to feeding off the PEDA-Public Trough if PEDA has had even one exciting year.
Corydon adds, "We remain very optimistic and excited."
We get it, Corydon. You're "excited." You should be. You're knocking down, what, six figures plus bennies, while the too much of working class Pittsfield isn't, well, working. THE PLANET thus asks our readers: Wouldn't you remain in a perpetual state of excitement for six figures, even though precious little has actually happened on the PEDA sight since 1998? Yeah, buildings were demolished, there is that cool looking Mountain One building, and PEDA still repeats a line it's been throwing out for 15 years, about the large number of companies supposedly, it says, investigating relocating or building there. Funny, though, PEDA never has specifics, and it never names names.
Then Corydon gives us this temblor: "Our major focus of 2013 … continues to be the redevelopment of the property."
Tsk tsk. Truth in advertising, Corydon, truth in advertising.
Is 'The Private Sector' Scared Off by What May Yet Be Lingering in the PEDA Air, Water, and,Soil? Is that Why There's Been Nothing Doing?
If truth is on the agenda, we ask: Is the true reason the private sector isn't beating down PEDA's door the  pollution left in Pittsfield wake by General Electric? Who would want to risk a move here without 1000% indemnity against ALL future claims, especially in light of the following.
In 2009, when PEDA was constructing the water quality basin at the 30s Complex at the site, a Springfield firm called O'Reilly, Talbot, and Okun Associates wrote in an investigation report to the EPA dated Nov. 6, 2009 that "on May 28, 2009, oil-stained soils and free product were encountered while excavating the south eastern portion of the basin."
"Free product" is an industry catch-all for any other kind of troublesome substance or material. It's one of the indistry's "uh-oh" terms. EPA shut down construction. A lot of back-room discussion followed.
GE and PEDA worked jointly on a "preliminary investigation plan" to explore the extent of the pollution. The MassDEP, however, rejected "the plan submitted by PEDA [because it] lacked the necessary detail to define the nature and the extent" of the pollution (oil, volatile organic compounds, total petroleum hydrocarbons, PCBs etc., PLANET's underline). Eventually, the area was sampled. Soil was found to be "impacted" (translate: polluted), and 20 barrels worth of  "free oil" were taken off the water surface. The rainbow slicks must have been beautiful, though.
A Witch's Brew of Chemicals
OTOA sent out samples of water and soil to Con-Test Analytical Laboaratory of East Longmeadow, Mass. Here is only a small portion of what showed up in the lab report: Naphthalene, 2-Methylnaphthalene, Acenaphthalene, Acenapthene, Fluorene, Phenathrene, Pyrene, Benzo(b)anthracene, Chrysene, Dibenzo(ah)anthracene, 2-Flurobiphenyl, 2-Bromoaphthalene, Chloroform, Benzene, Carbon Disulfide, Chloromethane, 1,2-Dichlorobenzene, Diethyl Ether, Hexochlorobutediene, Toluene, C9-C12 Aliphatics, C9-C12 Aromatics, Ethylbenzene, o-Xylene, m+p Xylene, 2-Hexanane (MBK), p-Isopropylbenzene (p-Cymene) and so on and so on. The other chemicals are too numerous to list. It's a staggering lineup that goes on for 24 pages of small print.
Think about that for a moment. By 2009, PEDA was building the water basin, and it more or less led us  to believe by inference, hum-drum, and landscaping that you could eat breakfast off of the carpeting at the site.
As far as THE PLANET understands, this is the first time that details of  the November 2009 OTOA report have been made public. You certainly didn't read about it in the Boring Broadsheet, which on that date was probably telling you about all the "exciting new developments" happening in beautiful downtown Pittsfield and telling you all that James Taylor would be performing at Tanglewood (accompanied by Clarence Fanto's sidebar fan letter).
Did PEDA deliberately try to hide this information? There's no way of telling. It boils down to trust. If you want to trust them, well and good. We would ask you, though, upon what basis? Also, what else has the PEDA board kept under wraps? Does it take an enterprising journalist to spend the next five years reading through all of the documents and data to arrive at an honest explanation?
Of course, along with Jimmy Ruberto, Dan Bianchi, Corydon Thurston, Pat Muraca, and every fair-minded citizen of Pittsfield, THE PLANET hopes PEDA and Nuclea are "for real." The long record of dashed hopes, however, require a more sober analyst at this point, one who can take the hype with a drop of basin water.
All we know is that when they tell us, "Don't look behind that curtain," that's the time to get the dog and rip the fabric in two. And if you're a CEO or board chairman of a company contemplating a move or an expansion of your business, the last place you'll probably want to look is Pittsfield, where you'll have to deal with some combination of politics and pollution. Who needs it?
As a wrap-up, we also bring up a campaign promise made by councilor-at-large Melissa Mazzeo in 2011. She told THE PLANET that if re-elected, she would push stridently for a reopening of the 1998 Consent Decree. Thus far, all we've heard from our Right Honorable Good Friend, the council woman, is nothing substantive on that issue. We would remind her of her promise. This is another campaign year. There's still another nine or 10 months left to make good.
——————————————————————————-
"Water recedes to the crying of spiders. / An old scow bumps over black rocks. / A cracked pod calls. / Mother me out of here." — Theodore Roethke 
"OPEN THE WINDOW, AUNT MILLIE."
LOVE TO ALL.