By DAN VALENTI
PLANET VALENTI News and Commentary
(FORTRESS OF SOLITUDE, MONDAY, FEB. 11, 2013) — Guess what? It snowed. In New England. In February. True, Long Island Sound and the coast up to Boston got hit, but here in the Berkshires, what, a foot, foot and a half, maybe? We've had a million storms worse than this one.
The snow didn't fully get going until 4 or 5 p.m., depending on where you live. That didn't stop them from closing the schools in Pittsfield and elsewhere. Though Pittsfield could have easily gotten in a full day, it's all about The Children, you see, and the fear of lawsuits from the idiots of the kind who sue because coffee is hot. The day after Snowmageddon, we shoveled out and did some errands. It included a trip to Carr Hardware to get a magnetic latch to close a spice cabinet (oh, the things into which we writers get).
After that, THE PLANET went to Barnes and Noble at Berkshire Crossing to sample the mocha java with a friend. The store was all plowed out, but it was closed, another defenseless victim of Snowmageddon. We did notice that B&N's next-door neighbor, Pier 1, somehow got through the disaster to open for biz as usual. What courage!
Undaunted, we drove to the nearby Starbucks. Things looked good. Its next-door neighbor, Verizon (the former Taco Bell), had the neon lit and customers inside. Nonetheless, when we got to Starbucks, the room was dark, as they say in Vegas. Starbucks, too, fell to Snowmageddon, which is to say we have turned into weather wimps, a sorry state inflicted upon the gullible and the easily spooked by Weather Channel and the fear of litigation.
Law and Order, By Golly
Don't believe it? Look at the cool thing to do now for some municipalities: When snow falls, shut down the streets and threaten drivers with SIberian exile if caught on the road, as Mayor Dan Bianchi did in Pittsfield. Oh, the humanity!
Bianchi's Ban came with the threat of tickets, fines, and jail time. Somewhere in another dimension, Pittsfield Snow Ghosts of Yesterday are shaking their heads at this embarrassing overreaction.
Before you jump all over your humble narrator, think this through.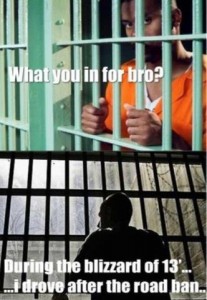 Yes, yes, we understand the reasons the mayor acted as he did: An attempt to keep the idiots off the road to help the plow jockeys. You know who the imbeciles are: They drive too fast for the conditions, think too slow to move the IQ needle more than a hair, and possess the common sense of the 12-year-old we saw yesterday outside in T-shirt and shorts. The idiots comprise 2.3785% of the population (remember that 78.54% o all statistics are made up). The remaining just-under 98% of We The People would not and did not drive last night, but, once again, they are the ones who get penalized because of the dopes. The sad part is how officials and bureaucrats cater to the dum-dums and piss on the rest, the Mary Jane and Joe Kapanskis. On this basis alone, we would give Bianchi a failing grade for his handling of Snowmageddon.
We wonder, is this criminal crackdown of snow drivers part of the mayor Master Plan for dealing with crime? It's escalating, or didn't you catch acting police chief Mike Wynn's comments in a recent Pittsfield Gazette: "It's more than you could possible imagine."
In any event, we're sure that the small businesses that otherwise would have remained opened for another hour or so did not appreciate the mayor's ham-handed decision.
D+/C- for Bianchi the Snowman
On the basis of streets being cleared of the white stuff, we'll give him a gentleman's C. The main roads were reasonably clear the day after, with the side streets much less so. Today, those who venture downtown will need to hire sherpa guides to climb over the snow banks that line North Street. Overall, we shall issue a D+/C- for Bianchi's grade. PROFESSOR PLANET being the realistic grader that he is, Bianchi should be thankful for our generosity.
As for us, THE PLANET enjoyed our 150 minutes of shoveling out the driveway. What was not to enjoy? We got a great cardiovascular workout for free, breathing in the clean, frosty air and digging the sunshine, which made the snow jewel-like and gem-tastic. We missed having this type of snow last winter, and when we saw the foot or so on the ground, we couldn't wait to get out and play.
One thought occurred to us in the fun: Canyon Ranch could offer this type of CV workout for $1,000, and it would find plenty of rich suckers to cough up the cutter. We can see it now in the Ranch catalog for Winter 2014, the snow shoveling seminar (only it won't be called snow shoveling):
CRYSTALLINE TRANSFERENCE THERAPY — Luxuriate in the thrill of guided movement of unique, frozen crystals of water, the most vital ingredient to human life. Our expert staff will direct you through the conveyance of alabaster crystals via specifically built handled, flat platforms, especially designed for this harmonic exercise. Three days, $1,000 (meals and lodging not included).
Weather Panic is an Easy Target
The weather panic gets funnier and more easily mock-able with each passing storm, a mix of the Last Days, Armageddon, and A-Rod on steroids again. In other words, how (un)surprising.
Forgive THE PLANET for our mordant commentary on Snowmageddon, officially known as Storm Nemo, but it's just that we grew up in the 1950s and 60s, when schools and businesses stayed open, roads weren't salted more than Civil War salt pork, and people were expected to go about their business, albeit at a slower, safer pace. Neither "meteorologists," moguls, magicians, or madmen thought to name winter storms. Today, we wring our fingers with consternation when three snowflakes turn up on Doppler radar over Lake Onondaga and seem to be heading east. Get your dried good and canned goods! Gas up the tank!! Think of "The Children!!!"
Yes, Nemo (what, is there a Jules Verne fan at The Weather Channel?) did a number in certain areas, but the Northeast has gotten through worse with less and managed to bounce back with at most a slight blip on the screen.  We won't do it this time. That snow horse left the barn long ago.
Your Chance: Grade the Mayor
Finally for this topic, we come to Snowmageddon: Rating the Mayor. How did Mayor Bianchi do with Nemo? Please give Bianchi a letter grade: a, A-, B+, B, B-, C+, C, C-, D+, D, D-, F. Feel free to expound on why you assigned this grade.
And remember, somehow, if we all keep our heads, we will get through these blowing drifts together. We are made of stern stuff, what?
————————————————————————–
R&R IS OK, BUT WHAT THE CITY NEEDS OF J-O-B-S
THE PLANET has engendered this discussion many times over, about the impracticalities of Pittsfield building the local economy almost solely on the basis of what is loosely (and sometimes misleadingly) called "The Arts." Our phrase for this is the Recreation & Resort (R&R) Economy. R&R is fine, but in the end, it creates service jobs that typically offer little more than minimum wage and no benefits. One cannot hope to build a stable, vibrant city on the basis of such an economy.
It's not great scoop to say the city needs good pay, good benefits jobs. Bianchi himself said so during the campaign, as has every sod buster to run for the office in the last generation. It has been one year +, and THE PLANET has seen precious little from Mayor Bianchi on the jobs front. We shall leave our observation at that for the moment, but this topic shall we resurrected plenty of times during this campaign year.
With that as a preface, you may (or may not) know that if developers have their way, the former Women's Club at 42 Wendell Avenue will seek to reinvent itself as yet-another Arts Center. It has become a Pittsfield banality at this point. The Special permits are being sought to exempt the project from certain zoning requirements (parking, for example).
Lisa Whitney, the developer, forsees a space for performances, galleries, art studios, and office. With a glut of such space in the city now, one wonders how this project will work on its own terms. That is for her to figure out, and THE PLANET wishes her well. We will even offer to read there if she wants. Moreover, we like that the building is being put to some use, however hackneyed.
We also have one important question: Does Whitney plan to sink serious private money into this noble project, or will she, like every other R&R deal, come look for tax dollars?
From The Ponderosa on Allen Street Comes Hoss
Bianchi's city planner, C.J. Hoss, is selling the project with the tired, old, "economic engine" fib, a myth  that should have been long killed by such failures as Workshop Live! and other recipients of milk from the public tit. Such enterprises love to take public money but offer little to nothing in return.
Hoss tells The Pittsfield Gazette, "The city encourages development … efforts that will bring more residents and businesses into the downtown area. …" See? That's the "economic engine" fib. For that kind of fiscal cliche, we would get better from Hoss Cartwright. Ponderosa that for a while.
——————————————————————————-
"In book that are as altars, we kneel / to consecrate the flicker, not the flame." — E. A. Robinson
OPEN THE WINDOW, AUNT MILLIE."
LOVE TO ALL.