By DAN VALENTI
PLANET VALENTI News and Commentary
(FORTRESS OF SOLITUDE, THURSDAY, JUNE 6, 2013) — We finally step away from Wadegate to bring you this head puzzler, in the form of a photo. We ask: What's wrong with this picture?
This photo was sent to us by one of our correspondents under the title "Wouldn't Bossidy Be Thrilled." The reference, of course, is to Pittsfield native son Larry Bossidy, who more than 10 years ago gave Pittsfield $1 million with the specification that it be used on the playing fields of the city. This was and is a man actually for, you know, The Children.
Pittsfield spent most of the ensuing years doing two things with The Bossidy Bucks: (1) It spent it on everything BUT the playing fields, and (2) when certain among us questioned why, it launched into a futile and utterly pointless bureaucratic discussion about what Bossidy "intended" for his gift. Thus, the city did a great disservice to the generosity of one of its greatest sons, all in the process of slapping residents in the face by the way it ignored Mr. B's desires.
Our correspondent wrote that the picture gives evidence that "Baseball has become an elitist sport in Pittsfield. I know at different times, I have found the West LL field (where I played) locked, Springside LL field locked, and now Benedict Rd. I assume the fields are only unlocked by 'league officials.' No chance for a pickup game anymore. Real  baseball. No parents. No coaches. Just baseball."
We share in this lament, as I'm sure Mr. Bossidy does.
Children can't do anything on their own without helicopter parents hovering somewhere nearby. Which leads us to our next story: Proms.
—————————————————————————–
POP CULTURE CHEAPENS THAT GREAT AMERICAN RITES DE PASSAGE, THE PROM; BACKLASH BUILDING IN SOME SCHOOLS
Since when did a high school prom turn into a sick display of faux celebrity that more and more parents,  grandparents, and otherwise "normal" family members use to "show off" before the community? When did it become an event that now must mimic the tinny tawdriness of Hollywood instead of subtle stylishness of a more local nature?
Years ago, and not all that long ago, parents were content to take a few photos in the backyard, wish the kids well, and let them have a night of pretending to be adults in their gowns and tuxedos. Not any more.
Today, the prom has to be A Production, one that reflects the shallowness of pop culture, shrunk to skin-deep triviality by parental guilt and high school administrators who wouldn't know class if it took them by the arm and cha-cha'd around the auditorium for the lead dance. The limos, the red carpet, the lines of photo takers, the gawkers, the Oprah-like audiences, the embarrassing screams and cheers — from the adults, mind you — It's all too much to witness, especially when one realizes how these human cattle have turned off both their critical faculties and individuality, unquestioningly following trendy dictates that they don't know how to question.
The locked baseball fields that preclude sandlot games … the lunacy of prom night — they illustrate the prevailing belief that unless an adult is there to officiate and verify, the kids will somehow feel shortchanged.
Perhaps this explains the gaudy, cheapened nature of The Prom in 2013. More and more, kids eschew attending the prom with a date and think it's OK to arrive in gangs or groups. More and more, girls show up dressed more like hookers and whores. Needless to say, The Children have been gypped again. It's obvious that parents feel lots of guilt these days with the way they have turned a once simple and lovely childhood rites de passage into a two-dimensional cut-out frivolity.
It won't happen in Pittsfield, where the schools are out of control, but fortunately, some schools are beginning to fight back. Here's an article about just that:
SOME SCHOOLS TRYING TO BRING BACK DIGNITY TO PROM NIGHT
By LAURA HANSEN
PLANET VALENTI News and Commentary
For better or worse, prom is a rite of passage for every American teenager. And there are certain hackneyed staples that help make the night so memorable — the outfit, the dream date, the limo, the dance floor. But some schools have recently begun tightening restrictions at proms and other dances, which means that festivities at some schools may be distinctly lacking in fun. (Though, it's not all bad — looking at you, AXE Body Spray.) Here, 9 school bans that could totally ruin prom:
1. No strapless dresses
Girls at the Readington Middle School in New Jersey no longer have a right to bare arms… at school dances. A new ban instituted by the principal prohibits students from wearing strapless dresses at this year's 8th grade dinner dance. The reason? Shoulder-baring formal wear was considered too much of a distraction for the boys. Lucky for any strapless-loving tween, most of the town's parents are up in arms about the rule, with some calling it offensive. A group of parents plans to protest the ban and request that it be suspended. And this New Jersey school isn't alone: Schools in Jacksonville, N.C., Boston, Mass., and Sparks, Nev., have reportedly also banned strapless dresses.
2. No tuxedos (for girls)
For tomboys or Diane Keaton fans at Sultana High School in Hesperia County, Calif., this prom season may be a cruel one. School administrators have banned female students from wearing tuxedos, while requiring that guys wear them. The rule, critics say, reflects a larger problem of homophobia at the school. "All students should feel safe and free to be themselves at school. I'm hopeful the administration does the right thing and creates a safe environment where we can be ourselves without fear of being harassed," said the president of the school's Gay Straight Alliance. Other critics note that you don't have to be gay to want to opt out of wearing a constricting or skin-revealing dress. "Maybe it's because it's hard to find a prom dress that doesn't make you look like a cast member of The Real Housewives of New Jersey," says Jeanne Sager at The Stir. "Or, and this is just as likely, it's because not every girl actually feels comfy in a dress!"
3. No dirty dancing
School officials around the country are growing increasingly uncomfortable with the way kids are getting down on the dance floor. The Port Angeles High School in Washington state is just the latest to ban suggestive dancing, otherwise referred to as "freak dancing," "grinding," and "dirty dancing." But the rule may have backfired: Attendance at these functions, which help fund all student activities, has reportedly plummeted. "It was kind of like asking them to quit cold turkey, so that really upset a lot of students," said a student government officer. Students say it's just another example of adults being out of touch. "Square dancing and all those things, those were fun back in the day, but we're a new generation and we do things a little differently," said student Terrance Stevenson.
4. No AXE Body Spray
While this is a ban most of us can get behind, teenage boys might think otherwise. Starting in March, students at the Freedom High School in Bethlehem, Penn., were asked to lay off the AXE body spray — not because it was making boys irresistible to the girls, but because it was making at least one student physically ill. The teen reportedly had such an extreme reaction to the fragrance that he required medical attention. Prom-goers looking for an aromatic boost this season will have to rely on a hearty shower and a smear of Speed Stick instead, which, trust us, is a much better idea anyway.
5. No limos
Principal Laura Gauld was sick of witnessing the financial extremes students would go to for prom. So, in 2007, her first year as principal of the Hyde School in Woodstock, Conn., Gauld banned limousines from campus. Instead, all the seniors would come together on a chartered bus. While some students protested the idea, most came around eventually, saying the group transportation fostered a tighter sense of community.
6. No dyed hair
Prom is often a time when teenagers show off their unique personalities. Perhaps they do so on the dance floor, or with a pastel-hued tux, or with a fun hairstyle. But students in Hurricane, Utah, may want to take heed of Rylee MacKay's experience and refrain from dyeing their hair. Earlier this year, the 15-year-old was banned from school for dyeing her hair a reddish-brown. Yep. It wasn't electric blue or bright pink, and Rylee's shade was subtle enough to pass as her own. However, the school claimed her hair "didn't fit on the spectrum of natural color" and so sent her home. But Rylee's mom stood up for her daughter's choice, saying the school should focus on more important issues than penalizing students who stand out. "At this age, these kids are going through so much with peer pressure and trying to find themselves — look at the depression and teen suicide rates — and all we're doing is stifling them more," she said. "They have no leeway in how to become themselves. We don't let them do a lot of things for their own safety, but there's got to be some give. We're making little clones."
7. No skimpy dresses
In 2012, a high school in Southern, Conn., put the kibosh on revealing dresses. The school rule barred plunging necklines, high slits, bare feet, and midriff-baring cut-out dresses. The principal said the school wasn't trying to stifle the students' sense of style, but was rather reining in the daring looks of previous years. "It's not a dance club, it's not a beach, it's not that kind of a scene," he said. And the dudes better watch out as well: You'll have to keep that shirt on no matter how worked up you get on the dance floor.
8. No popular music
In 2009, the Women's Health and Issues Club at Arcadia High School in Los Angeles noticed that some of the most popular songs on the radio have a common theme — they were degrading to women. It was actually such a banner year for tunes that glorified prostitution and casual sex, or just generally objectified women, that the group was able to compile a list of 300 songs that qualified as degrading. Sick of hearing tunes like Akon's "Smack That" or Lil' John's "Get Low" in heavy rotation on the radio, the group asked that these songs not be played at the prom. And so, the school complied and banned not only those two booty-shaking numbers, but also 18 others.
9. No porn stars
Recently there's been a rash of teenagers asking celebrities to their proms, with some requests being more endearing than others. But students at Tartan High School in Oakdale, Minn., will now have to keep those aspirational dates G-rated. In 2012, Mike Stone fired off several celebrity date requests and actually got one acceptance in return. Megan Piper, a porn star, said she'd be happy to come so long as Stone paid for her plane ticket from California. But when the small town got wind of Stone's steamy escort, school officials said, "Absolutely not." Stone said he wasn't heartbroken, though, because he didn't really think it would work out. "I was just doing it to see what would actually happen," he said.
(This article was first published in The Week, April 25, 2013.)
Here's another article, from Gawker.com:
And what, apart from nature/hormones/the way Aaron looks with his hair pushed back (sexy) is compelling teens to dress so revealingly? According to the experts and just about any person you might ask off the street: Hollywood.
Specifically, old-ass Hollywood. The Journal singles out Jennifer Lopez (age 42), the casts of the various Real Housewives franchises (most of whom appear to be in at least their late-sixties), and teen-favorite television program Dancing With The Stars (my Nana loves it but she doesn't know who anyone is) as major inspirations behind sexy teens' less-is-more sartorial aesthetic.
Now, in order to get the message across to students they are not allowed to emulate their favorite premenopausal celebrities' sexed up style of dress, administrators are putting together image-heavy PowerPoint presentations and throwing up posters illustrating banned looks.
While it might, at first, seem counter-productive to plaster the hallways with photos of beautiful models in skimpy formalwear, decorating the school with the precisely the kind of lustful imagery administrators are hoping to avoid on prom night, you can't argue that these kids are dumb dumb dumb, dumb as doornails, dumb as their number one fashion icon Alexis from theReal Housewives of Orange County, dumber in fact, because she has an elegant line of non-couture couture acrylic dresses and they are putting a strip of duct tape over their nips and calling it "chic, prom-appropriate fashion." And, unfortunately, these dum-dums only respond to pixxx.
As one Algebra teacher and "junior class co-sponsor" (?) from Oklahoma City put it to the paper:
"Words don't mean much to [the students.] They had to see the pictures."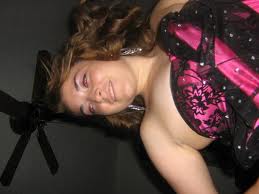 In actuality, the rules these schools are peddling aren't all that absurd: no fabric cut-outs below the bust line ("flesh touching flesh below the bust" to use the administrators' own, vaguely erotic, wording), no hemlines higher than three inches above the knee, no boob-baring deep-Vs in front, no ass-baring deep-Us in back. Pretty standard stuff.
The oddest item on any of the guidelines available on the Journal's website comes, as surely a great many odd things must, from Sunnyvale, Texas, where the local high school has also instituted a prom-wide ban on "cosmetic contact lenses of a color not natural to a person, or patterned lenses (unless prescribed by a doctor)."
Meaning that Texas' most popular teens have only a few short weeks to sweet-talk a doctor into writing them a prescription for some tight flame-pattern contacts.
Aside from that: cover your bits for an hour and have fun at the clothing-optional after prom parties, kids.
[Image via Shutterstock]
————————————————————————————
"Factory windows are always broken. / Other windows are left alone. / No one throws through the chapel window / The bitter, snarling derisive stone." — Vachel Lindsay, stanza 2, "Factory Windows are Always Broken"
"OPEN THE WINDOW, AUNT MILLIE."
LOVE TO ALL.