By DAN VALENTI
PLANET VALENTI News and Commentary
(FORTRESS OF SOLITUDE, WEDNESDAY, SEPT. 11, 2013) — If you visit the city of Pittsfield's website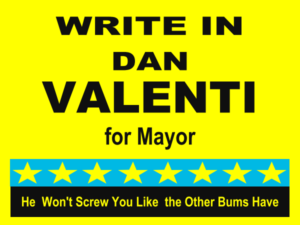 and click on the mayor's link, you'll find a side tab labeled "Mayor Dan Bianchi's 2012 Accomplishments." It is a ponderous list of breathtaking achievements. THE PLANET would like to share some of it with you. Mayor Dan Bianchi:
— Received 391 invitations.  He accepted and attended 259 of these invitations. These included "scouts, ribbon cuttings, dedications, annual meetings, and graduations." As Deputy Barney Fife once told Sheriff Taylor, "It's big, Ang. It's Big!!"
COMMENT: THE PLANET suggests that if the mayor spent half the time he does at ribbon cuttings working on city business, Mary Jane and Joe Kapanski would be better off. One wonders if Bianchi, in listing the invitations, counts the multiple times that we invited his comments on pertinent issues. We do know that he has answered none of them since we blew the lid off of Spectrumgate.
— Attended 23 school events, listed as "classroom visits, DARE graduations, reading in classrooms, etc."
COMMENT: THE PLANET rather likes the "etc." at the end, a catch-all category when the author can't come up with any more examples. During the DARE graduations, Bianchi congratulated students who complete the DARE classes, wherein they learned all about drugs. In Pittsfield, that means being taught what to smoke, inject, ingest, sniff, or snort, where to get the stuff, and the economics of drug dealing. The most promising of the DARE graduates become entrepreneurs, going into the profitable drug distribution business. THE PLANET wonders is the mayor includes this under "Expanding Small Business." Under that category in his 2012 accomplishments list, Bianchi writes: "Met with businesses to determine their strategic needs,[sic] and ensure city programs are conducive to growth." Yeah, and how did that work out for the Kapanskis as well as Mr. Small Businessman? They tax rates went up, again.
— Presented 47 certificates.
COMMENT: In what? For what? We don't know. Who gives a flying twerp? We don't know the answer to that one, either.
— Attended 23 school committee meetings.
COMMENT: That's his job. He's a member of the school committee. Why do you list these meetings as if it's some unusually great feat? Bianchi conveniently ducked the most important one, the one in which Alf Barbalunga and the other four members conducted the infamous Scopes Monkey Trial, illegally persecuting Terry Kinnas for doing too good of a job. The evidence points to Bianchi's orchestration of that kangaroo proceeding, though he didn't have the stones to be there that night so that he wouldn't have to look Kinnas in the eyes, soon to be a movie, "Profiles in Cowardice."
— Attended 24 PEDA board meetings.
COMMENT: THE PLANET forgives you if you wonder what the heck for, since PEDA remains a ghost town 15 years after the signing of the Consent Decree, where GE picked our pocket and got off with pennies on the dollar for polluting the city.
— Attended 56 meetings with department head, 41 meetings with individual councilors, 26 council meetings, and 39 "visits" with state and regional officials.
COMMENT: There are numerous other meaningless tallies of this sort in Bianchi's "Accomplishments." It reminds us of the office brown-nose who has to generate many useless e-mails and messages, with a cc: to everyone in the company. They do this to show "how busy they are." THE PLANET asks: If Mayor Bianchi had accomplished anything worth noting in 2012, why would he feel it necessary to pad the list with such purposeless minutia as certificates awarded and ribbon cuttings?
Bianchi includes a good dose of humor in his report. Under "Lawsuits Settled," he lists: "Spectrum Health Systems, Inc." Settled? By caving in court and giving Spectrum $100 grand? THE PLANET considers it far from "settled." Another example of what must be a joke: a heading titled "Creating a Stronger Foundation." Foundation for what? Pancake makeup for his face when he goes on TV? He lists "Pittsfield Promise": "Strong advocate; mayor's office is very involved in this effort." What effort is that? One of those do-gooder, "feel good" programs that bureaucrats love to create to make it look like they're doing something about an intractable problem. The problem in this case? Trying to get 90% of Pittsfield third graders to read at grade level by 2020. If there was ever an admission of the failure of the Pittsfield Public School system — the $90+ million PPS — this is it.
Want a knee-slapper? Under "Charter Commission," Bianchi writes: "Successful cities put politics to the side and concentrate on serving residents …" Uh, yeah, and doesn't that explain the city's colossal failure at this for this past generation. Bianchi, a 10-year city councilor and now two years as mayor, has presided over this most political of burgs. "Poison politics," we call them.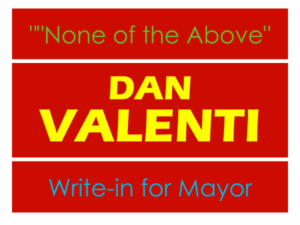 Here's another howler. Under "City Budget," Bianchi brags that he "saved" taxpayers $700,000.
"Saved."
Yes, he actually wrote "saved."
Let's see. For two straight Bianchi budgets, overall spending is up, homeowners' tax rate is up, and the commercial tax rate is up. It cost millions more each year to run the city in these two years, with services falling almost as fast as morale in city hall.
Under "Improving Public Safety," Bianchi "initiated," "launched," "created," "began," and "applied" a bunch of stuff, but none of it mattered. Under Bianchi's two years as mayor, crime has continued its upward track, drug use and abuse has exploded, response time is down, and the city isn't safe after dark.
Finally, Bianchi has a heading, the lead one: "Attracting New Business: PEDA." We learn that he expanded the PEDA board to 11, "appointed new members with key areas of expertise," "created subcommittees," and has "work[ed] aggressively." He doesn't say how many new businesses were attracted to the site in his two years. The number is Z-E-R-O.
As an example of satire, albeit unintended, Prof. Valenti would give this a passing grade. As an example of fiction, again, we'd pass it along. Taken as non-fiction, expository prose, however, we must tell the mayor that he has an "F." This is not only his grade for 2012 but for his entire first term.
Bianchi has been a political hack, a man who left his wise judgment in the vestibule and replaced it with the most narrow-minded and petty political puerilism.
This calls for two votes, one in September and, more importantly, one in November: Write in "Dan Valenti," your "None of the Above" (NOTA) "candidate."
———————————————————————————
"On that Indiana stairway / Gleams Cinderella's show. / Upon that mighty mountainside / Walks Snow White in the dew." — Vachel Lindsay, lines from "When the Mississippi Flowed in Indiana." (1920)
"OPEN THE WINDOW, AUNT MILLIE."
LOVE TO ALL.