By DAN VALENTI
PLANET VALENTI News and Commentary
(FORTRESS OF SOLITUDE, FRIDAY, OCT. 4, 2013) — Time once again, boys and girls, for THE PLANET's famous Quick Hits and Hot Lix, wherein we feature a blitzkrieg of topics and commentaries.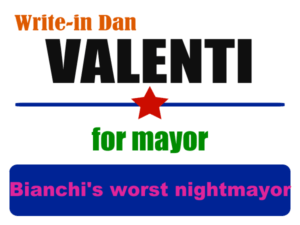 MAYOR PHOTO-OP STRIKES AGAIN — The Boring Broadsheet yesterday "treated" readers to a photograph of Mayor Dan Bianchi and wife, the Lady McBeth of this governing pair, plus their entourage with officials and dignitaries from Pittsfield sister city in Ireland. Glad to see Bianchi working on the pressing problems of a city in dire need of leadership and vision. Bianchi and company recently enjoyed an all-expenses paid "business class" trip to Ireland. We hear Bianchi cut 25 ribbons, gave out 67 certificates, posed with teacher Katie O'Flynn's fourth grade science class, and received an award. For a milksop, Bianchi's a dynamo. THE PLANET also commends the BB for sharing with readers this urgent hard-news story. Oh yes, and this just in: Bianchi is in favor of "jobs."
VALENTI CHALLENGES BIANCHI TO DEBATES — In support of "Dan Valenti's" write-in campaign for the corner office, THE PLANET, at Valenti's request, passes along to Bianchi a challenge. Valenti has challenged Bianchi to a series of debates, as many as the mayor dares. These would live, unscripted exchanges without notes in full view of press and public. Valenti, who has a certified IQ of 187, promises to remove his brain prior to any debate to give Bianchi the glimmer of a mirage of a whiff of a wisp of a chance. THE PLANET will also be sending this challenge directly to Bianchi, who is in favor of "jobs." We're acting as messenger because Bianchi refuses to respond to the intrepid, investigative Valenti, who says he's "quote 'serious'" about this challenge. Bianchi noted in an interview with the BB that he welcomed the chance to defend his record during the campaign, this, knowing he would be unopposed on the ballot. Well, courtesy of the philanthropic humanitarianism of Valenti, the mayor has a chance to do this. Let's go DB: DV has laid down the gauntlet.
WHAT DO WOMEN WANT? — "Who gives a shit," came the answer of one of THE PLANET's more outspoken members of our men's auxiliary. His response came to mind reading the latest issue of the Berkshire Chamber of Commerce's Berkshire Business News. Good Lord, what a bunch of deadly tripe. We mourn for the newspapers that have to give up the ghost so that this flatulent piece of propaganda gets published. On the cover, we see the C of C doughboy Mike Supranowicz posing with four women, one of whom looks rather like Irene Ryan, "Granny" of The Beverly Hillbillies. They favor "jobs" don't you know. The issue is titled, "Celebrating Women in Business." Inside, we see a listing of "Women in Business Month" events and an ad for the "Women-in-Business Luncheon" (TFB hosting; now that's a snore). You'd think in 2013 that enlightened women would find such "special treatment" insulting. As one of our more astute and "liberated" lady friends said, "C'mon, that whole thing makes us look like fragile little doily cups who would get all emotional and cry." Who are we to disagree? For your information,the Beepers "BYP Out & About" feature has five of those deadly boring "let's stand around doing nothing and stare at the camera" photos. The photos depict 14 women and four manly men. Amazingly, not one of them is holding a drink. Meredith Nylan's legacy lives on!
 ANOTHER BIG "OCTOBER SURPRISE" — As THE PLANET pointed out yesterday, beware of October, for that is the month when the do-nothing local officials like to spring their little surprises to show how hard they are working on our behalf. We mentioned three of these phony happenings yesterday. Another looms: The School building Needs Commission will present a "report" later this month (Oct. 23?). This patchwork commission, one of the fastest sailing Ship of Fools in all of Shire City, will no doubt tell of all the "progress" that's been made on the issue of the high school dilemma (to refurbish or build anew). The event will attract candidates for office, who will feign interest, and offer commission members a chance to do some old Astaire-Rogers hoofing. Astute citizens, which includes THE PLANET's readers, will laugh it off and take their votes to the booth a couple weeks later. Then, they will write in the name of "Dan Valenti" and shock the world.
 INFINITE DANCE — That's the name of a new sculpture being donated to the Common by the Pittsfield Garden Tour. If you want to know more about this statue, you can tune into PCTV channel 18 on Oct. 8. On what is sure to be another pulsating edition of "Mayor Bianchi Reports," Bianchi will grant an exclusive interview to the Garden Club. Folks, we're not making this up. Who says Bianchi is afraid to take the tough questions?! The soon-to-be vandalized statue is titled, "Infinite Dance." It takes its name from Bianchi's song-and-dances as part-time inhabitant of the corner office. Bianchi is in favor of "jobs."
GREATE 'PROGRESS' (YEAH, RIGHT) — Pittsfield school supt. Jason "Jake" McCandless, who makes $157,000 a year plus bennies, recently updated new testing indices for the near-broke Pittsfield Public Schools. JIV (pronounced "Jive") told a sleeping Pittsfield School Board that the horrid performance of students in city school represents "progress." JIV is also in favor of "jobs." Deputy Supt. N. Tracy Crowe, who measures her life in coffee spoons and makes purtnear close to $130,000 a year plus bennies, said the "progress" was due to curriculum updates (translation: "We dumbed down the textbooks") and "teaching techniques" (translation: "We're allowing kids to go crazy with their smart phones during class time"). Crowe is also in favor of "jobs." Josh Cutler, candidate for school committee, told The Pittsfield Gazette, "Many of the numbers are appalling when you compare our school district's performance to the Commonwealth." More talk like that, and THE PLANET will be ready to give Cutler the crown and scepter now held by school committeeman Terry Kinnas. "Purtnear," by the by, is a French word meaning, "You're getting screwed, folks."
GET WELL SOON, JL — Speaking of The Pittsfield Gazette, THE PLANET sends best wishes for a speedy recovery to the redoubtable Jonathan Levine. Levine is the man who has singlehandedly edited and published the Gazette weekly and nonstop since 1991. Levine was recently hospitalized after a medical setback. No one has attended more meetings since '91 than Levine, and no one has tried to offer a more honest news coverage of the city of Pittsfield. Get well, Jonathan, from all your friends at THE PLANET.
——- 00 ——-
Folks, big stuff's a brewing news wise, and some of it involves the corner office. THE PLANET is hot on the trail. The more they tell us "not to look behind that curtain," the more we keep poking. The more the corner office tries to keep people from talking, the more questions THE PLANET is going to ask. There are a lot of upset people in the city right now, and that includes inside city hall. They're upset about …
… something or three the mayor doesn't want you to know about.
Stay tuned and remember, on Election Day Tuesday Nov. 5, write in the name of "Dan Valenti" for mayor. It's better than not voting and way better than leaving it blank. "Dan Valenti" is not in favor of "jobs." "Dan Valenti" is in favor of "careers."
—————————————————————————-
"Watch long enough, and you will see the leaf / Fall from the bough. Without a sound it falls: / And soundless meets the grass. … And so you have / A bare bough, and a dead leaf in the grass. / Something has come and gone. And that is all." — Conrad Aiken, "first stanza, "Watch and You Will See," (1931)
"OPEN THE WINDOW, AUNT MILLIE."
LOVE TO ALL.