By DAN VALENTI
PLANET VALENTI News and Commentary
(FORTRESS OF SOLITUDE, MONDAY, JUNE 30, 2014) — What is it about Massachusetts? Is our Kool-Aid not spiked with the jungle juice of common sense? Do we sit geographically too far right in these here contiguous 48? Does that explain the dreadful, one-party "moon bat" politics that have politically pushed our beloved Commonwealth off the left edge of left? How could the state that gave this country the heart of its glorious Revolution produce such a top-loaded, tilted policy so bereft of prudence, wisdom, and, backbone?
Granted, we ask a rhetorical question, since the Democratic Party rules in Massachusetts without opposition. Massachusetts, as a result, does not have a healthy, functioning "democracy" (in republican form, lower-case "r"). Rather, the lack of meaningful opposition from roll-over-and-play-dead Republicans (upper-cse "R") has created a lock-step form of totalitarianism.
Typical of this state: We can't even get our dictatorships right.
——– 000 ——–
Case in Point: Minimum Wage, Maximum Bad Economics
With that preamble of thought in mind, THE PLANET shares this news lead from Reuters:
BOSTON (Reuters) – Massachusetts Governor Deval Patrick on Thursday signed into law a measure raising the minimum wage to the highest of any U.S. state, $11 per hour, by 2017.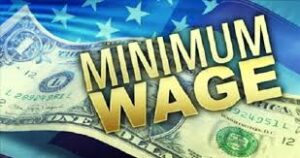 The move comes as U.S. Democrats nationally are trying to make the minimum wage a key issue ahead of midterm congressional elections in November, framing the effort as a quest of conscience on behalf of the millions of Americans living on wages that have not kept up with rising costs of living."
Don't you love that heroic-sounding phrase: "a quest of conscience." THE PLANET grants that the words play well in the cheap seats, but if one can extract oneself from the emotionalism and try to view the matter from the ceiling rather than the floor, one gets the more complete picture.
Raising the minimum wage represents a triumph, once again, of tax-n-spend politics over sound economics. The measure boosts the $8-an-hour minimum wage by $3 an hour, an increase of 27%.
Here's why it's a bad idea:
Consequences — Unlike what supporters predict, raising the minimum wage will not act as a stimulus to the economy. Raising minimum wage to $11 an hour will place an unbearable burden on employers, who will be forced to trim staff. Services will suffer and unemployment will rise. According to a study by the Federal Reserve Bank of Chicago, "10 percent increase in the minimum wage lowers skill employment by 2 to 4 percent and … restaurant employment by 1 to 3 percent."
Outsourced — Rather than pay $11 and hour, some businesses will simply outsource the jobs out of the country, where the hourly cost of labor is far less expensive and the quality is comparable or better.
Hurting Workers — History shows that selecting an arbitrary level for minimum wage, one that does not take into account market forces, hurts more than helps workers at that level of the economy. Minimum-wage jobs go to workers who generally lack skills.
The Poor Shall Remain with Us — The preponderance of research strongly suggests that arbitrarily boosting minimum wage does not lower poverty levels, according to the Employment Policies Institute: "Multiple studies ahve demonstrated little to no relationship between higher minimum wage and reductions in poverty," the institute says in a policy brief.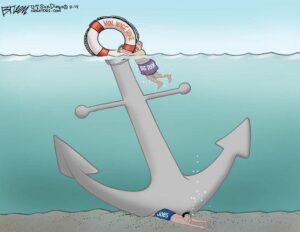 Costs Go Up — Paying low-skilled workers more money forces employers to raise the cost of their products and services. This creates a "ripple effect" on other co-dependent sectors of the economy. All economies have a high degree of interdependence, the same with natural ecosystems. Economic "ecology" dictates that raising minimum wage for employers will affect many other parts of the economy, including, of course, the consumers, who will be paying higher prices.
Young Workers Hurt — Raising the minimum wage to $11 will force higher-skilled workers into lower-skilled jobs, depriving younger workers with less experience from such bottom-end jobs.
Automation — Employers will search for ways to automate processes currently done by human beings. This will boost productivity and lower costs in the long run, resulting in fewer job opportunities at the economy's lower end.
Pay Cuts for Others — The temptation will be for employers to lower the compensation of workers who are making more than $11 and hour. Many will receive pay cuts, unjustified except for the sole reason of balancing out the arbitrary $11-an-hour "price point" for low-skilled labor.
In general, it is "always" best to let market forces determine fair compensation. Ah, but the politicians in Massachusetts, who always know what's best for us better than we do, are incapable of strategic thought when it comes to public budgets.
Raising the minimum wage was a stupendously bad idea, and the Commonwealth's economy will pay for it. Like June as of midnight tonight, we should have kissed it goodbye
What do you think?
———————————————————————————
"Ah! Why wilt thou afright a feeble soul." — John Keats, "The Eve of St. Agnes," (1820)
"OPEN THE WINDOW, AUNT MILLIE."
LOVE TO ALL.