By DAN VALENTI
PLANET VALENTI News and Commentary
Part 3 of 4
(FORTRESS OF SOLITUDE, WEDNESDAY, AUG. 27, 2014) — One thing has never changed about the news game. Pay close attention, all you would-be investigative reporters out there (don't speak up all at once). THE PLANET is about to share the singlemost important piece of advice you will ever receive about enterprise journalism. It is a philosophical presumption you can and should make when going into even the most buttoned-down, lid-locked story. The presumption is this:
There are always people in the know, and almost always at least one of them will talk.
The "E" Revolution Has Changed the News Game
For every controversial issue, especially those involving law breaking and venality, there are always those who know what's going on behind closed doors. Of these, some won't like it. The internet, social media, e-mail and other electronic communications have made it easier than ever for these potential sources to actualize their involvement in clean government by telling what they know of the invariable double-dealing going on "in the name of The People."
That new electronic capability has been the big game-changer, but it's interesting how the local mainstream media acts as if it hasn't realized this sea change.
As the only true local outlet that is not compromised by commerciality and advertising, THE PLANET has been able to "go where no local media dares to go." As our coverage dared to look into matters left untouched by the mainstream media, our site has continued to grow.
The Experiment
The irony is that when we began THE PLANET nearly four years ago, we had nothing else in mind than to conduct an experiment. We started this site for several reasons:
1. It would become a daily writing exercise, like working out at the gym to stay in shape for the game. We had long been in the practice of filling notebooks with jottings and observations. With THE PLANET, we more-or-less formalized some of the journaling habit's output into a more public offshoot.
2. We wanted to write extensively for the relatively new medium of the Internet to see how it was different than writing for print. The differences are dramatic.
3. We wanted to see if we could post a new, daily story and keep it going for a year. At first, we thought this would mean commenting on events. Soon, however, as potential news sources began to discover we were the only game in town to reside in the rarified air well above the unprincipled, untrustworthy intersection of local politics and media advertising, they began coming to us. We didn't look for the news. The sources came a calling. This phenomenon has led to the addition of investigative work to our commentary over these four years, and counting today's post, 1,035 columns in 1,422 days — a publication rate of 73%.  This is an output unmatched in this area's modern journalistic history, the equivalent of 20 full-length novels over nearly four years primarily dealing with the public life of a once-proud city.
4. We wanted to see if we could start THE PLANET with zero exposure. THE PLANET didn't even send out a press release. We simply began writing, relying on word of mouth. Over time, the traffic increased.  Along the way, several stories help put us on the map, including our work in the Peter Moore-Meredith Nilan case, when we went to court to fight, and win, a battle against censorship that attracted nationwide attention. Also, the sheer number of exclusives and scoops we have posted has made THE PLANET the "go to" site.
5. As we continued to post daily, we altered our experiment. THE PLANET wanted to prove that becoming relevant in the local press didn't depend on capital investment. Rather, it depended on the quality of coverage.  For a generation now, as Pittsfield lost its manufacturing-based economy, too many major offices of public life have been taken over by what we collectively call The Suits — a relatively small handful of "Players" who have used their positions of importance and power not for the good of citizens but for "insider trading" to "take care" of a favored precious few. Our coverage has exposed some of this, proving there is relevance, and money to make, for any medium that consistently provides this type of content. We make no money off of THE PLANET., which we offer as a public service. Others who wish to make money, though, can do so with the model we have proven. All it takes is talent, determination, fearlessness, the backing of upper management, and a set of Big Ones to look behind the curtains The Suits insist must stay shut "for your own good."
To the Local Press: Give 'We The People' a Reason to Trust You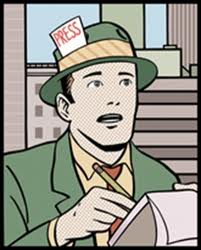 We won't promise to keep THE PLANET going for any haul — short, medium, or long. We have run the experiment and have proven our ideas. There are no more worlds in this particular sphere to conquer. One day, we will exit as we arrived, of a sudden. Be that as it may. Such is the life of the mind, ever on to the new challenge.
Until then, THE PLANET will keep on keeping on, excited but not hopeful for the day when a local medium takes our model and builds upon it.
Will anyone in the local mainstream media take up the challenge to own the community and make a fortune in the process?
The "platforms" of the news business have changed, but it still comes down to crusading. Citizens need to know they have someone in The Fourth Estate who will go to bat for The Little Guy.
——– 000 ——–
Tomorrow in our our finale, THE PLANET shares the inside story of a former Digital First employee who, as Howard Cosell would put it, "tells it like it is." You won't want to miss it.
——————————————————————————————
"Cause a man needs a woman to love him all the time." — Johnny Horton, "North to Alaska," theme song from the John Wayne film of the same name, (1960).
"OPEN THE WINDOW, AUNT MILLIE."
LOVE TO ALL.