By DAN VALENTI
PLANET VALENTI News and Commentary
(FORTRESS OF SOLITUDE, WEDNESDAY, MARCH 11, 2015) — The campaign season is scarce upon us with ever-growing speculation about the fate of the corner office. As you all know only too well, since January 2010  the mayor's office has been in the hands of a former Ward 6 councilor known for being a thorn in the side of Gerry Doyle and Jimmy Ruberto. Sara Hathaway got a break from the "6er" for being progeny of the same political tribe.
He first ran for mayor in 2009 and lost by 100 or so votes to a distracted Ruberto. He came back again in 2011, winning by 100 votes or so over Peter Marchetti. As mayor, he  forgot We The People and went back on his biggest campaign promise to be transparent. His version of transparency turned into the Dark Side of the Moon.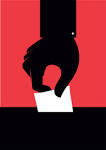 Now comes the question of 2015. Let's look at some of the names being tossed about, noting that there may be others not mentioned here who might later come into play. The designation "I" and "O" indicate "Insider" or "Outsider." Keep in mind that this is an early analysis wildly subject to amendment.
DAN BIANCHI (I) — He had his chance and blew it.
PETER MARCHETTI (I) — Will he run for mayor? No. If Marchetti is happy at the Co-Op and with life outside the ring, he should stay away. If he runs, it had better be on passion, something he didn't show in 2011.
MELISSA MAZZEO (I) — The scenario was given early on. (a) The current mayor would make 2013 his last campaign, having boosted his pension into the stratosphere, to go back full-time selling energy contracts. (b) He would anoint Melissa Mazzeo as his successor. (c) Mazzeo would run for mayor in 2015. (d) The present mayor would continue to run the office through Mazzeo. Only one problem in this, "the perfect murder." Mazzeo is unelectable as mayor. By aligning herself so closely with the mayor, she has lost credibility. For example, she was the only councilor vote who voted against sending a petition to the mayor asking that he withdraw his order reshuffling Public Services. Her blind loyalty to the mayor has come with a heavy political price.
KEVIN SHERMAN & MIKE WARD (I) — These two former councilors have growing families and wives that want their men around doing the Ward Cleaver thing. Odds of either guy make a run for mayor: Sherman, 1%; Ward .001%. But if the rumors pan out and General Dynamics pulls out of Pittsfield, that may change Ward's thinking.
JOHN KROL (I) — It would seem inevitable that at some point the telegenic Krol would take a shot at the corner office. Why would he stay on the council for this long? He too has a growing family. Why would he keep doing the thankless morning GMP show if not to keep his name and his mug before the people? And yet, why would he leave his marketing business if the business is thriving? Why would he become an absentee dad? It doesn't add up. THE PLANET says he doesn't run.
JONATHAN LOTHROP (I) — Forget it. He'd make a strong candidate but won't risk his state job.
MARY McGINNIS (O) — Part of the street talk is that the mayor's former director of administrative services would love nothing more than to rub his face in it. They did not leave on friendly terms. If the mayor doesn't run again, that can't happen. McGinnis, though, has political ambitions. She promised headlines with a formal complaint she filed against the mayor with the Attorney General's office. Nothing has come of it.  What's that saying about "a woman scorned?"

CRAIG GAETANI (O) — The Water Wizard has upped his profile considerably in the past year. He was part of the Milos Krofta-Dr. Lawrence K. Wang design team that built Pittsfield's two water plants. Gaetani has a brusque, direct manner that cuts to the chase, consequences be damned. He's reported to be independently wealthy, so money wouldn't be a factor in a run for office. Observers say Gaetani is not electable, but who knows how riled voters will be later this year, after the FY16 budget and the Done Deal for Taconic High (about $150 million apiece, total $300 million) send them closer to financial ruin? Gaetani would be fun to watch on the campaign trail.
DONNA WALTO (O) — An intriguing name. She has run a couple of times for mayor, each campaign being of the token variety: No money, little organization. If Walto commits again and can organize and raise enough dough, she might surprise a lot of folks. Her brother Kenny is town manager in Dalton and a good one, and public service is in her lineage. She has refreshing ideas and the wide, strategic perspective only an outsider can have.
TERRY KINNAS (O) — This Supercitizen and former school committee member is dogged in his preparation, and no one researches policy better than he save the redoubtable Ken Ramsdell. A Kinnas bid has moved out of the "long shot" category but still hasn't entered the land of "likely." Prediction: If the present mayor runs again, Kinnas is in for sure.
JOHN BARRETT (I-O) — THE PLANET added der Wunderbarret's name here as a "test balloon" to judge the reaction. Wouldn't you just love it, though, simply to see what would happen?
——– 000 ——–
Nomination papers become available May 1. Between now and then, a lot of jockeying will occur. The important factor will be turnout. If the city gets the usual apathy, The Suits will win again and within five Pittsfield shall be in receivership. If, however, there is a strong turnout, all bets are off. New voters shall break overwhelmingly to "anyone but."
——————————————————————————————–
"Hey bugaloo, I really love you. Look what you've done to my head. / You take all my wine. You take all my time. But most of all you take all my bread." — Steve Marriott and Humble Pie, "Do You Get the Message,' from the Smokin' album, (1972).
"OPEN THE WINDOW, AUNT MILLIE."
LOVE TO ALL.