BY DAN VALENTI
PLANET VALENTI NEWS AND COMMENTARY
(FORTRESS OF SOLITUDE, TUESDAy, DEC. 15, 2015) — Tonight from 6 p.m. to 8 p.m. in the second floor conference room at The Berkshire Athenaeum in Pittsfield, the troubled agency Community ReStart has scheduled a meeting to announce yet another reorganization. The agency also plans to "honor" its former executive director, Paul Delaureiers who [PICK ONE] (a) left under cloudy circumstances … (b) was fired by the agency's board of directors … (c) after leaving the agency under unexplained circumstances signed a confidentiality agreement whose contents have rumors flying … (d) did the greatest job in the history of executive directors.
More Pieces to the Puzzle
To familiarize yourself with the controversy, you might want to go back and read yesterday's column on THE PLANET. Today, we share more pieces of a puzzle that has yet to form a clear picture.
* It is being alleged that Deslauriers and Jim Conroy, presumably the agency's property manager, "are asking for donations even though it has been confirmed that Paul has been fired." If he has been fired, why is ReStart "honoring" him at a ceremony tonight?
* According to Kathy Lloyd, community activist and city council candidate in November, a search of the Federal Employee Identification Number (FEIN 27-046112) and the state's AG's status number (051431) produces "find no financial filings for the agency, ever." FEIN is also known as a government Tax ID and can be used as an employer identification number.
* Lloyd says a tenant at Barbara's Place, one of the transitional housing units run by ReStart, allegedly has been evicted to provide Deslauriers with a rent-free apartment.
* Lloyd says she contacted the agency Saturday via e-mail and Facebook messenger. Lloyd asked the agency about the rumors. She says FB notified her that the agency received her message but never responded. Shorty after, the agency blocked her on Facebook. "I expected a difficult conversation, because this is hard stuff, but I did not expect to be shut off completely."
* It turns out that the agency deleted its entire Facebook page, not just Kathy Lloyd. Yesterday, we tried to visit ReStart's website. It was shut down. The day before it had been working.
* In a comment on a Facebook discussion of the problems at ReStart, Joe Durwin, who has been active  working on behalf of the poor, homeless, and others in need, called Deslauriers a "[k]known fraud, liar and degenerate." Deslauriers did not respond to requests for comments.
Related Documents Add to Puzzle
— Here is the program manual and agreement under which the tenants of Faulkner Place began renting this year. It refers to affordable housing rates, not market-rate housing. HsgProg Manual
— Here's the letter 11 residents at Faulkner Place received on Nov. 20. It still refers to an affordable housing "program" and the fees due to the agency, though Durwin says there has been no evidence that any "program" aside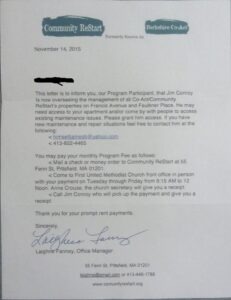 from a straight market rental has ever existed at Faulkner Place. Even though tenants at Faulkner Place are paying market rents, allegedly they have been accorded no legal tenant rights. Durwin says when they are evicted or relocated to other living space, they are referred to as "program recipients."
— Here's a note  Jim Conroy left on a tenant's door. Observe the cold, impersonal tone and the overall sloppiness and lack of professionalism.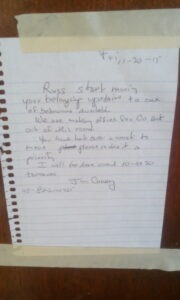 Note also how the tenant — the "program recipient" — is being arbitrarily asked to move to a smaller third floor room. Durwin says the tenant recently had undergone major surgery on his leg and was until recently on crutches.
——– 000 ——–
If you want to ask some hard questions first hand, show up at the agency's meeting tonight. Perhaps they will have good answers, and we will find out this has been a giant misunderstanding and that all is well and on the up-and-up.
Or not. Then what happens?
————————————————————————————————-
"I feel the coming glory of the Light." — E. A. Robinson, final line of "Credo," (1897).
"OPEN THE WINDOW, AUNT MILLIE."
LOVE TO ALL.
The views expressed in any comment section are not those of PLANET VALENTI or endorsed in any way by PLANET VALENTI; this website reserves the right to remove any comment which violates its Rules of Conduct, and it is not liable for the consequences of any posted comment as provided in Section 230 of the Communications Decency Act and PLANET VALENTI's terms of service.
FIN