BY DAN VALENTI
PLANET VALENTI NEWS AND COMMENTARY
(FORTRESS OF SOLITUDE, THURSDAY, JAN. 28, 2016) — THE PLANET "gets" the candidacy of Donald Trump? Let us explain why The Donald has taken this presidential campaign season by storm — and we mean storm.
TRUMP #1 — "That Individual"
As Steven Colbert revealed during his recent interview with Trump, GOP bosses want Trump to vanish. He's a flamethrower without party allegiance. Trump's all about Trump. He is the only candidate for either side who is running as himself. Whenever the Fat Cats get nervous about a candidate, there's reason for We the People to examine more closely and with greater attention. As for the party elders, you know what kind of flying leap they may take out the window.
TRUMP #2 — Politically Incorrect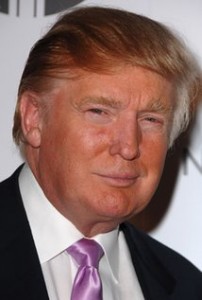 Trump tells it the way he sees it. How refreshing to see in a politician at that level. The electorate deserves candidates and office holders who bare their unscripted views. Trump alone has done that. Every other candidate running for president plays it safe, using lots of hollow, safe, scripted words to say nothing. Not Trump. Other candidate campaign in sound bites and bumper stickers. Trump campaigns in stream-of-conscious monologues.
TRUMP #3 — Populism
Donald Trump has dared to do what no viable American politician has dared since Eugene McCarthy in 1968, which is to articulate a vision for the nation that captures the tone, timbre, and temper of the times. Ordinary, hard-working members of the shrinking middle class recognize when a voice cries from the political wilderness, gives the finger to the mainstream politicians, and gives form to its frustrations and verbalizations to its hopes.
TRUMP #4 — Practicality and Pragmatism
THE PLANET admires the way Trump deals with issues without ambiguity or cuteness. Case in point: His call to for a temporary ban on Muslims entering the country. The mainstream media and the tired hacks from mainstream parties branded Trump's call as a mean-spirited, profiling insult to Islam. True, the move would blanket all Muslims with the taint of suspected ill-intent. Remember, though, that Trump's extreme position exists within a context of global terrorism, instances of which we have all-too-recently witnessed. How is Trump's call different from the "guilty until proven innocent" verdict placed on all Americans each time we wish to fly, to enter a stadium, or watch the skaters at Rockefeller Center?
TRUMP #5 — Money Matters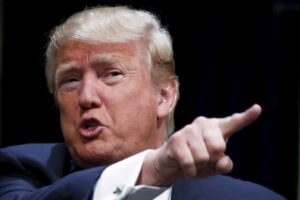 The Donald knows money. Trump's critics love to bring up his multiple trips to federal bankruptcy court.  Filing for Chapter 11 bankruptcy can be a great business strategy when operating with leveraged money. That being said, the four Trump bankruptcies (the Trump Taj Mahal, 1991; Trump Plaza Hotel, 1992; Trump Hotels and Casinos Resorts, 2004; and Trump Entertainment Resorts, 2009) resulted from enterprises in which Trump invested and licensed his name. These four instances "were not defining moments for Trump and shouldn't color our view of him" (Adam Levine, law professor at Georgetown University). Trump had little control over the management of these investments, three of four of which involved casinos. Trump knows how to manage debt, a great qualification for someone who wants to head a country drowning in $18 trillion of red ink.
TRUMP #6 — The Alpha Male
Trump's the Alpha Male most people want at the top, secretly or otherwise. The Alpha Male is a born leader. He keeps the pack together. He provides for the pack. He leads. He's comfortable with who he is. For him, failure is an individual vision, the learning key to success. He's self-disciplined and driven to succeed. He has un-ambivalent views, believes in them, and unequivocally expresses them. The Alpha Male solves problems, believes in progress, owns faults and virtues, and is optimistic. He inspires men. He fascinates women: "He is not chosen by women. He chooses women" (traitsofthealphamale.com).
Practice saying it: "President Trump."
—————————————————————————————————-
"Hey, you musclebound porcupine, go get me that board!" — More Howard to Larry Fine, (whenever).
"OPEN THE WINDOW, AUNT MILLIE."
LOVE TO ALL.
The views expressed in the comment section or opinions published within the text other than those of PLANET VALENTI are not those of PLANET VALENTI or endorsed in any way by PLANET VALENTI; this website reserves the right to remove any comment which violates its Rules of Conduct, and it is not liable for the consequences of any posted comment as provided in Section 230 of the Communications Decency Act and PLANET VALENTI's terms of service.