BY DAN VALENTI
PLANET VALENTI NEWS AND COMMENTARY
ED NOTE: Be sure to check in with THE PLANET tomorrow. You'll be the first to read about a tax hike of 400% to 600% the city of Pittsfield wants to impose on businesses and homeowners. They are trying to sneak this one through without fanfare. Rest assured, however. THE PLANET will be there to let the world know about it. 
And thank you to those who have responded by purchasing copies of Paul Kocak's great memoir, CHASING WILLIE MAYS. This book will be in line for some major literary prizes later this year. It's a great read, and it makes a great gift for fans of memoir, biography, autobiography, baseball, and Americana.
On another matter, Supercitizen Terry Kinnas and THE PLANET had one of our best hours of television yet. PLANET VALENTI TELEVISION can be seen on PCTV Channel 16, Time Warner Cable, 6:30 p.m. Tuesday, 6:30 a.m. Wednesday, 12:30 p.m. Thursday, and 12:30 a.m. Monday.
Finally, be sure to get your copy of The Berkshire Courier tomorrow, when the new copy of Pittsfield's finest weekly hits the stands. It will have our newest fire-breathing column in it. 
———- 0000 ———-
(FORTRESS OF SOLITUDE, TUESDAY FEB. 21, 2017) — One of the most recent book projects THE PLANET undertook was our role in a magnificent new memoir by Paul Kocak. a book titled CHASING WILLIE MAYS: Chronicles of a Fan Left Behind. If this title doesn't win a major award in 2017, then Otis Campbell didn't have a drinking problem.
We edited the manuscript and thorough Europolis Management, worked in conjunction with Creators Publishing of Hermosa Beach, Calif., and our own Planet Media Books to bring this important work to the market. The book is now available, and later in this column you'll find ordering information.
First, though, here's a what's what about CHASING WILLIE MAYS: Chronicles of a Fan Left Behind
By Paul Kocak (from the press release):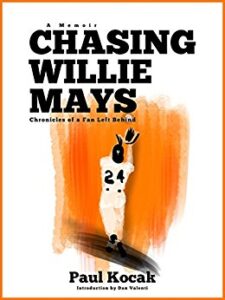 What if your hero is forced to abandon you and you can't let go?
Spanning a baseball fan's life, this memoir explores hero worship, coming of age, and obsession. Paul Kocak grew up as a New York Giants fan in baseball's golden age. When the boy's team moved to San Francisco, he became a fan in exile. We relive backyard fantasies playing Wiffle Ball and Hitting Them Out. We learn of a heart-breaking teenage drowning of the narrator's neighbor. The chronicle's time line coincides with the assassination of JFK, Cuban Missile Crisis and the Vietnam War. He encounters Hall of Famer Willie McCovey, former Cy Young winner Vida Blue — and Willie Mays. With a subtext of addiction and recovery, Chasing Willie Mays travels coast-to-coast and into the soul with grace, insight, and humor.
"Paul Kocak captures what it was like to grow up as a baseball fan in Stamford, Connecticut, our hometown. Along the way, he recalls a golden era of New York baseball."—Bobby Valentine, former manager of the New York Mets and Boston Red Sox
Print ($14.99) ISBN: 978-1-945630-31-6 E-book ($9.99) ISBN: 978-1-945630-30-9.
Chasing Willie Mays is available for purchase at: Amazon, Google play, and Nook. Locally, you can purchase signed copies at The Red Lion Inn gift shop.
——– 000 ——–
Paul Kocak is the author of Baseball's Starry Night, which Pulitzer Prize-winning historian Doris Kearns Goodwin called "a magical book about a magical night." Born in Stamford, Connecticut, he lives in Syracuse, NY. This is his seventh book.
——– 000 ——–
From Dan Valenti's introduction:
"All memoirs and autobiographies suffer from a form of aphasia. As a writer attempts to tackle his or her own story, the use of words to convey what that life was actually like fall short, as in no other form of historical prose. Unlike the historian, the memoirist and autobiographer uniquely know what happened from the inside out and soon realize the story can't be told in full — or not even close. The complete and honest memoir? Impossible. Words fail to suffice, experiences overwhelm, and too much of daily living's endless cascade and repetition confuse the essential information, leading the writer to a series of less-than-ideal choices: the "probably this goes in," the "should I include this?" and the "No way does that belong!" To add sea water to the sliver, these choices aren't easy.
"As Nietzsche deftly observed, the one book that no writer has ever written and will never write is the totally honest autobiography or memoir. Consequently, the writer of these two unforgiving rhetorical forms must leave out many aspects of Truth, even the glorious and glorious moments. Can you imagine, then, the wicked but irresistible impulse to expunge when one's shortcomings must be confronted? What does the diarist do? Typically, he leaves out the embarrassments and failures, spins them, wildly exaggerates or understates, or outright lies. All are forms of massaging, a clever and time-honored way to add distortion to the landscape of one's life as presented to the dreaded Others. When done artfully, though, the disfiguration isn't noticed.
"The memoirist has the essential problem of space: How can life — a life, my life — be captured in a few hundred pages? A few thousand? It can't be done, and so when a writer as meticulous as Paul Kocak reaches past wall-to-wall autobiography into selective memoir, he cuts to the chase. Being unable to tell you everything, he tells you what matters — to him. That's all we see and all we need to see.
The collage Kocak composes in this remembrance consists of family, friends, the 1950s, a love of baseball, the New York-then-San Francisco Giants, and Willie Mays. In looking at these people, places, and things, Kocak shares them with us, the readers. That is his giving. Moreover, in the act of doing this, one senses the author always trying to reach an understanding of himself. Besides ego, isn't that the reason writers share their innermost lives? That kind of voyeuristic element has long kept this narrative form so popular with readers. Only Paul will know for sure if these pages led to some self-enlightenment, a catharsis, or a greater and more therapeutic understanding of his life. As a reader of this manuscript and as one who offered many editorial suggestions, I sense he has done that for himself. That is his receiving, an illumination that has to produce a measure of self-satisfaction and fulfillment."
This book makes a great gift for any reader, especially those who enjoy memoirs, biography, autobiography, baseball, Americana, and the archeology of the 1950s through 1980s.
---
Chasing Willie Mays is available for purchase at: Amazon, Google play, and Nook. Locally, you can purchase signed copies at The Red Lion Inn gift shop. BUY YOUR COPY TODAY!

---
—————————————————————————————–
"An idealist is one who, on noticing that a rose smells better than a cabbage, concludes that it makes a better soup." — H. L. Mencken
"OPEN THE WINDOW, AUNT MILLIE."
LOVE TO ALL.
The views expressed in the comment section or opinions published within the text other than those of PLANET VALENTI are not those of PLANET VALENTI or endorsed in any way by PLANET VALENTI. This website reserves the right to remove any comment that violates its Rules of Conduct, and it is not liable for the consequences of any posted comment, written word, or information from any source other than PLANET VALENTI as provided in Section 230 of the Communications Decency Act and PLANET VALENTI's terms of service. All users of the services of PLANET VALENTI agree to these conditions by virtue of this notice.