BY DAN VALENTI
PLANET VALENTI NEWS AND COMMENTARY
(FORTRESS OF SOLITUDE, WEDNESDAY APRIL 22, 2020) — THE PLANET begins with two announcements, both involving masks. One mask is for virus protection. The other hides a criminal.
ANNOUNCEMENT 1 — If you or anyone you know needs protective masks, we know a young woman who makes them, and expertly, complete with filters ($10) or without ($7). She recently lost her job, and instead of moping, she took initiative. Sarah remembered her mom had sewing machines and asked her mom for lessons.
She experimented with prototypes and now has the manufacturing nailed, making masks that are not only functional but beautiful, almost works of art. If you can use a mask, she can use the help. If you want one or more, send your order to THE PLANET privately at danvalenti@verizon.net. Include your name and address. We shall forward the info to Sarah and step out of the way as you complete your transaction with her.
ANNOUNCEMENT 2 — On April 29, a masked, white or Hispanic man, 5'9" about 155 pounds entered Big Y Express on West street, demanded money, and made off with a bunch. Police have released photos and have asked for your help in identifying and nabbing him.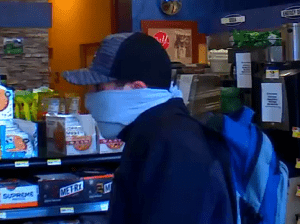 Anyone who may have information about this incident is asked to contact Lt. John Soules at 413-448-9700 x599.  Information can also be provided anonymously via the Detective Bureau Tip Line at 413-448-9706, or by texting PITTIP and your message to TIP411 (847411).
And now to the business at hand.
We recently received two inquiries wanting to know (1) Why we call mayor Linda Tyer "Mayor CRAYOLA-19" and (2) Why we don't we "get behind" the mayor "for her leadership role in aggressively responding" to the pandemic.
Fair questions, even as "sets ups, and both related.
Tyler became "Mayor CRAYOLA" (second reference drops the "19") for one of the first executive actions she took in response to the virus. She asked children and adults to get coloring books, grab the Crayolas, color pictures, and send them to city hall.
THE PLANET wishes we were kidding. That's what this overwhelmed "leader" did. Her subsequent action weren't much better and in some ways worse because they were meant to be taken seriously. As a titular photo-opper, the mayor would have ben well suited for office. When the kitchen heated up, however, she wilted.
The nicknames with which we brand some public figures convey connotations that the proper name fails to elicit. Some contain admiration, for example, The Aging Greek God and The Man from Mensa. Others (Kufflinks, P.P. Jell-O, et. al.) convey an amalgam of disdainful attitudes a single word cannot express, except for the word "satire." This blanket word — a biting form of humor meant to expose vice or foolishness, particularly in bureaucracy or officiousness — includes ridicule stemming from exasperation and contempt derived from futility. Think of the sneer of a man unjustly facing a firing squad. You feel for the guy and want to express contempt for the offices that have wronged him.
That's how it is now for Mary Jane and Joe Kapanski. Even before COVID-19, their "representatives" regularly hosed them into silence, submission, and near-bankruptcy through a combination of over-taxation and under-service. The virus has tied The Kapanskis to the post. The mayor and her "well-meaning" supporters and supplicants have loaded the rifles. God save us from political "do-gooders" who know what's bet for us.
Politicians such as Tyer, Kerwood, Marchetti, and the rest practically beg for satire by virtue of their disregard for aptitude and their love of self-service — what THE PLANET calls the ineptitude of selfishness. That's what the allure of office and the nature of power does to so many. It finds and brings to the surface character flaws.
As to the second question, THE PLANET doesn't "get behind" any political person, party, or cause. We cover them. We take the 30,000-foot view of what they say and do then provide accountability. Our columns are facutally based, opinion driven, and never personal. Officials earn our respect by their actions.
Fact is, the mayor took no leadership role in this crisis. She hid. It took a tongue lashing from Gov. Baker to make a token appearance at a now much-ridiculed press conference. Since then, the mayor has not held one live, in-person briefing, particularly where she might be asked questions from the press. She has requested and/or spent hundreds of thousands of dollars from "free cash" without sharing suitable accounting safeguards. She has continued to duck THE PLANET, the only honest media game in town.
Tyer, Tom Shakshaug, Marchetti, and the other bobos in the kitchen cabinet don't like hearing "discouraging words." They'd rather rewrite the lyrics to "Home, Home on the Range." That's when you know you've hit a nerve.
THE PLANET gave Dan Bianchi a rough ride when we felt he had it coming, but, knowing Dan'l for almost two generations, we can tell you one thing for sure: He would have risen to the occasion in a manner far more reasonable, responsible, and caring than the current Administration. He would have Led.
————————————————————————
"You only live once, but if you do it right, once is enough" — Mae West.
"OPEN THE WINDOW, AUNT MILLIE."
LOVE TO ALL.
The views and opinions expressed in the comment section or in the text other than those of PLANET VALENTI are not necessarily endorsed by the operators of this website. PLANET VALENTI assumes no responsibility for such views and opinions, and it reserves the right to remove or edit any comment, including but not limited to those that violate the website's Rules of Conduct and its editorial policies. PLANET VALENTI shall not be held responsible for the consequences that may result from any posted comment or outside opinion or commentary as provided in Section 230 of the Communications Decency Act and this website's terms of service. All users of this website — including readers, commentators, contributors, or anyone else making use of its information, hereby agree to these conditions by virtue of this notice. When PLANET VALENTI ends with the words "The Usual Disclaimer," that phrase shall be understood to refer to the full text of this disclaimer. Copyright (c) 2020 by Dan Valenti.