BY DAN VALENTI
PLANET VALENTI NEWS AND COMMENTARY
(FORTRESS OF SOLITUDE LU, THE WEEKEND EDITION SEPT. 4-6, 2020) — THE PLANET was saddened to learn of the death at a too-young 75 of Hall of Fame pitcher Tom Seaver. I had the fortune to meet Tom Terrific when he came to the Red Sox in a June 1986 trade. Seaver became the first active 300-game winner to take the mound for Boston since Lefty Grove.
THE PLANET was in the middle of a decade-long run making a living off MLB (books and broadcasting), publishing with Viking Penguin and working indirectly with the Red Sox radio network via Voice of the Sox, Ken Coleman. It was still baseball then, before insane money and greed ruined the game.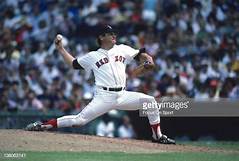 Seaver made 16 starts for the Sox, going six or more innings 12 times, including a 9-inning complete game 9-1 win over Detroit, 9 strikeouts and one walk. He hurt his knee in September and never returned to the lineup, although he worked like a demon to get in shape for the team's deep playoff run.
I got to know Seaver one sunny afternoon in the Boston bullpen at Fenway Park. Tom was in the middle of a bullpen session with Walt Hriniak, testing his injured knee. I arrived  in the clubhouse getting ready for some radio interviews, when I heard Hriniak's mitt popping out in right field. I walked out and watched the session, which was about 10 pitches from ending. After it ended, Tom thanked Walt, put a towel around his neck, and sat down next to me on the bullpen bench. He couldn't have been more affable.
We talked about the mechanics of pitching. He was trying to find his "release point." He then asked me if I played ball. Lots of sandlot, LL, and BRL. When I told him I played outfield and pitched, he asked me to throw a few to Hriniak. After a few pitches, he said he liked my motion. He then told me about the importance of the "push-off" leg — as a lefty, my left leg. He positioned me on the left side of the pitching rubber and told me to use it like the starter's block that runners use at the start of a foot race. It made a noticeable difference. He joked and said he would recommend that GM Lou Gorman sign me as the "1/3 lefty out of the pen."
The rest of our time was spent with small talk. As we walked back to the clubhouse, he said he never took for granted the luck he had in making the majors, giving thanks every day. That's how I remember Tom Seaver: a positive, grateful human being — a mensch first, a great pitcher second.
Godspeed, Tom Terrific.
———- ooo ———-
Today, MLB continues to embarrass itself. I no longer follow any of it. They can keep their big money, disabled lists, and bratty bitching in a 60-game joke of a season. In the NFL, we're seeing a different scenario. The league has done an amazing job with protocol to keep players and staff safe during the pandemic, and it looks like fans might be treated a complete season of America's TRUE game.
One of the most interesting developments of the weird off-season was Tom Brady going to the Tampa Bay Bucs, with former league MVP Cam Newton heading to Foxboro, where he will likely be named starting QB by coach Bill Belichick. Bucaneers coach Bruce Arians made news recently with his comments on the "social protests" of athletes:
"Brett Favre played the (Monday Night Football) game the day his dad died, threw 4 TDs in the first half, and was a legend for playing in the face of adversity," Urlacher posted in an Instagram story. "NBA players boycott the playoffs because a dude reaching for a knife, wanted on a felony sexual assault warrant, was shot by police."
On Thursday, Arians told reporters after practice that he held a team meeting in which he challenged players to commit to actions beyond protesting when addressing social issues like racial inequality. One quote in particular from Arians would later make its way to many headlines:
"Protesting doesn't do crap in my opinion. I've been seeing it since 1968."
The comment was part of a larger quote in which he said "I don't know that protest is an action," and that he would beg players "to take action, find a cause and either support it financially or do something to change the situation."
Have a great weekend, everybody.
——————————————————————————————————-
"Many people take no care of their money until they come nearly to the end of it, and others do just the same with their time" — Johann Wolfgang Von Goethe.
"OPEN THE WINDOW, AUNT MILLIE."
LOVE TO ALL.
The views and opinions expressed in the comment section or in the text other than those of PLANET VALENTI are not necessarily endorsed by the operators of this website. PLANET VALENTI assumes no responsibility for such views and opinions, and it reserves the right to remove or edit any comment, including but not limited to those that violate the website's Rules of Conduct and its editorial policies. PLANET VALENTI shall not be held responsible for the consequences that may result from any posted comment or outside opinion or commentary as provided in Section 230 of the Communications Decency Act and this website's terms of service. All users of this website — including readers, commentators, contributors, or anyone else making use of its information, hereby agree to these conditions by virtue of this notice. When PLANET VALENTI ends with the words "The Usual Disclaimer," that phrase shall be understood to refer to the full text of this disclaimer. Copyright (c) 2020 by Dan Valenti.