BY DAN VALENTI
PLANET VALENTI NEWS AND COMMENTARY
ADD 1 — This just in from the Pittsfield Police.
Juvenile firearms Offenses 06-30-21
First of Two Parts
(FORTRESS OF SOLITUDE, WEDNESDAY JUNE 30, 2021) — It's hard enough to say good bye to June, and THE PLANET doesn't mean June Osborn, who should have been on the wall in the first season of TV's  The Handmaid's Tale.
That said, we never want to be forced into saying goodbye to our wetlands and woodlands in Berkshire County. These rural enchantments are the Berkshires, not development and not needless projects that cater to a tiny minority.
Cut to the chase: Tomorrow night there's an informational walk-through-then meeting concerning Springside Park and the proposed mountain bike track that threatens to rip the heart out of this serene and unperturbed sanctuary. Make no mistake and don't be fooled by the Bike Mafia's slick presentations as they try to bamboozle elected officials and, once more, screw Mary Jane and Joe Kapanski.
The Bike Mafia, led by "200 Hours Russo," has already wrecked downtown North Street. Don't let them do the same at Springside Park.
———- ooo ———-
WHO: Friends of Springside Park
WHAT: Walk-through at Springside Park followed by meeting.
WHEN/WHERE: Walk-through 5:30 p.m. … Meeting 7 p.m., Pittsfield Library … Thursday July 1 (tomorrow).
WHY: To preserve both natural beauty and civic sanity.
———- ooo ———-
Here is a message sent out by the founders of the Friends of Springside Park, Royal Hartigan and Elizabeth Kulas:
We are looking for people who will support our efforts to save Springside Park, a beautiful, unique, 237-acre park that has a diversity of flora, fauna, and terrain, unusual for a park of its size, especially in the midst of our city of Pittsfield, Mass.
There has been a concerted effort by the bike industry, bike associations (IMBA and NEMBA), some local officials, and local bike advocates to invade the park with trails and pump tracks and make it "mountain bike central" for the northeastern u.s. and even the entire country.
The current issue is about springside park and its gift to us as a natural place for all people for over a century. The issue is not about mountain biking, which is legitimate in an appropriate setting, but not at Springside. Despite statements to the contrary, we believe that the mountain biking goal is to take over the entire park.
Please consider coming to the walk-through at the park this Thursday, July 1, 2021 at 5:30 pm, and  the commission meeting at 7 pm at the library. You are encouraged to voice your support for keeping Springside a natural open space for all people, and not for a restricted single interest few.
———- ooo ———-
Here are two informational packets on Springside Park.
Parks Commission Sub 7-1-21 E Kulas 4.
Parks Commission Sub 7-1-21 E Kulas 3
Each contains some fabulous information on the park, most of which will be news to many of our readers.
As you may recall, THE PLANET  first got on this story in our May 19 edition. The saga has legs, as they say in the business. We certainly hope it doesn't have wheels.
The bike lobbyists are trying to cower cowardly politicians into producing a triumph for their outside lobby, one that will continue the destruction of the city gem that once was, still partially is, and can fully again be an oasis from the myths and madness occurring daily in the city we love. Now more than ever, we need the sanity provided by places such as Ice Glen, Canoe Meadows, and Springside Park.
The Bike Mafia has raised thousands of dollars to build a hiphop trick-track for a new breed of bikers. These pedalers want to show off their pointless skills with ramps and obstacles. Apparently, judging by their proposal, they have little concern for what and who they destroy in the process of their indulgent, "look at me!" satisfaction.
———- ooo ———-
By far the most important aspect of the Friends of Springside Park's message above is the warning on the ultimate plans of the bikers.
Read it again: "Despite statements to the contrary, we believe that the mountain biking goal is to take over the entire park."
If there is even the remotest possibility of this happening, then the current plan of NEMBA (New England Mountain Bike Association) needs to be squashed. Actually, from what we gather, that possibility is not remote. More like a probability if nothing is done to stop it. As Deputy Barney Fife used to say, "Ange, ya gotta nip it in the bud!"
NEMBA intends to raise $400,000 for phase one of this installation and is actively hitting up for donations. They have even announced the company that will build the facility, Powder Horn from Colorado.
What's actually going on here? And who, if anyone, will secretly profit from a needless project that will destroy so much of the park? These points require a full vetting, given the fact that the NEMBA's Berkshire Chapter has nine, count 'em, nine mountain bike tracks in its jurisdiction. That's plenty of space to pedal one's ass.
———- ooo ———-
Powder Horn has this on its website:
🚨WE NEED YOUR HELP WESTERN MASS!!🚨
Powder Horn Trail Co., in association with @progressivebikeramps and @velosolutions has been commissioned to create New England's newest and largest municipal bike park!! This 3-acre facility at Springside Park in Pittsfield, MA would contain a world-champs eligible pump track, multiple skills courses, flow zone, and dual slalom training course!!
This project is currently under review by the City of Pittsfield Parks Commission, and there are some members of the public who have voiced their opposition. We need YOU to step up, spread the word, and voice your support by emailing the Parks and Rec. clerk at rmanship@cityofpittsfield.org.
With your help, we can make this dream MTB facility a free and amazing reality for all!!!! ⚡️
#
ThisIsPowderHorn
Yeah, and this is also Powder Horn and what they did to a mountainside in Killington, VT: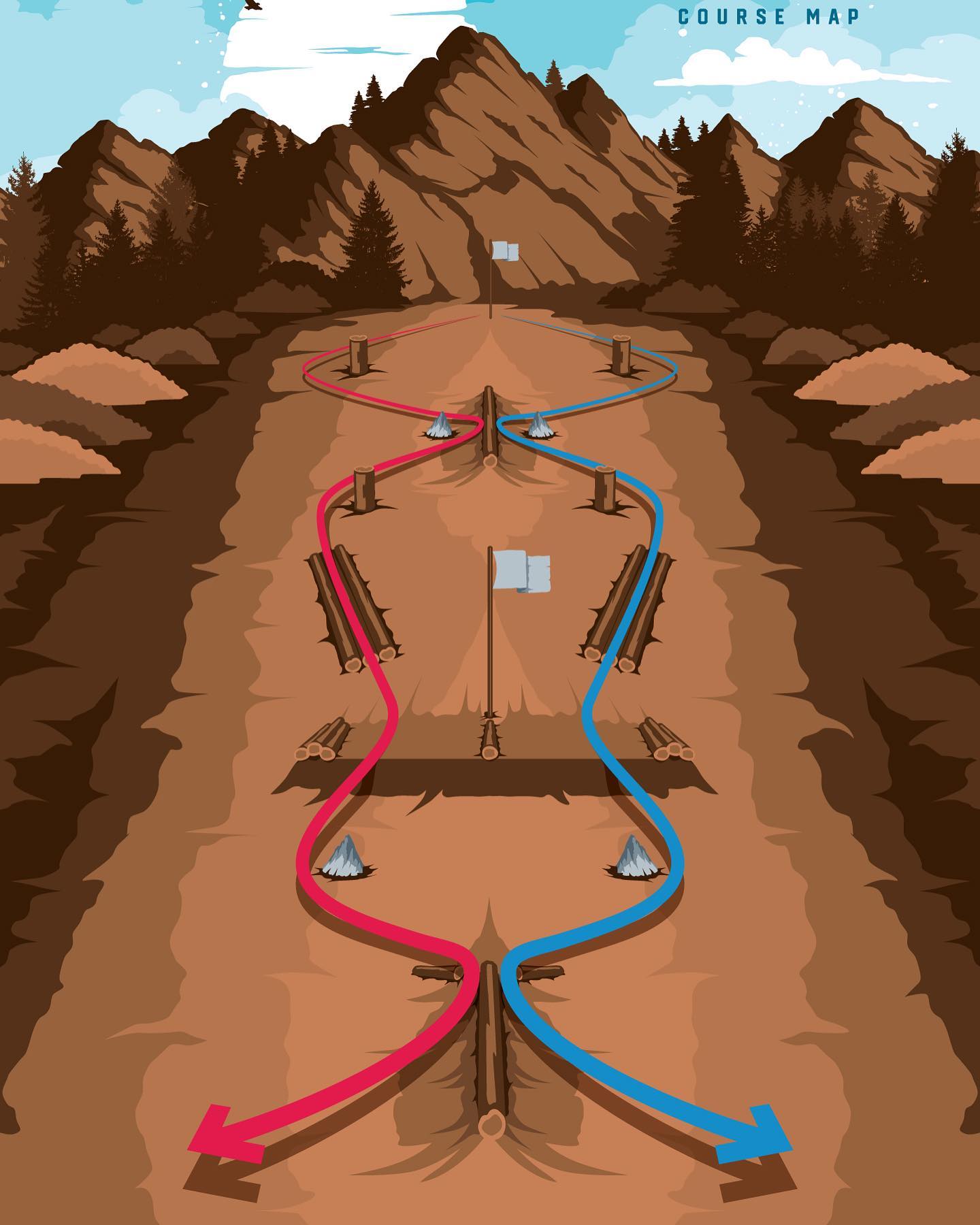 ———- ooo ———-
Already, we have discrepancies.
Discrepancy 1 — Local advocates favoring this desecration of Springside call it a one-acre park. Power Horn says three. Which is it?
Discrepancy 2 — Notice that on the NEMBA website, Alison McGee, president of the Berkshire Chapter, calls Springside Park "the approved location." THE PLANET to McGee: Nothing has been approved. You are either misinformed, or you are lying. We don't see a third possibility. If there is one, we'd love to hear it.
Discrepancy 3 — Power Horn calls this future monstrosity "New England's … largest municipal bike park." McGee calls it "medium -scale." Size matters.
———- ooo ———-
Here's McGee's propaganda from her website:
BERKSHIRE NEMBA'S NEWEST PROJECT! BERKSHIRE BIKE SKILLS PARK!
This project is to construct the first professionally built bike skills park in the Western Massachusetts area. The 1+ acre park will include a paved pump track, youth area, jump line, cross country trail, and possibly a dual slalom in order to creatively enhance outdoor recreation in the region.
Springside Park, the approved location, is the city of Pittsfield's largest park. Although it has beautiful woods and some trails, the park is currently in disrepair and underused. There is a history of negative activity/crime within it and it abuts one of the city's low-income neighborhoods (walking distance from both a middle school and elementary school). Enhancing the park would open up healthy, safe possibilities for the residents–and youth in particular–of these neighborhoods as it is accessible without car, of high interest, and would be safe and well-constructed. With the addition of the bike park, local bike advocacy groups and programs will be able to increase their events and activities to bring positive recreation events to the community.
Springside Park is already the location of a free weekly mountain bike race series, a girls mountain bike summer camp program (Little Bellas), a practice location for the local NEHSCA youth mountain bike team, and has potential for much more activities linked with the schools and community, especially with more infrastructure in place such as the bike skills park and access enhancements (road and parking, which are proposed to be addressed as part of this project).
There is a very strong community of bike riders in the area and many people visit from surrounding states to ride trails and local downhill park options. The Bike Skills Park will add an additional attraction for people who are familiar with the area and will help bring even more recreation economy support to the region.
In the News:
11/20/2020 iBerkshires- Park Commission Approval
12/4/2020 – Berkshire Eagle – More Pump Track Details
1/8/2021 – iBerkshires – Commission OKs Location
Project Contact: Alison McGee, President of Berkshire NEMBA Chapter
Berkshire Bike Skills Park Facebook Page
Project Overview:
A medium-scale bike skills park, spanning approximately 1 acre and including a pump track and other features designed to grow bike handling skills of riders of all ages. This park would be of a size to draw visiting riders from a wide radius as well as secure and enhance the riding community that already exists in the Berkshires. It would provide an extremely fun, yet safe, recreation option for everyone from toddlers on strider bikes, to BMX riders, to mountain, cyclocross, and road riders, to pro and expert bikers. Materials would be a mix of natural dirt, constructed obstacles, and paved tracks, all integrated with the style and environment of the surrounding park. This is being organized by Berkshire NEMBA, Berkshire Mountain Bike
Did you get her reference to "more recreation economy to support the region." There you have it: Another dreaded "economic engine." Every time Pittsfield gets another one touted by The Suits, taxpayers lose money and private interests benefit.
———- ooo ———-
Finally, you can bet the advocates will have their shills attending the Friends' walk-through and meeting. THE PLANET asks that anyone who wishes to preserve Springside Park from further destruction and humiliation (home for the "houseless," anyone?) to attend.
Finally, to Alison McGee: The next time you go to hop on your bike, may the seat is missing.
——————————————————————————
"What is a man to do who has tasted how sweet is philosophy and known the folly of the multitude?" — Plato, The Republic.
"OPEN THE WINDOW, AUNT MILLIE."
LOVE TO ALL.
The views and opinions expressed in the comment section or in the text other than those of PLANET VALENTI are not necessarily endorsed by the operators of this website. PLANET VALENTI assumes no responsibility for such views and opinions, and it reserves the right to remove or edit any comment, including but not limited to those that violate the website's Rules of Conduct and its editorial policies. PLANET VALENTI shall not be held responsible for the consequences that may result from any posted comment or outside opinion or commentary as provided in Section 230 of the Communications Decency Act and this website's terms of service. All users of this website — including readers, commentators, contributors, or anyone else making use of its information — hereby agree to these conditions by virtue of this notice. When PLANET VALENTI ends with the words "The Usual Disclaimer," that phrase shall be understood to refer to the full text of this disclaimer.