PLANET VALENTI
PLANET VALENTI NEWS AND COMMENTARY
(FORTRESS OF SOLITUDE, THE WEEKEND EDITION OCT. 29-31, 2021) — THE PLANET has heard from two formers mayors, reacting to our comments about the Tyer Administration's reputed plans to use tens of millions in KOVID KASH (KK) to build a stand-alone "houseless" shelter.
Bot expressed the wish that the mayor should not sign on to such a project. Though they are from different in their views on most issues, the two agreed that building such a facility would be a magnet for adding to the already overwhelming "houseless" problem that's eating up public resources. It would create the dreaded "slippery slope." Moreover, using the KK for that would be a waste of money, since the problem won't be solved or even addressed. On the contrary, building the Peter White Home for the "Houseless" would make the problem bigger.
It's amazing that after badly botching their management of the "houseless" at the former SJHS on Maplewood Avenue Tyer would reward ServiceNet by keeping them as administrators, if and when the now-on-hold space  opens at the Methodist Church at Fenn Street and Renne Avenue.
It's not that THE PLANET didn't cover the Service Net disaster. Return with us now to those thrilling days of yesteryear for a refresher, into THE PLANET archives for columns we did on:
July 19, 2020: ABRUPT CLOSING OF ST. JOE HOMELESS FACILITY, QUESTION ABOUT 'THE MONEY,' DEMAND ANSWERS FROM OFFICIALS
July 20, 2020: IS A COVERUP IN THE WORKS ON SUDDEN CLOSING OF SJHS HOMELESS FACILITY?
July 22, 2020: SJHS HOMELESS EVICTION TAKES TURN FOR WORSE; SOURCES SAY PERSONAL BELONGINGS, MEDS FOUND IN CITY-OWNED DUMPSTER
July 26, 2020: HOMELESS UPDATE: CITY PLANNERS WHIFF, MAYOR WAIVES, TIERNEY WINKS, HOMELESS WANDER, KAPANSKIS WEEP
July 27, 2020: !! BULLETIN!! SOURCE SAYS HELEN MOON FIRED BY D.A. … SERVICE NET: SIX-FIGURE $$$ FOR THE BIG SHOTS, PEANUTS FOR THE GRUNTS, SHINOLA FOR THE HOMELESS
July 29, 2020: NEW DETAILS ON MOON'S FIRING … PLUS … !!!EXCLUSIVE!!! THE PLANET SCOOPS A COPY OF SERVICENET CONTRACT WITH CITY
July 31/Aug. 2, 2020: !!PLANET EXCLUSIVE!! CITY CLERK HAMMERED FOR MISSING SERVICENET CONTRACT … HOMELESS SITUATION AT SPRINGSIDE DETERIORATES
Aug. 3, 2020: SERVICENET ACTED/ACTING ILLEGALLY WITH RESPECT TO HOMELESS … PLUS … FOUR 'HOMELESS' PETITIONS TARGET MAYOR, FINANCE DIRECTOR, COUNCILORS
Aug. 19, 2020: MISSING 'HEALTH INSURANCE' MILLIONS PROVIDES FITTING FUNEREAL SEND OFF
Sept. 1, 2020: ROSSI PROBE YIELDS MORE SERVICE NET FIANCIALS … CEO STUBBS, @$225K+/YR., 'FEELS GUILTY'
———- ooo ———-
THE PLANET contacted mayor Tyer, who told us that she is "more than happy to provide facts surrounding this project [Methodist Church] and to clear up any confusion.  First, the homeless shelter received a special permit from the city's Community Development Board.  That special permit contained several conditions to guide shelter operations. 
"Second," Tyer continued, "the building permit process for construction is currently under way.  As part of that process, I recommended to the City Council, and the City Council approved 9 to 0 (2 members were absent), to waive the building permit FEES, not the building permit requirements [at the council's Sept. 28 meeting].  
"Please note that I am emphasizing the distinction between fees and requirements.  I and the city council have a past practice of waiving building permit fees for housing projects that serve economically disadvantaged residents, including Habitat for Humanity.  If all goes well and there are no unanticipated obstacles, the homeless shelter is on track to open by May 2022."
———- ooo ———-
We asked Tyer directly about rumors of a stand-alone to be built with KK. She did not answer the question, replying with a vague statement about homelessness and the need to be more proactive in responding to the problem.
Councilors tell us Tyer and the administration have not shared their plans.
"There has been no communication from the administration on this at all," said Ward 2 councilor Kevin Morandi. "Obviously with what Chris [Connell] found out, there is going to be a longer permitting process and more expense knowing that everything now in the building will have to be up to city code."
Morandi was referring to ward 4 councilor Connell's investigation, which revealed that the expected April-May 2022 opening of the church shelter "is no longer realistic."
———- ooo ———-
Finally, we have this from the Pittsfield Police Department, more proof of the "vibrancy" and "dynamism" of the fair city:
On Thursday morning October 28, 2021, members of the Pittsfield Police Department (PPD), Berkshire County Special Response Team, and Berkshire County Law Enforcement Task Force executed simultaneous search warrants at 205 Lenox Avenue (apartment #3) and 122 Dewey Avenue (apartment #4) in Pittsfield.  
Lead investigators for the case are PPD Investigator Thomas Bowler and PPD Officer John Virgilio.  The investigation centers on the illegal possession of firearms and the illegal manufacturing of "ghost guns."
As a result of the investigation and ensuing search warrant executions, 23 year old Emmanuel Kodjo and 18 year old Taylor Bartlett were placed under arrest and charged with unlicensed possession of firearms.  Additional charges are expected.  The search of the two residences resulted in the seizure of firearms, firearm parts and accessories, ammunition, and manufacturing equipment.  Both Kodjo and Bartlett are Pittsfield residents.  (Photos Attached)
Illegally owned firearms and "ghost guns" are an ongoing problem in Pittsfield and beyond.  Ghost guns are privately manufactured firearms that do not possess a serial number.  The weapons are partially manufactured and can be assembled at home by a person with minimal knowledge and skill.  In recent months, members of PPD have made seizures of both illegally possessed firearms and ghost guns.  
A PPD school resource officer contributed information that was pertinent to this investigation.  Other agencies who assisted PPD with this investigation include the Berkshire County Special Response Team, Berkshire County Law Enforcement Task Force, Berkshire County Sherriff's Department, Bureau of Alcohol, Tobacco, and Firearms (ATF) and the United States Postal Inspection Service.  Anyone who wishes to provide additional information can do so by contacting PPD at 413-448-9700.  Information can also be provided anonymously via the Detective Bureau Tip Line at 413-448-9706, or by texting PITTIP and your message to TIP411 (847411).
Here's a look at some of the equipment of these model citizens: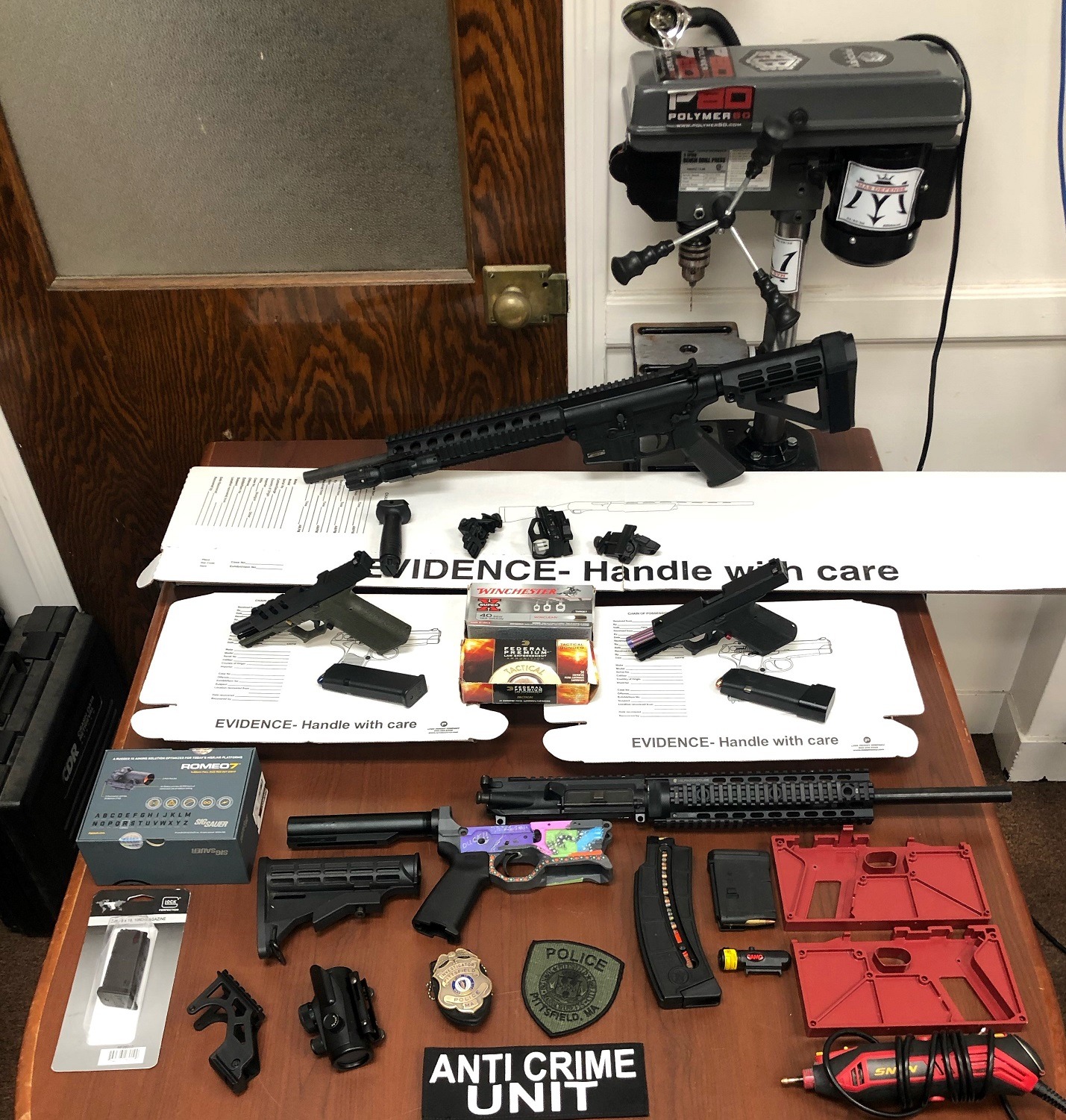 Just remember, if your out and about anywhere near the downtown, wear white.
Have a great weekend, everybody.
————————————————————————
"If that's what 'vibrant' and 'dynamic' mean, I'm outta here" — Sir Donald Turpentine, Knight of the Bath.
"OPEN THE WINDOW, AUNT MILLIE."
LOVE TO ALL.
(c) 2021 By PLANET VALENTI & EUROPOLIS MANAGEMENT. All right reserved. The views and opinions expressed in the comment section or in the text other than those of PLANET VALENTI are not necessarily endorsed by the operators of this website. PLANET VALENTI assumes no responsibility for such views and opinions, and it reserves the right to remove or edit any comment, including but not limited to those that violate the website's Rules of Conduct and its editorial policies. PLANET VALENTI shall not be held responsible for the consequences that may result from any posted comment or outside opinion or commentary as provided in Section 230 of the Communications Decency Act and this website's terms of service. All users of this website — including readers, commentators, contributors, or anyone else making use of its information — hereby agree to these conditions by virtue of this notice. When PLANET VALENTI ends with the words "The Usual Disclaimer," that phrase shall be understood to refer to the full text of this disclaimer.