BY DAN VALENTI
PLANET VALENTI NEWS AND COMMENTARY
(FORTRESS OS SOLITUDE, VETERAN'S DAY WEEKEND EDITION, 2021) — THE PLANET is pleased to present this guest column by a former Pittsfield resident who now lives in France.
If affords a look at a cemetery that honors the dead from World War I, located in Suresnes, France. The cemetery holds the remains from a veteran from Pittsfield.
Our annual Veteran's Day column is the one time we do not run ads.
———- ooo ———-
BY SCOTT BARKER
SPECIAL TO THE PLANET
The Suresnes (France) American Cemetery holds war dead from World War I. The numbers seem to shift, but there are 1,565 headstones, and 974 missing in action, lost, or buried at sea are commemorated. It also has the distinction of holding 24 (23?) World War II dead — all unknowns. It is one of the few if not only U.S. military cemeteries overseas to hold men and women from both wars. I live down the hill, across the river from Paris and the Bois de Boulogne.
The cemetery did hold known WWII dead for a short time after the war, but all were repatriated.
Unknown numbers might change, because Congress regularly has remains disinterred and sent back to the United States for DNA analysis at the request of the family. Sometimes they can sometimes determine identities with the latest technology.
———- ooo ———-
The cemetery, a healthy climb up the hill, sits just below and abutting Forteresse Du Mont-Valérien, which has been a French fort for more than 150 years and the site of about 1,000 executions of French Resistance members during the Nazi occupation. President De Gaulle dedicated the Mémorial de la France combattante there in June 1960.
In September, I attended a theatrical presentation held in la clairière (clearing) inside the fort, the very site of the executions. An actor/director did a performance of Charles Peguy's Notre Jeunesse, after which young people read letters from eight of the men executed there.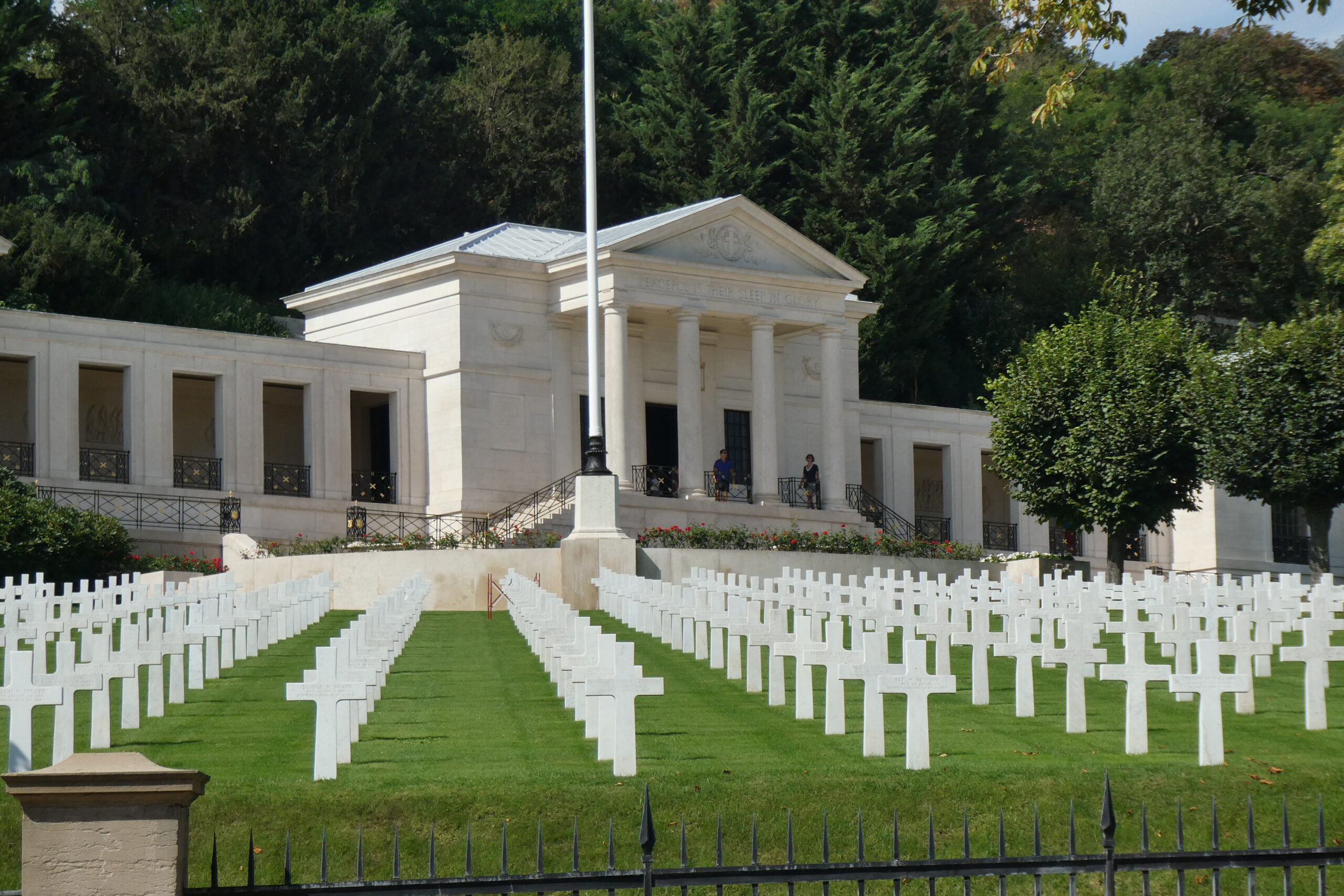 Shortly after I arrived in France, I went up and had a nice long chat with the cemetery superintendent, retired USAF airman Keith Stadler. He told me that more than half buried there died of the Spanish Flu. Stadler also serves as director of the other area U.S. cemetery/memorial, the Lafayette Escadrille Memorial, a short train-then-bus ride from here. I was able to get a personal tour (you just have to ask) of the crypt, where 48 flyboys are interred.
I was up at the cemetery one day and met Sandrine, a French woman who works there. I said that from the gravestones I passed on my way to the visitors center, I could see that men from Massachusetts were buried there. She said, yes, Massachusetts is well represented (106 buried or commemorated), especially for its size. 
She printed out a list, and I discovered a Pittsfield man: James Michael Morrison (plot B, row 16, headstone 8). Born in Pittsfield on December 31, 1895, he died in Suresnes of wounds suffered in the Aisne-Marne campaign on Aug. 10, 1918.
Later I found Albert Fred Jordan, born in Shelburne, VT, but who lived in Pittsfield for two-and-a-half years. He died of pneumonia at sea and was buried there. He is commemorated on the Wall of the Missing inside the chapel.
At 5 p.m. that day, Sandrine afforded me the honor of folding the US flags that fly there.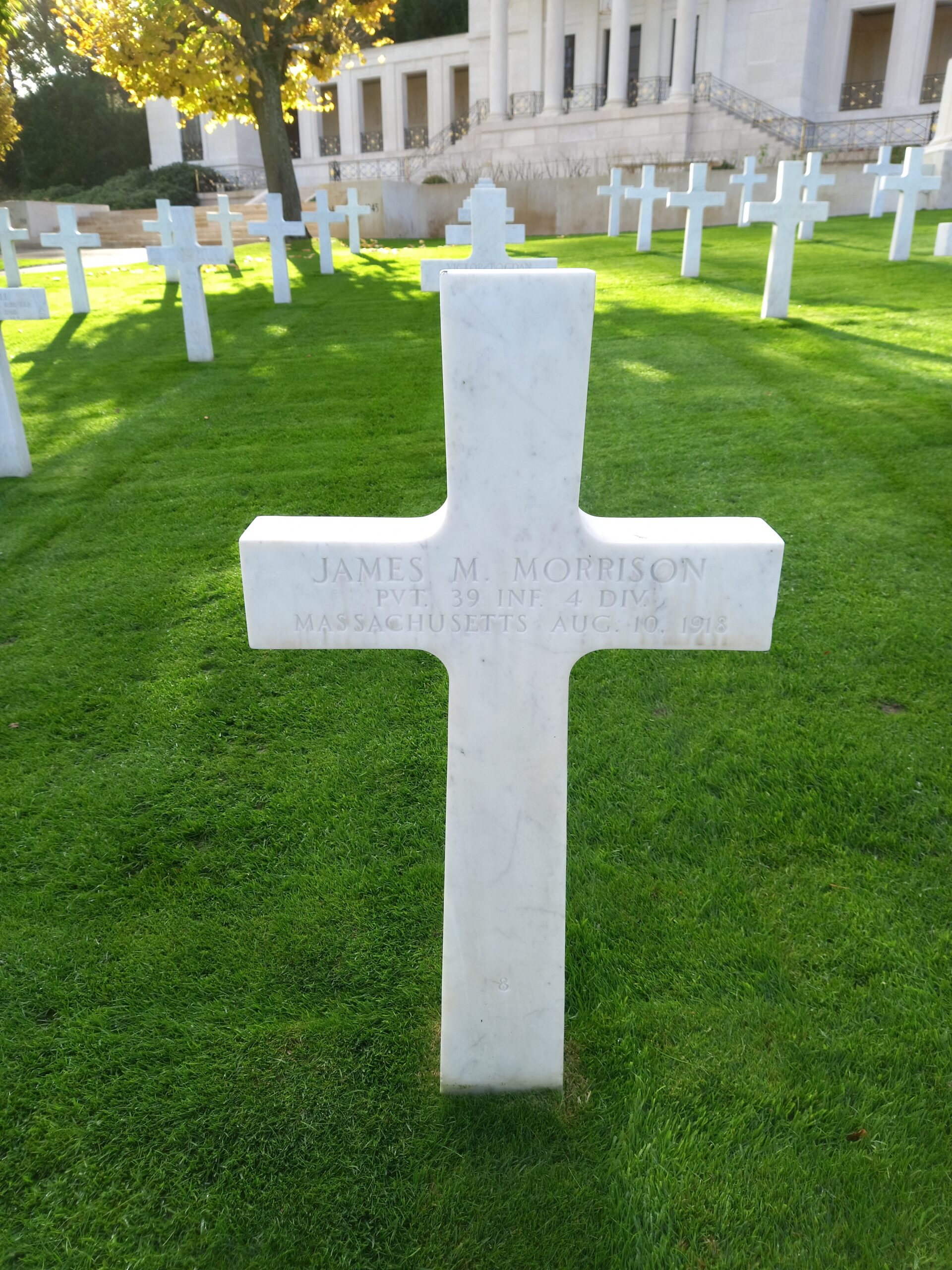 Veterans Day 2021
I thank the Genealogy Trails History Group, Berkshire County, Massachusetts, Genealogy and History Volunteers dedicated to free genealogy, for information on the two men: https://genealogytrails.com/mass/berkshire/mil-ww1-casualties.html.
Morrison, James Michael: died 10 Aug., 1918 [at Suresnes], of wounds received in action, Aisne-Marne offensive.
Enl. 25 March, 1918, Co. F, 39lh Inf., 4lh Div.
Overseas 10 May, 1918.
Born 31 Dec, 1895, at Pittsfield, son of William and Mary A. (Fahey) Morrison (both born in Ireland); brother of Grace M., John W., William, and Francis. Married Mary A. Wier. 
Child: Grace M.
Electric-welder.
Jordan, Albert Fred, Corporal: died 3 Oct., 1918, at sea, of disease.
Ent. 26 Feb., 1918, 151st D. B.; trans. 21 March, 1918, to Co. B, 2d Heavy Bn., Tank Corps; to Co. B, 302d Tank Bn., Tank Corps.
Corporal 1 Aug., 1918.
Overseas 25 Sept., 1918.
Born June, 1888, at Shelburne, Vt., son of George and Florence Louise Jordan; brother of Gilbert LeRoy of Schroon Lake and Ernest C. (sergeant, 328th Inf. Band, 82d Div.).
Automobile mechanic. Resident in Massachusetts two and one-half years.
———- ooo ———-
Scott Barker is a Pittsfield kid: Pontoosuc Elementary, North Junior High (Did Mr. Reid ever smile?), Joey for a year ("You idiot, you don't wear the tie outside of school"), and PHS. He has traveled to Europe many times and finally said, Why not move there? So he did.
———- ooo ———-
THE PLANET thanks Scott Barker for this column, and we salute all veterans on this day, past, present, and future.
Lest we forget.
————————————————————————–
"The soldier above all others prays for peace, for it is the soldier who must suffer and bear the deepest wounds and scars of war." – Douglas MacArthur
"OPEN THE WINDOW, AUNT MILLIE."
LOVE TO ALL.
(c) 2021 By PLANET VALENTI & EUROPOLIS MANAGEMENT. All right reserved. The views and opinions expressed in the comment section or in the text other than those of PLANET VALENTI are not necessarily endorsed by the operators of this website. PLANET VALENTI assumes no responsibility for such views and opinions, and it reserves the right to remove or edit any comment, including but not limited to those that violate the website's Rules of Conduct and its editorial policies. PLANET VALENTI shall not be held responsible for the consequences that may result from any posted comment or outside opinion or commentary as provided in Section 230 of the Communications Decency Act and this website's terms of service. All users of this website — including readers, commentators, contributors, or anyone else making use of its information — hereby agree to these conditions by virtue of this notice. When PLANET VALENTI ends with the words "The Usual Disclaimer," that phrase shall be understood to refer to the full text of this disclaimer.
CLOSE
CLOSE