BY DAN VALENTI
PLANET VALENTI NEWS AND COMMENTARY
(FORTRESS OF SOLITUDE, MONDAY DEC. 20, 2021) — In a recent roundup column, THE PLANET had the following item:
DONUTS AND IRONY
Speaking of Fenn and First, on the opposite corner rests in peace the vacant lot still owned by Dunkin' Donuts franchise owner Cafua Management, the largest privately owned D&D franchise in the country. Cafua keeps the lot weedy and derelict save for some preliminary work done on blacktopping and foundation. It does this to serve a little sour cream in Pittsfield's brew for turning down the company's request for a drive-in window at the proposed new location.
It prompted further action from The Secret Squadron. Today we present the findings of Special Agent Z-12.
 ———- ooo ———-
When I saw this tidbit on THE PLANET regarding the Cafua property, I wanted to make sure you got the whole story:
Real quickly, there is no doubt that the corner of First and Fenn is a complete eyesore, and perhaps, an example of the current administration lacking the political will to press Cafua with tools at the city's disposal. There is a lot a mayor can do to put pressure on property owners in these kinds of cases.
With that said, the demolition of the former Plunkett School was actually the result of political strong-arming by an arrogant corporate player (Cafua) mired in a feud with the former property owner of the First Street D&D (Joe Santos), all mixed together with a heaping dose of empty promises (to Cafua) from Pittsfield Buddy Boys Gone Bad.
You see, Cafua was pissed because Santos was changing the terms of their lease to be more beneficial to, well, Santos. In previous years to the First Street episode, when Santos looked to renegotiate with Cafua in some locations, Cafua told him to pound sand. Well, in return, Santos told Cafua to take a walk, and created … The Donut Man. You remember those locations? The Donut Man shops were complete D&D knockoffs, all created because Santos and Cafua wouldn't agree to terms. Each one, Cafua and Santos, greedier than the other.
Cafua had enough of that shit. The Donut Wars had begun.
First Street was (certainly at that time) the crown jewel of the D&Ds in the Berkshires for Cafua. It was (and is) a huge profit-center. Cafua knew the next negotiation with Santos would go the same way as the others, and that they'd either need to cough up more to Santos on the lease or he'd turn First Street into the Donut Man of all Donut Mans.
So, Cafua went a different route: A purely cynical, political power play.
Cafua purchased the former Plunkett School, a few hundred feet from the D&D location on First Street. It was a very well-built, brick building, perfect for reuse. It's the kind of building that David Carver or Allegrone would snap up in a nano-second and flip into market rate apartments with the help of some tax breaks. You know, the kind of housing that all the leaders in Pittsfield say we need more of?
———- ooo ———-
Anyhoo, Cafua purchased the former Plunkett School and ramped up a relentless behind-the-scenes lobbying effort. Since the Cafua brass from Eastern Mass didn't know jackshit about Pittsfield politics, they were swayed somehow to follow literally the worst advice you can imagine. Literally, the worst.
First, they must have been told that Peter Larkin was still relevant in Pittsfield politics. Larkin was hired as a consultant for Cafua to sell out his hometown, which he happily did, and started making calls to city officials and city councilors. His sell was to convince councilors that this new D&D on the corner of Fenn and First was going to be so amazingly state-of-the-art, Wi-Fi-rific, full of "dynamic vibrancy," it would make Pittsfield the envy of all small New England cities. How could you not support a drive-thru that would pour lines of left-turning vehicles into what was already one of the worst intersection in the county?
Suffice it to say, a number of councilors didn't return Larkin's calls, which may have made his report back to his bosses at Cafua a bit awkward. 
Second, Cafua hired Tom Hamel as the lead attorney for the special permit for the D&D drive-thru (rather than bringing in some fancy Boston attorney). Cafua certainly felt that this was a folksy move to ingratiate themselves to what they saw as a Country Bumpkin Council.
To make his retainer seem more worthwhile, Hamel's self-proclaimed "pro-business" buddies were pushing on the narrative that somehow blocking a great new donut shop was anti-business. A vote against a drive-thru for a donut shop somehow became the litmus test on whether a councilor was "pro-business" or not. What a crock of shit.
As for the special permit, it all went backwards when the council pushed back and started asking real questions about traffic and the condition of Plunkett School.
Cafua trotted out engineer Jim Scalise to blow 100 percent grade A smoke up the council's ass. Scalise peddled a tale on how Plunkett School was somehow a dilapidated hell-hole ready to fall down with the next stiff wind. This hogwash was completely debunked as the council demanded a second opinion from an objective third party expert, who said the building was in great condition and (again) perfect for a sensible reuse.
Cafua was losing the argument, and they lost all the votes (well, almost all the votes). Every councilor voted against it, with the exception of Barry Clairmont who said a no vote was "anti-business." Clairmont said what he said, but then skedaddled out of the meeting before the final vote was cast. Final vote: 10-0.
But, Cafua wasn't done. It was kind of like a last gasp hissy fit by a toddler who doesn't understand the word "no."
Cafua sued the city council over the special permit. Each councilor was served and sued individually.
The court proceedings were yet to come, but before the case was even heard, Cafua went ahead with what was one of the biggest dick moves in the history of urban development in Pittsfield, Massachusetts, or maybe in any city anywhere.
———- ooo ———-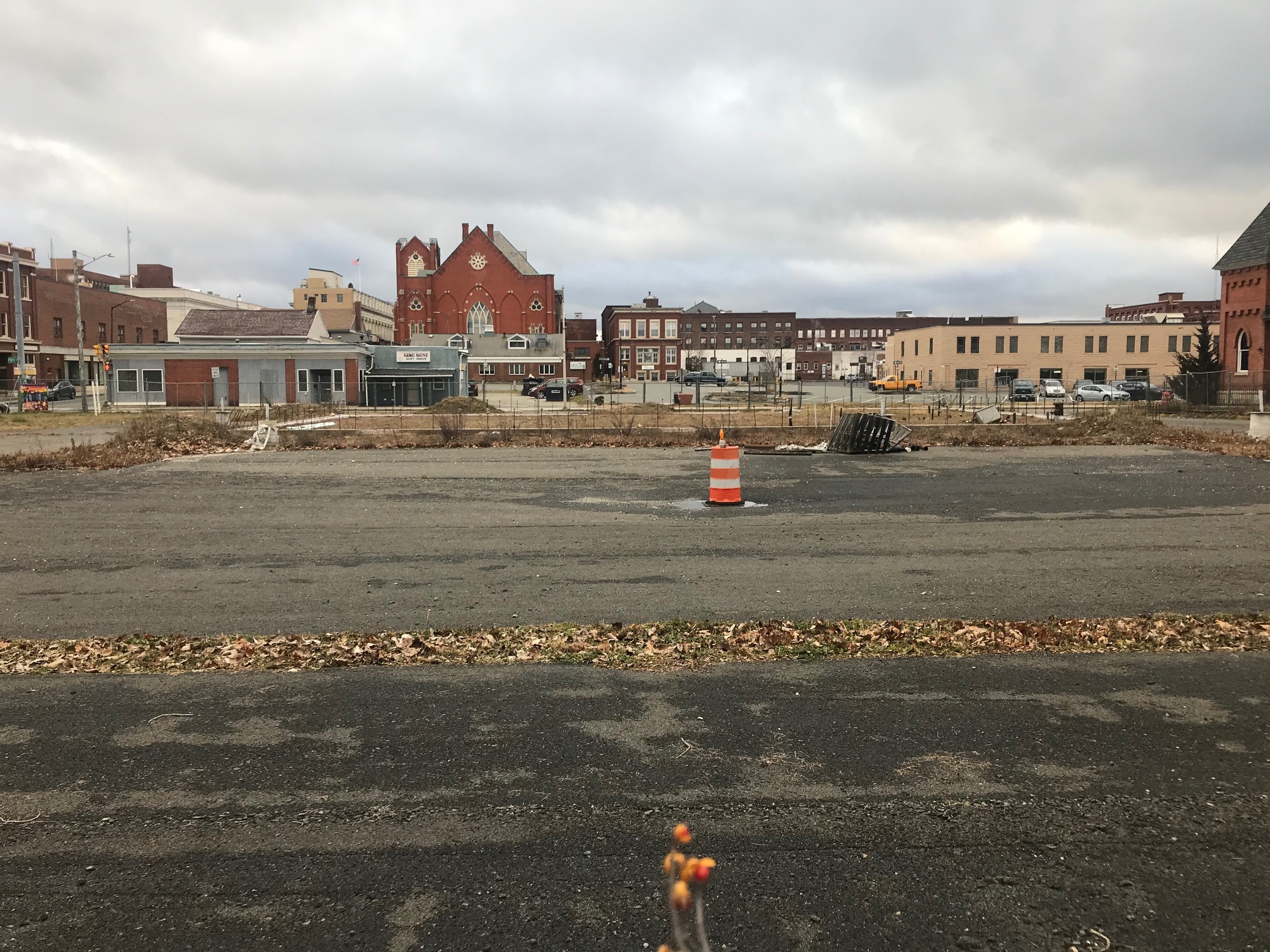 Cafua figured if the council was so concerned about its little precious Plunkett School, they would simply use a wrecking ball to flex its overcompensating ego. Cafua, in spite of some previous attempts to protect the building through the historic commission, demolished Plunkett School. They owned it, so they could do it. 
Again, this remarkably vindictive move was made after the council denied the special permit.
Let that sink in. 
Let that sink in when you begin to assign responsibility for the current eyesore at the corner of First and Fenn Streets. 
Fast forward to the court case. The judge heard all the facts, and Cafua lost, again. 
So, the idea that it was the council's fault that we have an empty lot at the corner of First and Fenn is wildly misleading. The fact of the matter is, when the council pushed back and denied the special permit (and then won in court), Cafua actually was then forced to negotiate with Santos. And, lo and behold, Cafua coughed up enough to make a deal. If Cafua had only done that in the beginning without having to clang their balls around, sue the council, and finish with a childish temper tantrum, demolishing a perfectly reusable building, we'd have something that provides value at that property. 
———- ooo ———-
And finally, while the demo of Plunkett School and the current empty lot was a loss ("sour cream" as THE PLANET describe it), it did pave the way for the success that saved St. Mary's on Tyler Street. You see, Cafua had a deal ready to go with the diocese to buy the property, completely demolish St. Mary's and build the Taj Mahal of D&Ds. Similar to First Street, the plan was being sold with the pro-business rhetoric. So much so that a councilor or two in the Morningside were parroting the talking points about how knocking down an old church and adjoining buildings to make way for donut shop is amazing economic development. Even when the Save St. Mary's group of well-meaning, passionate citizens began to organize, they faced resistance – not just from Cafua, but from the very people who were supposed to represent them.
Members of the group often will offer anecdotes on how one or two councilors mansplained them about how trying to save St. Mary's was not practical or cost-effective, it was not pro-business (as opposed to, you know, a donut shop). Happily, they didn't listen to these councilors. Once Cafua saw the resistance, and some more independent-minded councilors publicly voicing their opposition, they scrapped the plan. Why? Because the council showed that it wouldn't be pushed around by a bunch of corporate thugs. Cafua knew the council was not going to be run roughshod and, once again, would deny the special permit. Today, St. Mary's is a home of high-quality housing, which has spurred more investment in the Tyler Street corridor. Cafua even recently upgraded the D&D on Dalton Avenue, which I'm sure is more profitable than ever. So, the moral of the story is – have a backbone and be willing to fight for your community, and good things happen. 
When it comes to the property at First and Fenn, the mayor needs to also show some backbone and demand accountability of Cafua. Cafua literally and figuratively owns this property and the state that it's in. We can do better.
———- ooo ———-
THE PLANET thanks Z-9 for this inside look at money chasing, dirty business, and self-defeating egotism. We also back the call for the city to use everything it has to engage Cafua in dialog about the corner of First and Fenn. Its been no-man's-land for too long. Time for something better. Note to the Tyer Administration: Put this on a priority list and get it done. THE PLANET also invites Cafua to comment. If they do, we shall publish their response.
————————————————————–
"When you're born a dog, you can't die a cat" — Pat Cooper.
"OPEN THE WINDOW, AUNT MILLIE."
LOVE TO ALL.
(c) 2021 By PLANET VALENTI & EUROPOLIS MANAGEMENT. All right reserved. The views and opinions expressed in the comment section or in the text other than those of PLANET VALENTI are not necessarily endorsed by the operators of this website. PLANET VALENTI assumes no responsibility for such views and opinions, and it reserves the right to remove or edit any comment, including but not limited to those that violate the website's Rules of Conduct and its editorial policies. Those who leave comments own all rights to those comments. They remain solely responsible for what they post and shall be and remain solely accountable for their words. PLANET VALENTI shall not be held responsible for the consequences that may result from any posted comment or outside opinion or commentary as provided in, but not limited to, Section 230 of the Communications Decency Act and this website's terms of service. All users of this website — including readers, commentators, contributors, or anyone else making use of its information — hereby agree to these conditions by virtue of this notice and their use of/participation in this website. When PLANET VALENTI ends with the words "The Usual Disclaimer," that phrase shall be understood to refer to the full text of this disclaimer.