BY DAN VALENTI
PLANET VALENTI NEWS AND COMMENTARY
(FORTRESS OF SOLITUDE, MONDAY APRIL 18, 2022) — Happy Patriots Day, when all public workers get a French $$ kiss from Mary Jane and Kapanski. The bedraggled Kapanskis, meanwhile, have to toil at their jobs to support the scam. Only in Massachusetts, literally.
THE PLANET is trying to get through the recent dismissal by Judge John Agostini of manslaughter charges against Mr. and Mrs. Matthew Tucker, all 900 pounds of them. In his scathing, 17-page rebuke of the D.A.'s office, the judge ruled that D.A. Andrea Harrington and A.D.A. Stephanie Illberg-Lamm botched the case. Team Harrington, Agostini ruled, presented a "hopeless" case circumstantial to the point of irrelevance and far below "the standard the Court expects from the Commonwealth."
Stop the Presses! When defense attorneys face Wrong Way, they know their clients will enjoy two presumptions: innocence and prosecutorial incompetence. That's not THE PLANET saying it, but what we have heard from local defense attorneys.
Another humiliation for Harrington, another embarrassment for "We The People," and another steaming pile from our "trusted" public officials, this time with fatal consequences for a blameless, helpless child of God.
———- ooo ———-
By the pound, the Tuckers got off cheaply. Harrington charged them with manslaughter after one of their many foster children, 10-month-old Kristoff Zenopoulous, was found Feb. 18, 2020 dead in his crib, face covered in vomit. The medical examiner ruled the baby died unattended owing to complications from strep throat and pneumonia. A grand jury indicted the Tuckers on March 23, 2021.
The Tuckers were not found not guilty. They weren't found "not anything" because they never faced trial, a crucible that could have indeed returned guilty or not-guilty verdicts. Instead, they waddled away, evidently free to adopt more kids. THE PLANET prays that whichever children end up in Tuckerland enjoy a better fate than Baby Kristoff, who landed in the Tuckers' clutches after being born (4-17-19) with meth and coke in his system. Thanks, mom. After developing an allergy at the home of his first foster parents, DSS sentenced the baby to the Tuckerland ("Abandon Hope, All Ye Who Enter").
Fat shaming? Nah. Just calling them as we see them. A helpless infant died needlessly while in the "care" of foster parents who, having ignored a followup doctor's appointment, watched the child worsen.
——————– ooo ——————–
"[Tucker] became a self-initiated Wiccan, which involved casting spells, deifying nature, and embracing a loose moral structure defined by the Wiccan code that 'if it harm none, do as you will.' This continued into college." — Quote from a profile published on the Marians of the Immaculate Conception website several years ago. See full story below.
——————– ooo ——————–
Great combination, quite the snapshot of "vibrant, dynamic, DIE" Pittsfield.
A drug addict mom gives birth.
Overwhelmed DSS cabbage-heads remove the child, eventually assigning him to
Maladroit foster parents, porkers whose appearance alone indicates a grossly unhealthy lifestyle.
After the baby dies under suspect conditions, We The People find as our lawyer a D.A. that doesn't know a legal brief from a boob job.
God help the child.
Every adult in his sad life betrayed him, and a hurting public saw their only hope at possible justice blown by an airhead D.A. with the gravitas of a helium-filled balloon. We except Judge Agostini, a strong arbiter who ruled on the facts as presented by the D.A.
———- ooo ———-
Judge Agostini said Harrington gave the grand jury extraneous information not relevant to the case, presenting the Tuckers as "despicably negligent, irresponsible, uncaring."
THE PLANET says if it walks like a duck, quacks like a duck, and looks like a duck …
Guilty or not guilty? We shall never know.
After the judge's ruling, Tuckers' defense attorney Jill Sheldon said she wanted an apology from Harrington. THE PLANET agrees with Sheldon: Harrington owes an apology — not to the Tuckers but to Mary Jane and Joe Kapanski, that is, We The People.
There is nothing we can say to bring the innocent child back. We can only hope Baby Kristoff has gone to a better place. Even the oblivion of the grave would represent heaven compared to the hell a long, gray line of stupid adults inflicted upon him.
———- ooo ———-
[EDITOR'S NOTE/FULL DISCLOSURE: For the three+ years we did PLANET VALENTI TELEVISION (PVTV) at PCTV, Tucker served as our technical director. He knew his business, as most nerd techies do. His competence made it all the more obvious, at least to me and some of the crew, that subterfuge was at play when ours was the only show in PCTV's lineup that would regularly experience all sorts of technical issues, most of them when we were on live. As was our want, we incorporated these gaffes into the show using improv and humor: mics not working, audio monitors on the blink, and a host of other little bugs. During our time working with Tucker, we found him to be unreliable and duplicitous. He was a boaster who could talk a good game but couldn't or wouldn't deliver at crunch time. When needed on the set, he would be absent, usually holed up in his office.  In his office, he had a troubling display of action figures and articles more suitable to a 10 year old than a grown man. It emitted a disturbing vibe. When charges were brought against him in the case of Baby Kristoff, were were not surprised. All that being said, let me be clear that we did not have and still do not have anything personal against Tucker. Our impression of his professional ethic was "deficient."  As a person, we met him and would still meet him with openness and courtesy. We would at the same time not hide our feelings about him based on our first-hand observations and considering the serious charges — manslaughter — that were brought against him. He's the one who has to live with himself. We, like everyone, have that same responsibility, and it's one that we both love and embrace.]
———- ooo ———-
ADD 1: Here 's the full article from which we took the lift-out quote contained in THE PLANET's column: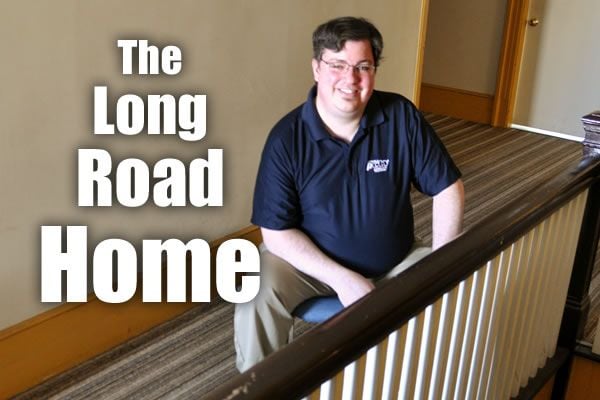 The Long Road Home
Likely his CCD teacher had no ill intent. The man probably didn't know any better. But shortly after Matthew Tucker received his First Holy Communion, nothing seemed a bigger drag upon his good spirits than the God worshipped by the Catholic Church.
He was taught this:
• Nothing a sinful human could do could ever make him/her worthy in the eyes of God;
• there was nothing about you that deserved God's love; and
• if you were lucky enough to make it to Heaven — which you probably wouldn't because of your sins — it would only be because of God's mercy and supreme greatness, and not because you fought to love Him with all your being.
"This teacher was very frank about how unworthy we were of God's love," says Matthew, "and he's talking to second graders! It had enough of an impact on me that I started to question my faith. God put conditions on love? The emphasis was on how flawed we are rather than on how loved we are."
Eventually, when Matthew was given the choice to attend Mass or sleep in on Sunday mornings, he opted for snoozeville.
In a manner of speaking, he snoozed for another 20 years, Rip Van Winkle style, waking up, through the grace of God, to a Church he hardly recognized. The Divine Mercy revelations of St. Faustina had spread throughout the world by then, radically reverting our understanding of God back to the Gospel truth that His greatest attribute is mercy.
"And I had a lot of catching up to do" says Matthew, 30, a television production technician from North Adams, Mass.
He now finds himself deeply in love with the Church. He's a lector at his local parish. He shares his faith with an online Catholic community. He produces evangelization videos. He dusted off and donned his brown scapular. He regularly prays the Rosary and reads scripture. He's considering pursuing the diaconate.
However, Matthew reckons his faith would never have achieved such fullness if not for the zigzag line of inquiry that had precariously underlain his faith journey from childhood till now. Indeed, in between being the young second grader in the starched white shirt and being the father of two who dutifully, happily ensures his children receive proper spiritual formation, Matthew "experimented."
In high school, he became a self-initiated Wiccan, which involved casting spells, deifying nature, and embracing a loose moral structure defined by the Wiccan code that "if it harm none, do as you will." This continued into college.
But eventually something wasn't right. But what?
He hard-charged into science, which he always loved, but he fell in with a tough crowd. They not only believed that the study of the physical world could explain everything, but they also held in contempt those who believed in God.
"For them, not only was God not there," says Matthew, "but to believe [in God] is childish, a fairy tale that people tell themselves so they can sleep at night and not worry about dying."
Matthew attempted to deny God's existence. He wasn't successful in these efforts.
"I compare it to trying to pretend someone you love isn't in the same room as you, even when you can hear them talking to you," he says. "You can pretend all you want, but it doesn't make it true. There were too many things I couldn't explain and that point back to say 'God is there.' I guess I always knew that there was something higher, that God was there."
He endeavored to find Him. He drifted through a few Protestant denominations. He spent a short stint giving Quakerism a try — and Pantheism, too.
He knew something wasn't quite right with all of them. "They certainly had parts of the truth," he says.
Meanwhile, he had married a Catholic woman. They had agreed to baptize their children Catholic, spurred on by the encouragement of her family. Then, something extraordinary happened. When it came time to baptize their children about two years ago, something clicked. It was that door he had closed as a boy, the door to the Catholic faith. Through God's grace, the latch clicked open.
"It was like coming home, like walking in the door and looking around and thinking, 'This is where I'm supposed to be,'" he says.
"I spoke with family and friends who are Catholics. They explained that I hadn't been taught what I was supposed to have been taught about God," he says. As a child, he says, the story of salvation was explained "more as story of the fear of hell than of the love of God."
But as Fr. Seraphim Michalenko, MIC, points out, the good news revealed through Jesus Christ "is that God's love for each person knows no bounds, and no sin or infidelity — no matter how horrible — will separate us from God and His love when we turn to Him in confidence, and seek his mercy."
Matthew would soon come to realize that the Church itself is the dispenser of mercy, the Eucharist is the Presence of Mercy, and the Sacrament of Reconciliation is the tribunal of mercy.
He went to confession and afterwards felt the weight of the world lifting off his shoulders.
But all those years of searching were not in vain, he insists. "I needed to find out what I didn't need in order to find out what I needed. … I could not have known if [Catholicism] is right or true if I hadn't run off."
He adds, "Isn't it wonderful that no matter how far you wander, when you come back Jesus is waiting? Right now I just feel like, 'Where did we leave off?'"
Listen to Matthew in his own words:
———————————————————————————–
"There are only two ways to have a peaceful conscience: Never do anything wrong or learn self-forgiveness" — Elizabeth Gilbert.
LOVE TO ALL.
(c) 2021 By PLANET VALENTI & EUROPOLIS MANAGEMENT. All right reserved. The views and opinions expressed in the comment section or in the text other than those of PLANET VALENTI are not necessarily endorsed by the operators of this website. PLANET VALENTI assumes no responsibility for such views and opinions, and it reserves the right to remove or edit any comment, including but not limited to those that violate the website's Rules of Conduct and its editorial policies. Those who leave comments own all rights to those comments. They remain solely responsible for what they post and shall be and remain solely accountable for their words. PLANET VALENTI shall not be held responsible for the consequences that may result from any posted comment or outside opinion or commentary as provided in, but not limited to, Section 230 of the Communications Decency Act and this website's terms of service. All users of this website — including readers, commentators, contributors, or anyone else making use of its information — hereby agree to these conditions by virtue of this notice and their use of/participation in this website. When PLANET VALENTI ends with the words "The Usual Disclaimer," that phrase shall be understood to refer to the full text of this disclaimer.