BY DAN VALENTI
PLANET VALENTI NEWS AND COMMENTARY
(FORTRESS OF SOLITUDE, THE WEEKEND EDITION SEPT. 25-7, 2020) —  THE PLANET needs help.
We're trying to figure out why the city won $238,826 in grants from the Massachusetts Department of Transportation (MassDOT). On Tuesday , the state approved and funded Pittsfield's grant application under the Shared Streets and Spaces Program (SS&SP).
The program awarded grants from $5,000 to $300,000, making Pittsfield a recipient of one of the larger grants.
You haven't heard of this program? Don't worry. Neither have we.
A press release from the mayor's office says the program "will support 20 dynamic placemaking projects in the downtown corridor that will enhance mobility for pedestrians and bicyclists, integrate additional open and vibrant public spaces for community life, and improve navigation." (THE PLANET's bold face).
We did not make the words up, and we'll swear to it in any court. "Dynamic" and "vibrant."
The grant's timeline requires the work to being immediately and continue through early October.
So far, so good, but here's where we need help. Can anyone out there explain just what this program is, what's it's supposed to do? The city's language is confusing. The state says the program is designed to implement "improvements to sidewalks, curbs, streets, on-street parking spaces and off-street parking lots in support of public health, safe mobility, and renewed commerce in their communities."
From the MDOT website: Types of projects may include:
Shared Streets and Spaces: supporting increased rates of walking and/or biking by increasing safety and enabling social distancing.
Outdoor Dining and Commerce: calming roadways, modifying sidewalks and streets, and/or repurposing on- or off-street parking to better support curbside/sidewalk/street retail and dining.
Better Buses: supporting safer and more reliable bus transit, including expanded bus stops and lanes dedicated for bus travel
Safe Routes to School: creating safe routes to schools and other programs for children and youth, including safer walking and biking networks with lowered vehicle speeds.
In August, Belchertown, Brookline, Cambridge, Dighton, Lynn, Salem, Stoneham, Westborough, and Winthrop received SS&SP grants, the largest being Dighton's $168,242 award. It makes the Pittsfield grant that much more impressive, although one wonders if it also reflects the comparatively poorer state of the city's downtown. With taxes outta sight, with the homeless starting to freeze in the nightly cold of Springside Park, with so many other problems, we're trying to understand why the SS&SP program takes priority?
———- ooo ———-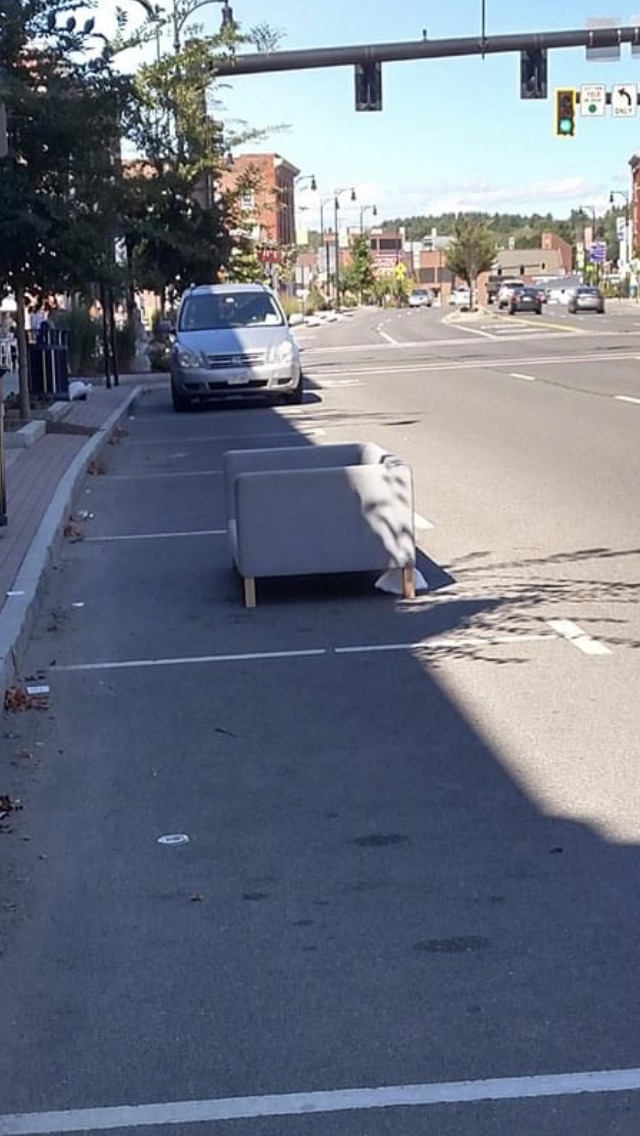 THE PLANET contacted DPW commissioner Ricardo Morales, and he was most forthcoming in responding. Credit where credit is due.
"This money was received by the city under a competitive grant managed by the state," Morales told THE PLANET. "We presented several projects which received high praise by DOT, resulting in the award."
Here's a link to the projects  (https://arcg.is/iSvSn). We recommend you click on that, try to make sense of it, then give us your comments in plain English.
Morales says "these projects are temporary in nature and will be treated as pilot installations to determine how impactful they are — positive or negative — and take action from there to either move to a permanent application or change the setup. With the grant contract, we must have the projects mostly or fully completed by October 9, so we have our schedules full working on this. Otherwise, the money will be taken back for items/projects not completed. The pilots will be installed now and should be left in place for at least a full season before evaluating impact. Some will have to come down for winter operations but we intend on replacing them in the spring. Regardless DOT is requiring a report by the end of December in which the city has to determine initial impact and grade of effectiveness."
We asked how the program will be evaluated and by whom: "It will be established by city staff, business leaders and representatives, as well as our consultant gathering impact on the public safety, public engagement, placemaking use, and overall business impact."
Consultant.
Uh oh. How much?
One more "uh oh." Does this grant have any line print? What, if anything, must the city do for Boston?
THE PLANET wonders if the doubled-parked couch, almost in the driver's lane on North Street (photo 2) is part of the SS&PS program.
Have a great weekend, everybody.
——————————————————————————————————-
"We must be free not because we claim freedom but because we practice it" — William Faulkner.
"OPEN THE WINDOW, AUNT MILLIE."
LOVE TO ALL.
The views and opinions expressed in the comment section or in the text other than those of PLANET VALENTI are not necessarily endorsed by the operators of this website. PLANET VALENTI assumes no responsibility for such views and opinions, and it reserves the right to remove or edit any comment, including but not limited to those that violate the website's Rules of Conduct and its editorial policies. PLANET VALENTI shall not be held responsible for the consequences that may result from any posted comment or outside opinion or commentary as provided in Section 230 of the Communications Decency Act and this website's terms of service. All users of this website — including readers, commentators, contributors, or anyone else making use of its information, hereby agree to these conditions by virtue of this notice. When PLANET VALENTI ends with the words "The Usual Disclaimer," that phrase shall be understood to refer to the full text of this disclaimer. Copyright (c) 2020 by Dan Valenti.