BY DAN VALENTI
PLANET VALENTI NEWS AND COMMENTARY
(FORTRESS OF SOLITUDE, THE WEEKEND EDITION OCT. 30-NOV. 1) — For this weekend preceding the Tuesday election, THE PLANET offers — what shall we call it? A time out? A breather? A magician's misdirection "here" while he performs the trick "there?" A moment of sanity? A lark?
Call it what you will. THE PLANET calls it a collection of photographs, each of which tells an important story. Together, they form a post-modern puzzle. We invite you to comment of any and all of these images.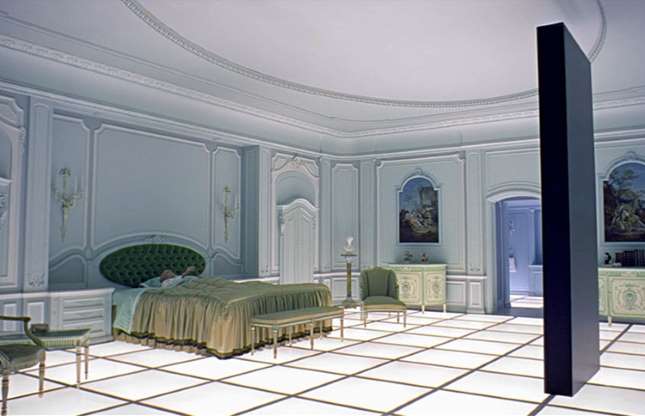 The Louis XVI hotel room near the ending of Stanley Kubrick's masterpiece, "2001: A Space Odyssey." Astronaut Dave Bowman, in the final stage of his transformation, points to the mysterious monolith. He will become the Star Child, humanity's future. At least that was Kubrick's optimistic determination. To what monolith do we reach in our attempts at transformation? And have they caused humanity to advance or regress? Think about it. 
———- 000 ———-
THE PLANET invites your thoughts, comments, and rumination on this double weekend, the last of October, the first of November.
We're open for business.
Have a great weekend, everybody.
———————————————————————————————————–
"Trying to be happy by accumulating possessions is like trying to satisfy hunger by taping sandwiches all over your body" — Roger Corless.
"OPEN THE WINDOW, AUNT MILLIE."
LOVE TO ALL.
The views and opinions expressed in the comment section or in the text other than those of PLANET VALENTI are not necessarily endorsed by the operators of this website. PLANET VALENTI assumes no responsibility for such views and opinions, and it reserves the right to remove or edit any comment, including but not limited to those that violate the website's Rules of Conduct and its editorial policies. PLANET VALENTI shall not be held responsible for the consequences that may result from any posted comment or outside opinion or commentary as provided in Section 230 of the Communications Decency Act and this website's terms of service. All users of this website — including readers, commentators, contributors, or anyone else making use of its information, hereby agree to these conditions by virtue of this notice. When PLANET VALENTI ends with the words "The Usual Disclaimer," that phrase shall be understood to refer to the full text of this disclaimer. Copyright (c) 2020 by Dan Valenti.